Marriott on Thursday finally released its full breakdown of award rates for properties under the combined loyalty program with Starwood Preferred Guest and Ritz-Carlton starting Aug. 18. Marriott started rolling out this unified loyalty program this spring. While the hotel chain published an award chart at the time, it was unclear which tier each of the 6,500-plus properties would fall in.
That list is now out, and nearly 75% of the properties can be booked for a free night with the same amount of points or less come August. Take a look at the full list and read on for our breakdown.
Basics of the Merger
Before we get into the award chart itself, let's rehash some basics. This merger started way back in 2016, setting in motion the largest hotel chain in the world. With a few exceptions, everything takes effect in August. At its core, it adopts Marriott's points and redemption structure while maintaining the essence of SPG's loyalty benefits. And critically, SPG's ability to transfer points to airline partners stays put.
Under this new setup, the hotel chain has released a new set of credit cards that could be worth considering. There's the Marriott Rewards Premier Plus Card, which comes with a 100,000 Marriott Rewards bonus after spending $5,000 in three months.
SPG will also have a new, co-branded card with American Express called the Starwood Preferred Guest Luxury Credit Card. It comes with a $300 property credit for Marriott hotels, a free night after card renewal, Priority Pass and more elite perks for the $450 annual fee. This card will not be available until August. 
When it comes to booking hotel stays with points, the new rates may seem steep to those more familiar with SPG. But SPG points have transferred to Marriott on a 1:3 basis since 2016. So an SPG hotel you're used to seeing at 20,000 points per night is equivalent to 60,000 points under this new scheme.

Marriott Award Rates: Stable or Dropping
Marriott previously gave us a flavor for what their award chart would look like. For now, there will be seven tiers of hotels, charging between 7,500 points per night up to 60,000 points per night.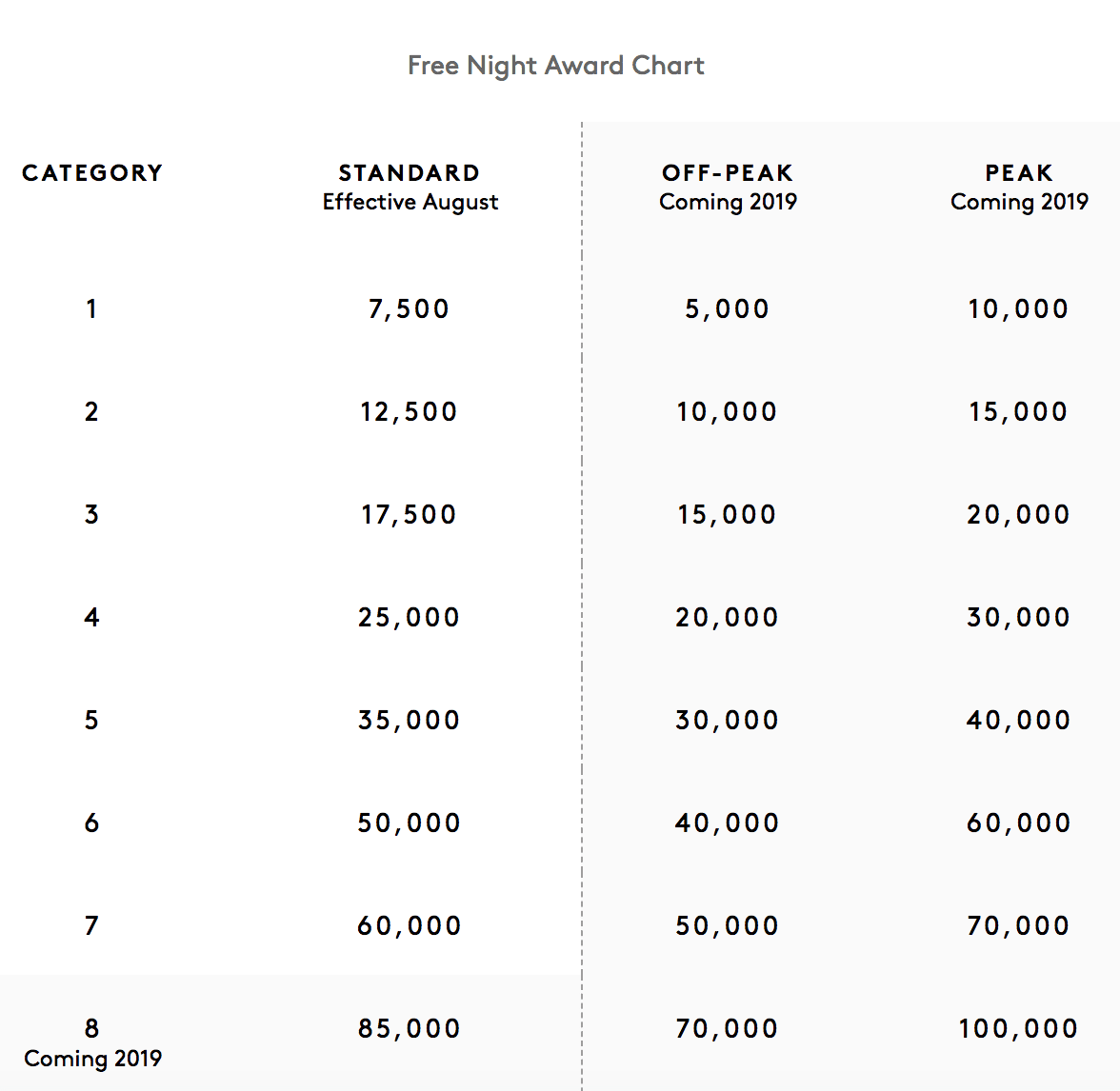 If you're aiming to use points on free hotel stays, whether you like or dislike this new setup will depend on where you want to stay. However, on the whole, this list is a win. More than half of Marriott's 6,500 hotels will cost less come August than they currently do when booking with points. Roughly 1,200 or so will charge the same rates.
Most of the reductions for award stays aren't major either, but a few stand out The W Bali – Seminyak and St. Regis San Francisco – two high-end hotels on opposite ends of the world – will both cost 60,000 points per night. That's down from their current 90,000-per-night rate. On the other end of the spectrum, a fair share of hotels will see some increases. But few have drastic jumps.
The Cosmopolitan in Las Vegas – one of the few hotels you can book with points on the Strip – increases 5,000 points to 50,000 per stay. The Aloft Munich, a favorite of the Thrifty Traveler team, increases from its current 30,000 Marriott Rewards points to 35,000 points.
Spend some time with the new list of hotels and check things out for yourself. You can search for individual properties or cities, sort by price changes or award categories and more. If you find a hotel you're planning a stay at that's going up in price, you'd be wise to book them now. However, you could find some huge points savings by holding off until August.
Big Savings Now, Other Changes on the Way
As part of this new setup, Marriott is introducing a new 8th tier for some of their best properties, charging 85,000 points per night. Think St. Regis resorts in Bali or Bora Bora, Ritz-Carlton in Tokyo or Kyoto. However, that high tier doesn't kick in for bookings until February 2019. And it offers an easy way to cash in on award pricing for this merger.
Look at this list of some St. Regis properties and you'll see some of the finest hotels in the world. While each will cost 85,000 points when you book in February, they all price in category 7 for now. That means you can book a stay at a resort-like the St. Regis Maldives for only 60,000 points, saving 25,000 points or more.

Another change on the way is off-peak, standard and peak award pricing based on when you travel. While the award chart spells out pricing levels in each award category, it's still unclear how those dates will shake out. The variable pricing by season should take effect sometime in early 2019.
Bottom Line
Whether you view this award list as a win or a loss will depend on where you want to stay, but there's no denying this is largely a win for travelers. More than 70 percent of properties will cost the same or fewer points when booking an award stay. And the ability to book Marriott's highest-end properties for just 60,000 per night until February is an absolute steal.
Subscribe to our Newsletter, like us on Facebook, and follow us on Twitter & Instagram
Lead Photo credit of Marriott Hotels