InterContinental Hotels Group – the owner of Holiday Inns, Kimptons, Crowne Plazas and more – announced last week that it will stop stocking all 843,000 of its hotel rooms worldwide with single-use toiletry bottles by 2021, moving toward bulk-size soap dispensers instead.
It's the first major hotel chain to respond to growing concern over plastic waste, but we're betting it won't be the last. The backlash against the tiny bottles has been brewing for years. From a bill in California's Legislature to ban those hotel bottles to other legislative pushes against single-use plastics nationwide, the tide is turning.
And while pessimists accuse hotel brands of putting an environmentally friendly spin on a money-saving decision, we say: Can't it be both?
Here's our take on what this means for hotels, for you, and what might be coming next.
Environment Saver? Or Money Saver?
Let's be honest: It's just great PR for IHG to move to large, refillable bottles. At a time when dump yards and beaches alike are full discarded of plastic, IHG gets to raise the banner of saving the environment, one hotel room at a time.
So it's out with the tiny toiletry bottles and in with the wall-mounted dispensers at all 17 of the hotel company's chains.
But there's no denying that this also cuts costs for hotels, too.
Truthfully, we don't really know what hotels pay for toiletries – it might be a lot less than you think. Consumer brands want hotel contracts because it gets their name and products in front of thousands of people who may later buy them. That exposure can be valuable, offsetting at least part of a hotel's cost.
Would IHG have made this move if there wasn't also a financial reason to do so? Probably not. But that doesn't negate the environmental impact of hundreds of thousands of tiny plastic bottles that now won't be simply hoarded or, more likely, thrown away.
Even the little victories for the environment should be recognized and celebrated. More and more companies in the travel world are doing their part to cut down on carbon emissions (and that includes Thrifty Traveler).
So whether this is truly driven by consumer demand or the company's bottom line, it's irrelevant. The outcome is positive.
What it Means for You
Your drawer full of tiny hotel bottles is going to dwindle, stock up now.
We're kidding. This shouldn't affect your hotel stay much at all.
Sure, there's a higher possibility for dirty or messy toiletries, but IHG should be aware of this. The switch to bulk-size toiletries has made it into the mainstream – all eyes are on IHG now. They need to make the switch as seamless and easy as possible without affecting their customers' experience or satisfaction.
What about quality? The term "bulk" has a bad connotation – it brings to mind those giant, generic tubs of "soap."
But so long as the shampoo stays as, well,  shampoo, and there is still a conditioner, we will be happy. No one wants an all-in-one body wash/shampoo/conditioner tub of blue goop, right?
What's Coming Next?
IHG is just the first major hotel chain to announce the switch to bulk toiletries. But they're not alone.
A few smaller hotel brands have already made the switch. Aloft Hotels, now part of Marriot, started with wall-mounted toiletries in showers as part of their original design.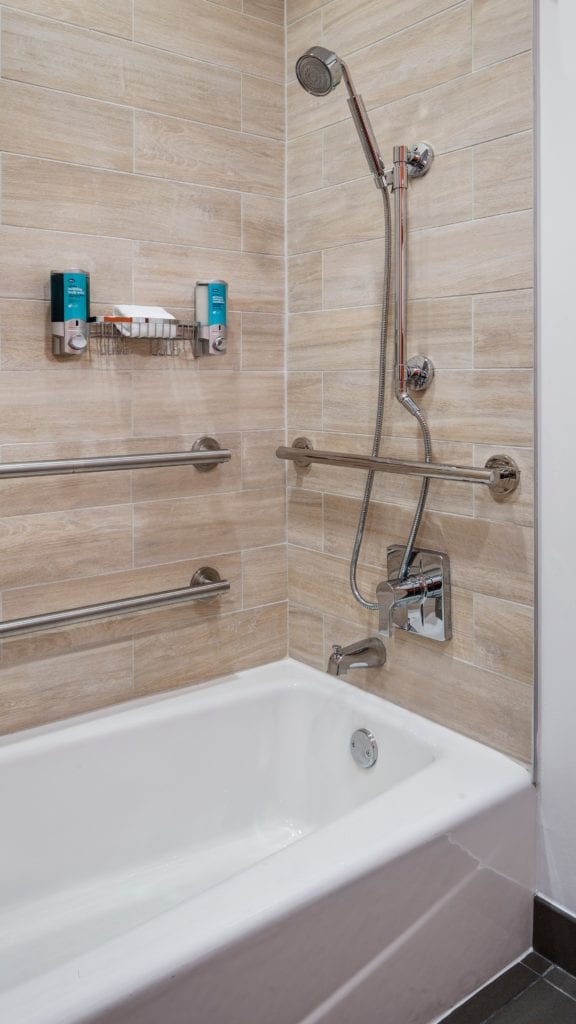 We expect more hotel chains to follow suit shortly. It seems like no brainer: good for the environment, good for the bottom line, and overall good PR.
Bottom Line
Their motivations notwithstanding, this is a positive. The biggest hotel chains can make a big impact. They're responsible for stepping up to help the environment. That's how this gets better, and how we protect the world for future travelers.