A few weeks ago, Hyatt quietly made cash reservations available at their new Hyatt Ziva & Zilara properties in Punta Cana. At the time, it wasn't possible to book a night at either property with World of Hyatt points. However, that changed on Wednesday, and you can now book a night at either property for just 25,000 World of Hyatt points each night. 
Whether you are paying cash or using points, reservations are available starting on November 1, 2019.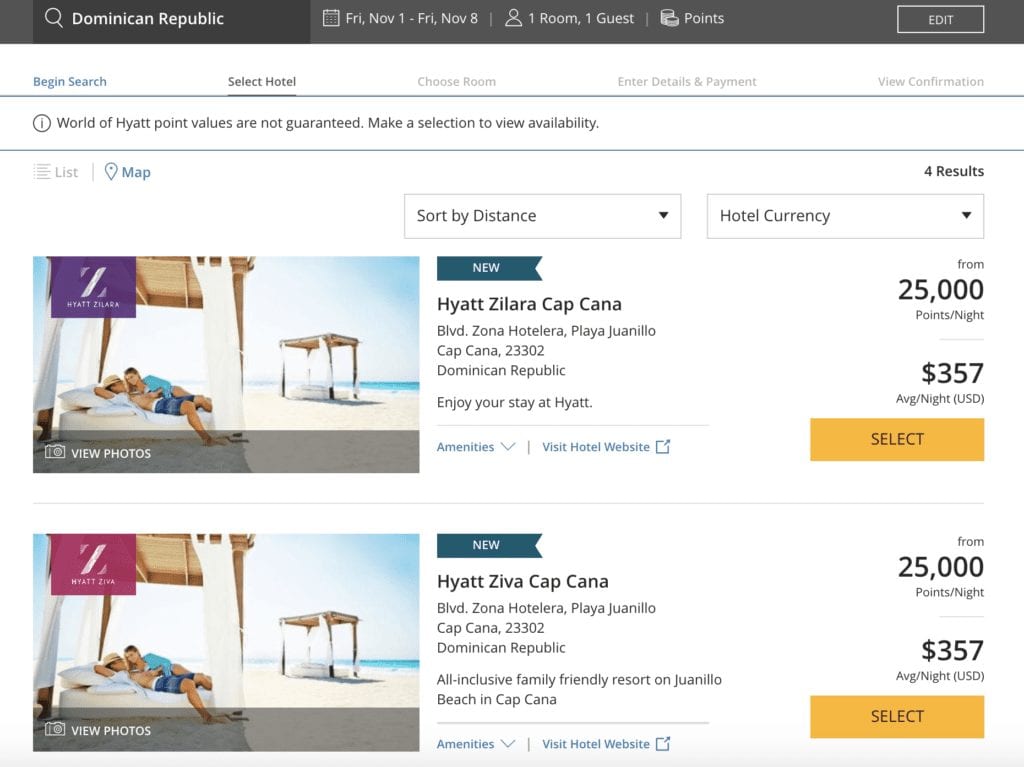 The Skinny on Hyatt's Ziva & Zilara Brands
Hyatt's Ziva (family-friendly) and Zilara (adults only) all-inclusive resorts in Cabo San Lucas, Puerto Vallarta, Cancun, and Montego Bay, Jamaica are all amazing properties, and easily the best you can book with points. And seeing as they're bookable for just 20,000 to 25,000 World of Hyatt per night, it's a steal.
Per playaresorts.com, the two new resorts will have a combined total of 750 rooms, with over 1,300 square meters of white sand beaches. The resort will also include a water park with a lazy river and a convention center with 17,500 square feet of ballroom space. Best yet? The resort is only 15 minutes away from the Punta Cana airport (PUJ).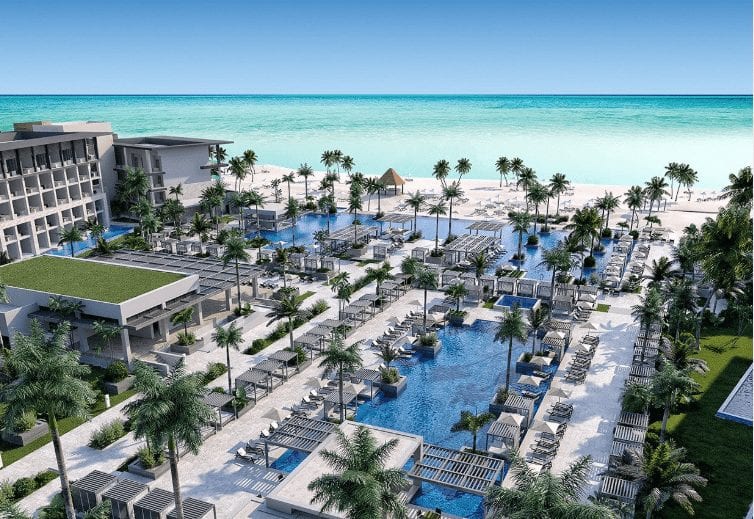 The Zilara Cap Cana will be for adults only, while the Ziva Cap Cana will be family-friendly, allowing guests of all ages. The two resorts will largely operate individually, but they're right next door to each other. So they'll share some common amenities like the spa and the fitness center.
Booking With Hyatt Points
We're not shy about our love affair with the Hyatt Ziva & Zilara brands. As previously mentioned, they are some of the only all-inclusive resorts in the world that can be booked with points. And most importantly, these resorts are high-end.
As mentioned above, rooms can now be booked at the Hyatt Ziva and Zilara Cap Cana starting on November 1, 2019. Regardless of whether you book at the Ziva or the Zilara, rates start at 25,000 World of Hyatt points each night for two guests.
Additionally, if you are booking a room for three people, Hyatt will charge 37,500 points per night and a room for four people will run 50,000 points each night.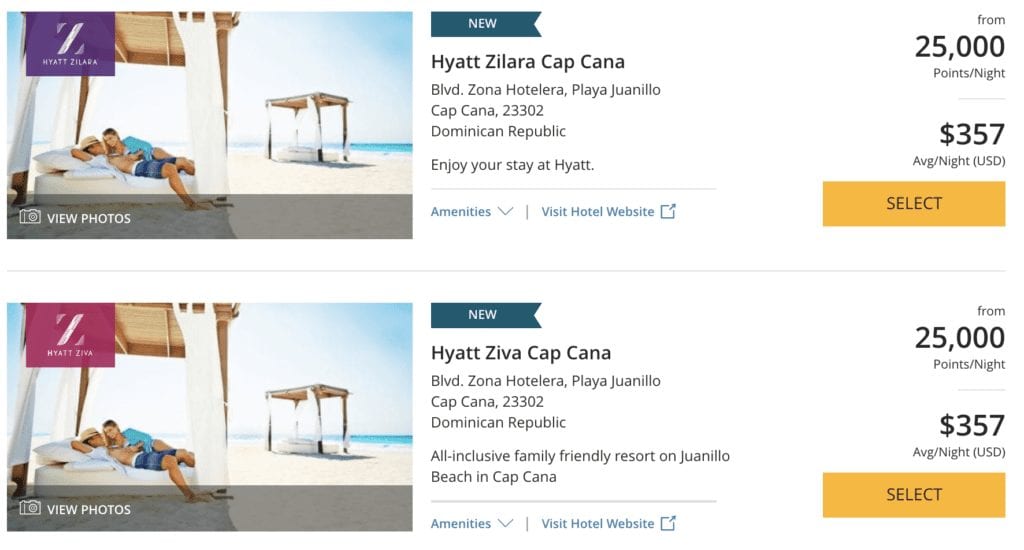 This is exciting news as World of Hyatt points can be earned from a number of different credit cards. First and foremost, the Chase World of Hyatt Credit Card is currently offering a sign-up bonus of up to 60,000 points.
You'll earn 30,000 Bonus Points after you spend $3,000 on purchases in the first 3 months from account opening. And you can earn an additional 30,000 Bonus Points from earning 2x points on all purchases on up to $15,000 in the first 6 months.
Transfer Chase Ultimate Rewards Points to Hyatt
In addition to the World of Hyatt card, you can also transfer Chase Ultimate Rewards points into the World of Hyatt program. That means if you have either the Chase Sapphire Reserve or the Chase Sapphire Preferred, your points can be transferred on a 1:1 basis (1 Chase Ultimate Reward point = 1 World of Hyatt point) to World of Hyatt instantly. World of Hyatt points are the most valuable among the various hotel chains, so this transferability is one of many reasons we love Chase Ultimate Rewards.
The Chase Sapphire Preferred is currently offering 60,000 points after spending $4,000 in the first three months of card membership, with a $95 annual fee. Meanwhile, the Chase Sapphire Reserve also has a 60,000-point sign-up bonus but carries a $550 annual fee. Because Chase restricts you from holding both cards, you'll have to choose which one makes the most sense for you. Read our guide to help make the decision.
Bottom Line
These Ziva and Zilara all-inclusive resorts are outstanding. The fact that you can book them with World of Hyatt points makes them even better in our book. We're looking forward to this resort opening in November!