Consider this your final warning, Hyatt fans.
Last month, Hyatt unveiled its list of properties on the move within its award chart: 70 Hyatt properties across the globe are shifting up a category, meaning they'll soon cost more World of Hyatt points per night – while a handful more will drop in price. Those new award rates are set to take effect Tuesday, March 22 at 8 a.m. CST.
That means you've got less than a day remaining to lock in a stay before award rates increase – including at some of the most sought-after, high-end properties in Hyatt's portfolio. And Hyatt allows you to book as far out as mid-March 2024, which means you could lock in a stay at a cheaper rate for a trip almost two years from now … award space permitting, of course.
We've rounded up a list of some great Hyatt properties on the move you might want to book before tomorrow.
The Basics of Hyatt's Changes
Hyatt sets the number of points you need to book a free night based on an award chart, divided up into eight different categories. That's a good thing – at least most of the time.
If you want to book a standard room at a Hyatt category 5 hotel, it will cost you 20,000 World of Hyatt points per night. With the introduction of peak and off-peak pricing rolled out last year starting for stays March 22 and onward, the timing of your stay could change that rate … by as much as 5,000 additional points for a stay during peak travel times (or 5,000 points fewer for an off-peak reservation).
But as Hyatt reshuffles properties across categories, it could also cost more (or fewer) points to book a night at the same hotel tomorrow than it does today. It's the first time in years Hyatt has done this: They put what's usually an annual practice on hold during the pandemic.
Here's a look at Hyatt's award chart.
With 146 properties on the move, there's a lot to unpack. In all, 76 Hyatt properties will drop a category and thus cost fewer points per night. But there's no need to worry about that: Hyatt will refund the difference in points if you book a hotel that costs fewer points after tomorrow's big change.
It's the properties on the rise in Hyatt's award chart that really matter. And while there are 70 Hyatt properties on the rise, some stand out more than others. And it could make sense to book now, especially since Hyatt allows free cancellation of award stays so long as you cancel at least 48 hours in advance. That gives you the freedom to book one of these properties now for a future stay fairly risk free.
Even if you don't have World of Hyatt points, you can easily earn them as Hyatt is one of several Chase transfer partners – in fact, it's one of the best. You can transfer points from Chase Ultimate Rewards straight to your Hyatt account on a 1:1 basis.
Here are a few highlights you might want to book before tomorrow morning.
Alila Ventana Big Sur
Of all the hotels and resorts in Hyatt's portfolio, this one might just top the list. But good luck booking it…
Alila Ventana Big Sur is one of the most aspirational properties in the world for points-hoarders. It's a beautiful resort with tons of amenities set on California's serene coastline, and it normally goes for $2,000 or more a night. And even when you book with points, it's all-inclusive: Pretty much everything but alcohol is included in your stay.
Today, it costs 30,000 World of Hyatt points for a standard night. Tomorrow, that jumps to 40,000 points as it moves into Hyatt's top Category 8. 
But beware: Just because it costs 30,000 points a night on paper doesn't mean you'll be able to do it. This property is notoriously difficult to book using points, as the resort rarely releases standard rooms bookable for 30,000 points (give or take 5,000 for peak- and off-peak stays). To make it happen at these lower rates, you'll need to be incredibly flexible and patient to find dates that work.
Park Hyatts in New York, Paris, Milan, Sydney & Kyoto
Park Hyatt is the hotel chain's premier hotel brand. And some of the most popular Park Hyatt locations on the planet are getting more expensive when using your Hyatt points.
From New York City to Japan, a handful of top Park Hyatt properties are increasing to Category 8. That means award rates for a standard stay will increase from 30,000 per night to 40,000 per night – and during peak times, you could pay as much as 45,000 points per night.
Here's a quick list of some of the top Park Hyatt properties on the rise:
Park Hyatt Paris-Vendôme
Park Hyatt Milan
Park Hyatt Sydney
Park Hyatt Kyoto
Park Hyatt Niseko Hanazono
The Confidante Miami Beach
This hotel on Miami Beach's notoriously pricey stretch of sand has flown underneath the radar for years, offering great value for your Hyatt points. But now, apparently it's gotten too popular for its own good.
The Confidante Miami Beach is increasing to a Category 5 hotel, pushing nightly rates for a standard award up to 20,000 points. That's a double whammy: Not only will your World of Hyatt points not get you as far, but it also means that you'll no longer be able to use free night certificates from the Chase World of Hyatt Credit Card. Each year on your cardmember anniversary, you get a certificate for a free night to use at Hyatt properties, but only those from category 1-4 property. You can also earn these certificates through the Hyatt Brand Explorer program.
Gild Hall, A Thompson Hotel
Finding a good deal on hotels in New York City isn't always easy. But at 15,000 points per night, booking Gild Hall, a Thompson Hotel in the heart of Manhattan's financial district has been a slam dunk for years.
That's changing. Soon, it'll also bump up to a Category 5 property, pushing standard award nights up to 20,000 points per night and making it ineligible for those free night certificates.
Park Hyatt Zanzibar
Staying at a Park Hyatt doesn't get much cheaper – or cooler – than the Park Hyatt Zanzibar. But soon it'll cost you more points.
This beachside resort in Tanzania has been a major sweet spot at just 15,000 points per night for a standard stay. Our Thrifty Traveler Premium flight deal guru Gunnar and his wife-to-be have three nights locked in for their honeymoon using just 45,000 points.
Come tomorrow, it'll jump to 20,000 points per night for a standard award stay. For one of the most reasonably priced Park Hyatt locations on the planet, there are some substantial savings to be had by booking today – not tomorrow.
Hyatt Regency Tokyo
Whether it takes weeks, months, or more than a year, Japan will reopen eventually. Why not lock in a stay now for less?
The Hyatt Regency Tokyo has been on my list for years. Sure, it may lack the appeal of the Park Hyatt Tokyo or even the nearby Andaz. But it's in a great location and runs just 12,000 points per night – or a bit less during off-peak stays (or more during peak periods).
But that's changing, too. Soon, it'll cost 15,000 points per night for a standard award stay.
Hyatt Place Moab
Moab, Utah is a special place.
It's a fun town in its own right, but it's located just a stone's throw away from two incredible national parks: Arches and Canyonlands. That makes Moab a must-visit for a road trip to see Utah's national parks for at least a night or two. Why not stay at the Hyatt Place Moab – and book now to save a few thousand points?
This Hyatt hotel is the only one among the list of 70 properties on the rise to jump not one but two award chart categories – and that means the points it takes for a free night will nearly double. Book today, and a standard night will run you 8,000 points. Book tomorrow, and it will cost 15,000 points.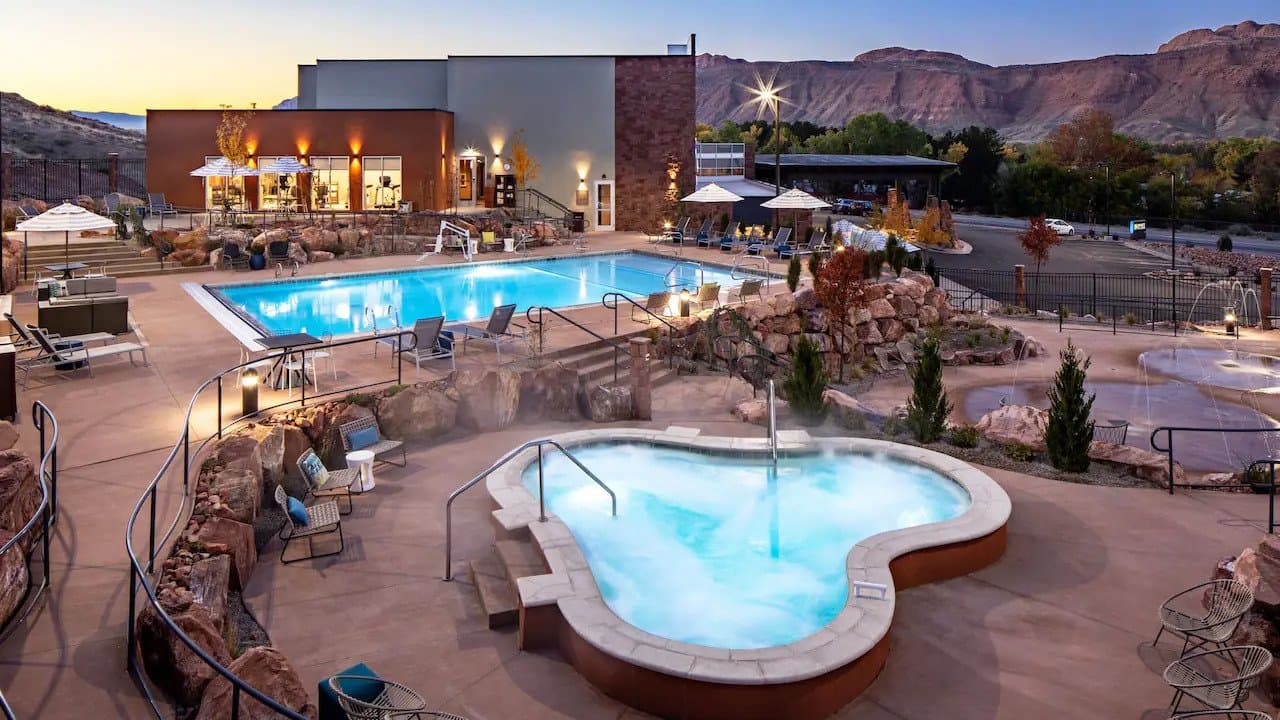 Other Hyatt Hotels on the Move
While the list above comprises some of the most notable changes at Hyatt properties, the list goes on.
Here's a quick breakdown of some other Hyatt hotels and resorts where award rates will be increasing, with award pricing listed for standard stays:
Alila Napa Valley will go from 30,000 points per night to 40,000 points apiece
Andaz Maui at Wailea Resort increases from 30,000 points per night to 40,000 points, too
Park Hyatt Istanbul goes from 15,000 points per night to 20,000 points per night
Hyatt Regency Monterey Hotel and Spa on Del Monte Golf Course also increases from the current 15,000 points per night to 20,000 points
Hyatt House Washington D.C. / The Wharf is jumping up to 15,000 points per night during standard season
Ambassador Hotel in Chicago will jump from 12,000 points to 15,000 points per night
Thompson Central Park New York goes from a Category 5 to Category 6, raising award rates from 20,000 points to 25,000 points per night
Check out Hyatt's full list of properties on the move!
Bottom Line
You've got less than 24 hours before award rates increase at 70 Hyatt properties around the globe.
Some of these increases are worse than others – and some are probably overdue. But with the ability to book up to two years in advance and cancel most award bookings for free if plans change, it can't hurt to lock something in now before it'll cost you more points to do so.
Remember: These new Hyatt award prices take effect Tuesday, March 22 at 8 a.m. CST.
Lead photo of Park Hyatt Sydney, courtesy of Hyatt