Through new buildouts and acquisitions, Hyatt is on a tear recently expanding its portfolio of all-inclusive resorts. And now Hyatt has its sights set on the Mexican island of Cozumel.
The Caribbean Journal reports on Hyatt's plans to open a brand new Dreams all-inclusive resort on the island just off the coast of Cancún, hoping to open sometime in the first three months of 2022. It comes just after Hyatt's massive acquisition of Apple Leisure Group back in August, which operated the Dreams resort portfolio.
The new Cozumel resort will have a total of 154 suites, including a number of junior suites with swim-up access and oceanfront views. Guests at the Dreams Cozumel resort will also have access to the neighboring Sunscape Sabor Cozumel, while guests over 18 can access the nearby Secrets Aura Cozumel adults-only resort.
We've been huge fans of the Hyatt Ziva & Zilara properties for years. Scattered across Mexico and the Caribbean, they're some of the best all-inclusives around – and best of all, they're bookable with points to make your stay completely free.
Hyatt's new Dreams properties aren't yet bookable with World of Hyatt points, so it's hard to say what will happen with this upcoming Cozumel property. But we're betting that option will eventually come online.
Booking Hyatt All-Inclusive Resorts With Points
Hyatt expanding its all-inclusive resorts portfolio is welcome news, especially for members of the World of Hyatt loyalty program. That's because the Hyatt Ziva and Zilara all-inclusive resorts are currently some of the best all-inclusive resorts that can be booked with points.
Those options are expanding drastically lately. While Dreams properties aren't yet bookable with World of Hyatt points, Hyatt is building out more and more Ziva and Zilara locations with the recently opened Hyatt Ziva Riviera Cancún, the upcoming Hyatt Zilara Riviera Maya north of Playa del Carmen, as well as a brand new Hyatt Ziva Barbados.
Not only can you book these resorts throughout Mexico and the Caribbean using points, but they are also generally an incredible value – and a step above what you'll find at other all-inclusive resorts. Hyatt just does things differently, and that's a good thing.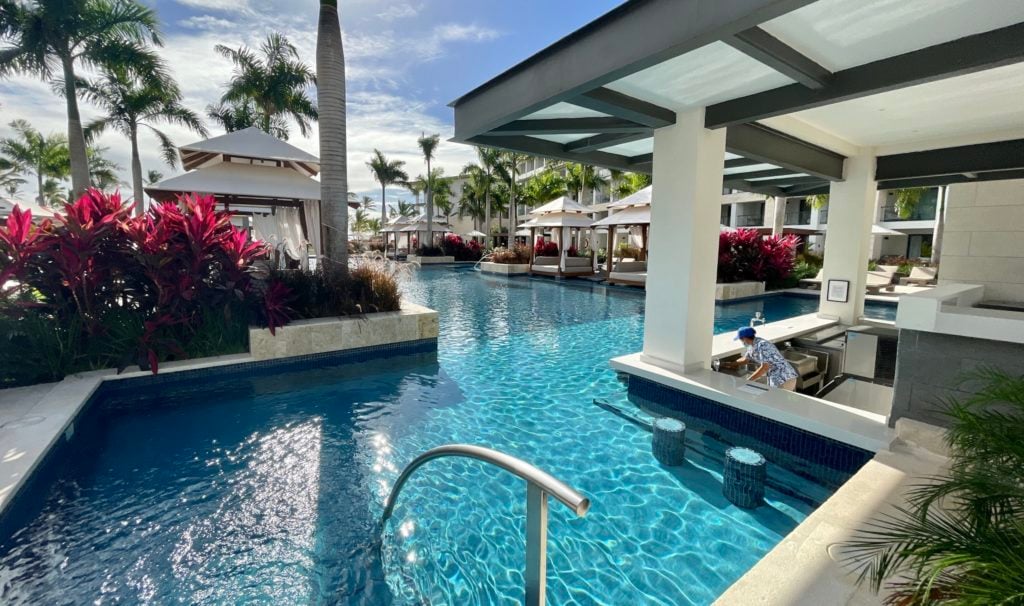 We're hoping Hyatt's recent addition of Dreams properties will soon be bookable with points.
If the pricing for the Hyatt Ziva and Zilara resorts is any indication, expect to pay either 20,000 or 25,000 World of Hyatt points each night – at least for a standard stay. Just recently, Hyatt introduced peak and off-peak pricing for stays starting in March of next year. Depending on the time of year of your stay at any of their resorts, expect to pay more (or fewer) points based on the all-inclusive award chart below.

Paying cash? You can expect to pay between $200 to $500 a night depending on the time of year and potentially other factors. That's generally the pricing you will find at the existing Hyatt Ziva and Zilara properties. We suspect the Dreams resorts will be priced similarly.
Read more: How to Book Hyatt all-inclusive resorts with points
How to Earn World of Hyatt Points
You might be saying to yourself, "this sounds great, but I don't have any Hyatt points." Don't worry.
You don't need to be a road warrior who constantly stays at Hyatt hotels to earn enough points for a stay at any of Hyatt's all-inclusive properties. There are a few different credit cards that make earning Hyatt points relatively simple and straightforward.
The first is obvious: the World of Hyatt Credit Card. Just for opening the card and spending $3,000 in the first three months of card membership, you will receive 30,000 World of Hyatt points.
You'll also earn 2x points on up to $15,000 of spending in the first 6 months of card membership. That's 60,000 points total and enough for at least two free nights at any of the Hyatt All-inclusive resorts.
The card has a $95 annual fee which is not waived for the first year of card membership. However, starting in year two, it offers an annual free night certificate to be used at any Hyatt category 1-4 property. None of the Hyatt all-inclusive resorts are eligible for the free night certificate, but for me, it is reason enough to justify the annual fee.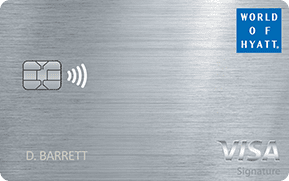 Click Here to learn more about the World of Hyatt Credit Card
In addition to the World of Hyatt Credit Card, you can also earn Hyatt points by transferring points from Chase Ultimate Rewards. Because Hyatt is one of the 13 airline and hotel transfer partners of Chase's Ultimate Rewards program, you can transfer Ultimate Rewards points into your World of Hyatt account at a 1:1 ratio. This means one Chase point will equal one World of Hyatt point.
And if you don't have Chase Ultimate Rewards points, they can be earned from a number of personal and business credit cards. Most notably the Chase Sapphire Preferred® Card.
Read More: The Chase Sapphire Preferred is the No. 1 Travel Card Right Now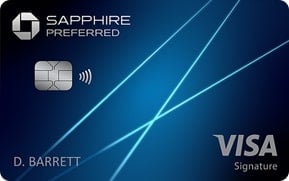 Click Here to learn more about the Chase Sapphire Preferred Card. 
So hypothetically, you could open the World of Hyatt Credit card and one of the Chase Sapphire cards and earn up to 120,000 points. That's enough to cover up to six free nights at Hyatt's all-inclusive locations.
Do you have a spouse or a significant other? You can both earn points in your own World of Hyatt accounts and book back-to-back reservations for a longer stay, or just combine your World of Hyatt points.
You won't find a better deal when it comes to all-inclusive resorts. Period.
Bottom Line
After its acquisition of a major all-inclusive chain back in August, Hyatt plans to open a brand new Dreams all-inclusive resort in Cozumel in early 2022. While it isn't yet clear, we imagine this new resort will be bookable with World of Hyatt hotel points. Hopefully sometime soon!