No announcement, no streamers falling from the sky. And yet here we are with the latest addition to Google Flights.
Google Flights quietly rolled out a hot new update to their Price Alerts feature, and you're going to love it. Now you may receive notification when airfare prices you are tracking are likely to increase soon. If this is Google Flights' response to airfare forecasting tools like Hopper, we're here for it.
Google Flights Price Alerts
First of all, if you're not using Google Flights Price Alerts to track prices on upcoming travel plans with specific dates, you should be. And if you're not using Google Flights, period, you're doing it wrong.

One of the questions we get asked most is: "Will prices for this flight drop again?" Luckily, Google Flights Price Alerts answer that question.
Never used Google Flights before? Check out our guide to use Google Flights for finding cheap flights. New to the Price Alerts? Read our full guide to Google Flights Price Alerts.
Here's a quick run-down on how to use Google Flights Price Alerts. Once you're on the Google Flights homepage, select your origin and destination airports and travel dates. Select round-trip or one-way tickets, the number of travelers and which class you want to fly (economy, business, etc.).
Once you've clicked Search, the results will start pouring in. Here, you can filter for what kind of flight you'd like. Set filters for number of bags included, number of stops, airlines you want (or want to avoid), times you want to fly, and filter out long layovers. Google Flights is king of filter options!
Below, you'll see a block in red: this is where you can track the prices of a specific flight. Clicking this toggle on will turn on price tracking. You must have a Gmail account to receive Google Flights price alerts. You'll receive notification via email if your tracked flight drops or increases significantly in price.

Google Flights Price Range Indicator
The closest thing Google Flights had to price forecasting previously was this bar on the Google Flights search results page. It's a price range indicator just below the best airfare options on a Google Flights search results page. This indicator will tell you whether prices are cheaper or more expensive than usual for the dates you're looking at.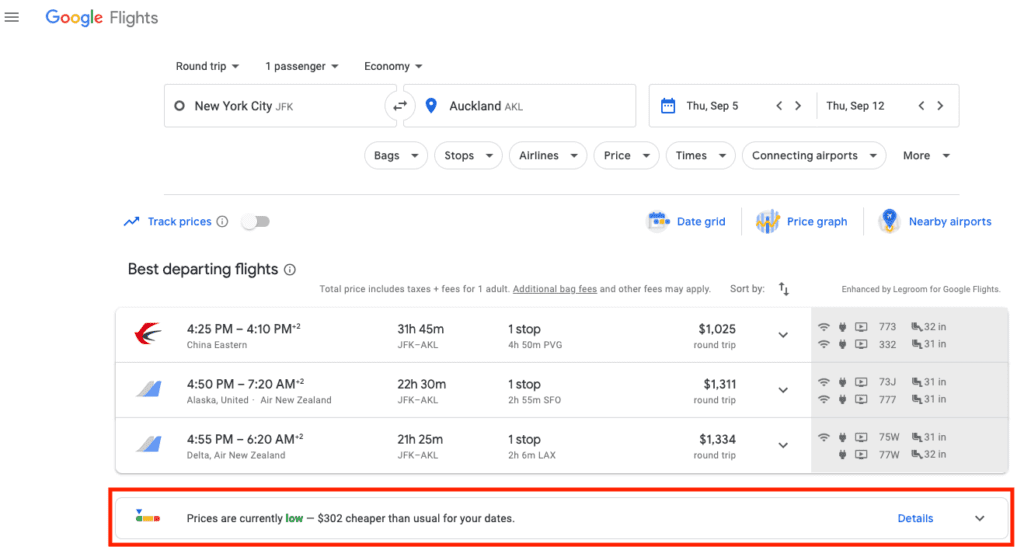 This price range indicator can give you a great idea as to whether you should book now or wait and hope for a better price. This is a great tool to use in conjunction with a Google Flights Price Alert.

Google Flights' New Price Alerts Forecasting Notifications
In the past, Google Flights Price Alert email notifications looked like this email box below. It includes a notification of the price changes to the route and dates I selected. As you can see, it also takes into account the filters I set, so it only shows me price changes on flights that are nonstop, include a free carry-on, and are not on budget carriers.
Thrifty Tip: To learn more about how to set up a Price Alert, read our guide.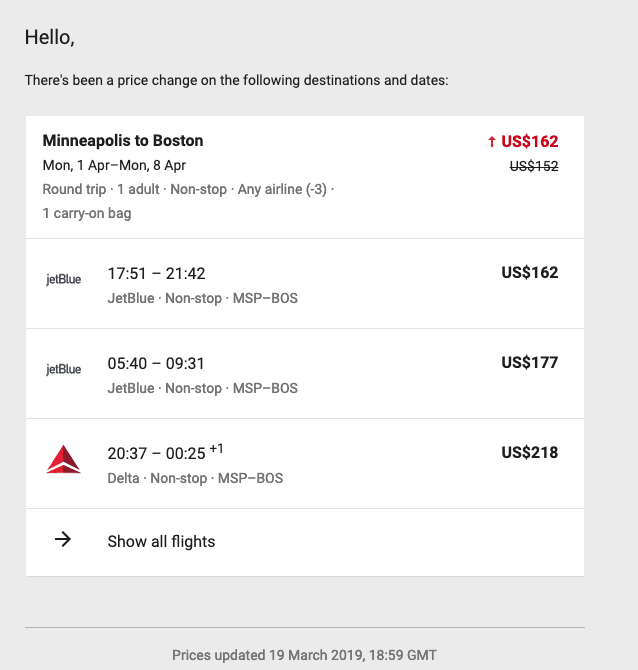 However, Google Flights has taken it up a notch. Just last week, a new kind of Google Flights Price Alert that also included a new feature: price change forecasting. In this email, Google Flights predicted that the fare we were tracking to Auckland, New Zealand would increase by 5% in a few hours.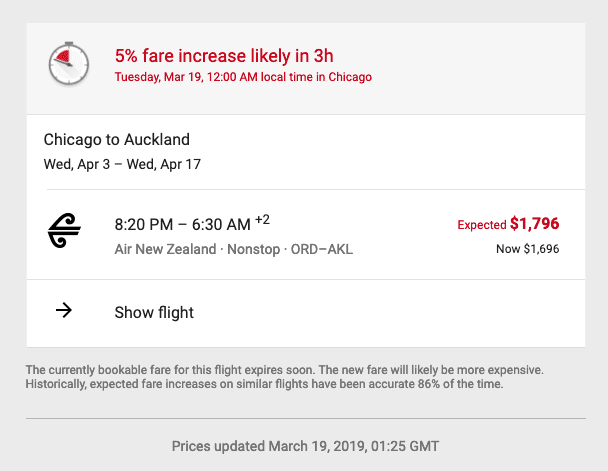 This takes Google Flights' Price Alerts to a whole new level. Getting notified of a likely price increase greatly enhances the Price Alert feature. It's not clear which routes Google Flights is able to forecast for, or what would trigger Google Flights to send these types of emails, but keep an eye out on your tracked flights for this new feature.
Bottom Line
Google Flights is our favorite tool to use when searching for flights for this exact reason. They are constantly evolving and enhancing their features to make finding cheap flights even easier. Keep an eye out for this new price forecasting feature in your email inbox.