If you're a Google Flights fan – and you should be – we have some exciting news for you. Google Flights has recently begun rolling out a big update to their tracked prices for Price Alerts, and it means more helpful information on flight price history for you.
In the past, Google Flights Price Alerts would only show pricing data starting on the day you began tracking a specific flight. Now, Google Flights has added historical pricing data for over 275 days or more on some routes.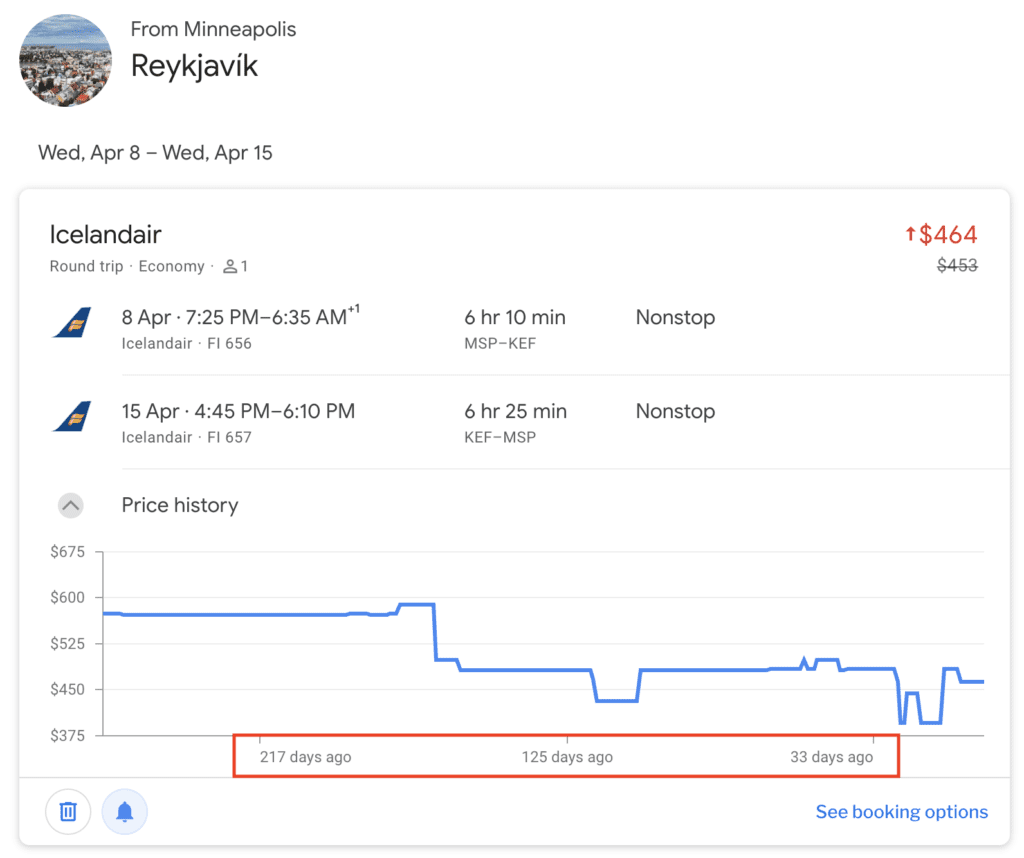 This change is a huge win for travelers as it will help you make more informed pricing decisions before you pull the trigger on purchasing airfare. We just started tracking the route pictured above yesterday, and as you can see, it is already populating over 250 days of pricing data.
It appears that Google Flights is aggregating a massive amount of flight pricing data and slowly rolling out this new update, as it is currently only available on select routes. We've been able to see this on a handful of routes out of our home airport, Minneapolis-St. Paul (MSP), but it should become more widespread soon. If you are currently tracking flights with Google Flights Price Alerts, you may want to see if this update is available on the routes you have been monitoring.
How Historical Prices Help You Book Cheap Flights
This may seem like a small update, but this is a huge win for travelers. If you're ever asked: "What's the cheapest this flight has ever been in the last year?", "Should I buy now or wait to see if prices drop?", or "When is it usually cheapest to book a flight on this route?" this update is a game-changer for you.
With this massive store of price history data, travelers can now quickly compare current flight prices to historical information. By looking at the pricing history trends, travelers should be able to quickly and easily see whether the current pricing is a good deal or not.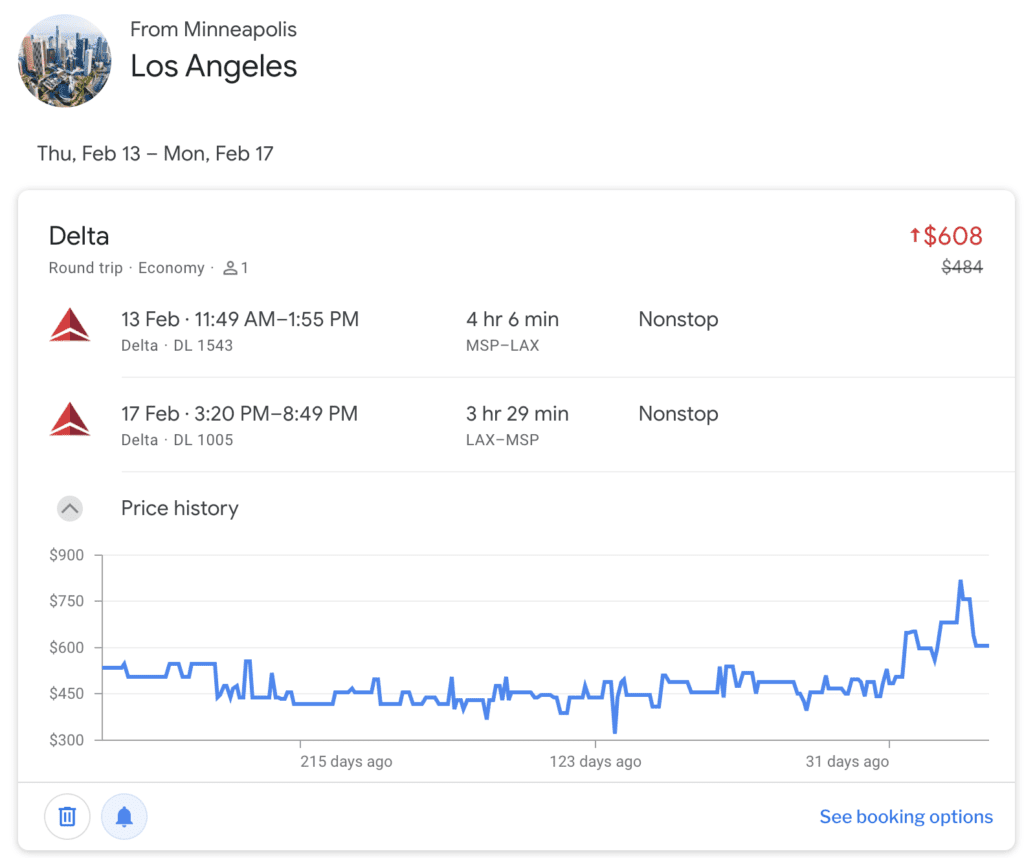 Google Flights is the Best Tool for Finding Cheap Flights
If you're not a Google Flights fanatic yet, let us convince you. It's the best tool to use when searching for cheap flights and price alerts are just one of several reasons why:
Google Flights allows you to search up to five origin cities and five destinations at the same time, so you can find the cheapest option.
You can use Google Flights' filters to set various stop, price, airline, and time restrictions.
Filter for the flights that offer the baggage allowances you need.
Don't even bother with long layovers by filtering by layover duration and stops.
One of our absolute favorite tools is the Google Flights Explore feature. Select a month, date range, or specific dates, and see which destinations are cheapest from your home airport.
And of course, we love their Price Alerts feature. If you have to travel on specific dates to a specific destination, this is the best way to get the cheapest flight possible. Set up a Price Alert and Google Flights will alert you when prices drop or increase on that route and date. There is no better tool when your travel dates are not flexible, and with this new feature, it is only getting more powerful.
See our full guide on using Google Flights Price Alerts. 
Bottom Line
If you're like us and are looking for the best information to help you make an informed decision about booking a cheap flight, Google Flights' price history update is a game-changer. With 275+ days of price history data, travelers can better understand pricing trends on specific routes and make a more informed purchasing decision to get the cheapest flight possible.
It isn't yet clear on just what routes this new feature is available for. However, Google often rolls new Google Flights features like this out slowly. Eventually, this should be available on most routes through the price tracking feature.