It's the question that pains every traveler when booking flights: "Sure, I could book at this price now … but what if fares drop afterward?" Google Flights might have the solution: Cutting you a refund if prices drop after you book with Google Flights Price Guarantee.
Yes, the world's best search platform for cheap flights is getting even better. Months after Thrifty Traveler reported that Google was quietly testing a "Price guarantee" feature for select users, the web giant on Monday officially unveiled its latest feature to help travelers save on select flights.
"On Google Flights, you can already see whether current prices are low, typical, or high compared to historical averages. Now, we're going a step further with a new pilot program for price guarantees in the U.S.," the company said. "We'll monitor the price every day until departure, and if it does go down, we'll send you back the difference via Google Pay."
You won't see the price guarantee option on every single fare on Google Flights: It's only available on flights departing from the U.S. For now, you're most likely to see it on flights with Alaska Airlines, Hawaiian, and Spirit. And, you have to book your flights through the "Book on Google" checkout platform and have Google Pay set up to use it.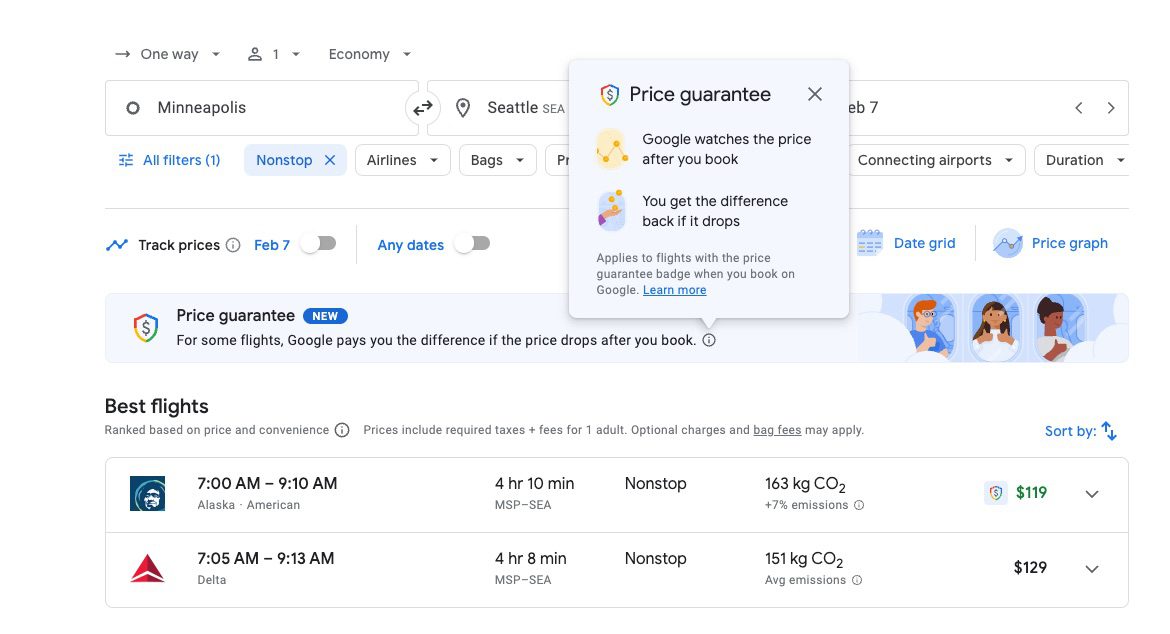 Not using Google Flights? Read our complete guide on how it works – and why it's the best tool for finding cheap flights!
It could be revolutionary for budget-conscious travelers, but Google isn't exactly breaking new ground with its price guarantee option.
Google itself tried this out briefly in 2019 before the pandemic brought that to a halt. And Capital One has made price drop protection a signature perk of booking flights through its revamped Capital One Travel Portal.
In this case, Google isn't acting as an online travel agency such as Expedia or Skyscanner – you're still booking directly with the airline, which is critical. But by booking your flights through "Book on Google" (where you fill out all your information and pay through Google itself without navigating to the airline's site), the company can track prices for your trip and give you the difference via Google Pay if fares drop.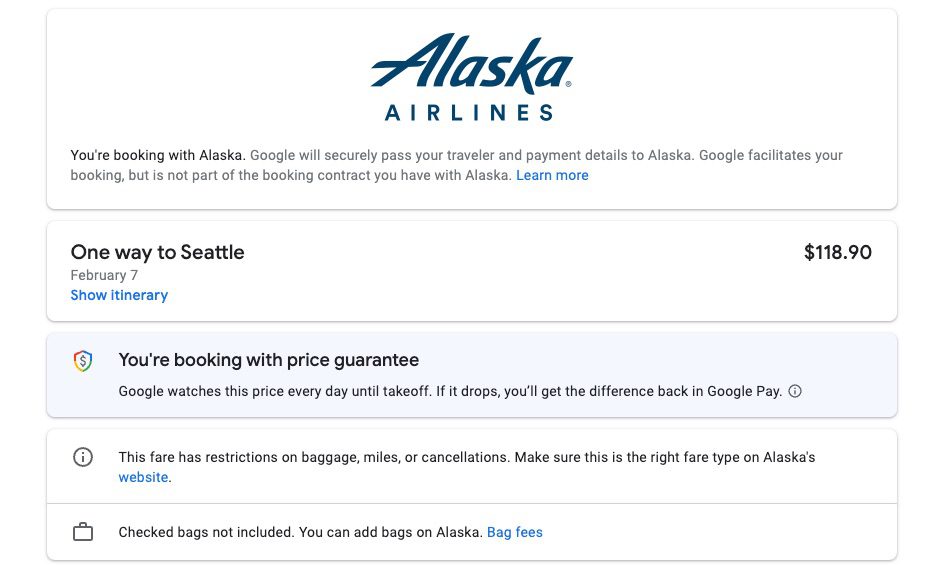 Much like Google Flights price alerts, Google will monitor these flights and pay out a refund based on its lowest price, but not until after the first flight actually takes off. Google's terms and conditions for this Price Guarantee program show prices must drop by at least $5 to get a refund, and those payments are capped at $500 total per calendar year.
It's all paid out by Google Pay, the web giant's digital payment platform similar to Apple Pay with a Venmo-like twist – users can send and receive money and also transfer balances to a bank account. And that underscores Google's motivation for offering this refund feature on flights: As travel demand surges back and more and more travelers turn toward Google Flights in their quest for cheap flights, pushing more users toward their app for payouts when prices drop is a clever way to drum up more interest.
This price drop guarantee is clearly still a work in progress, so many travelers may not see it pop up when using Google Flights just yet. Flights with Alaska, Spirit, and Hawaiian Airlines are the most likely candidates for this "refund if prices drop after you book" feature. And even then, you'll probably only see it on fairly cheap fares within the next few months – situations where Google can be reasonably certain that prices won't drop any further.
For example, the odds of roundtrip flights between New York and San Francisco (SFO) in a few weeks dropping below $258 with Alaska Airlines are fairly low.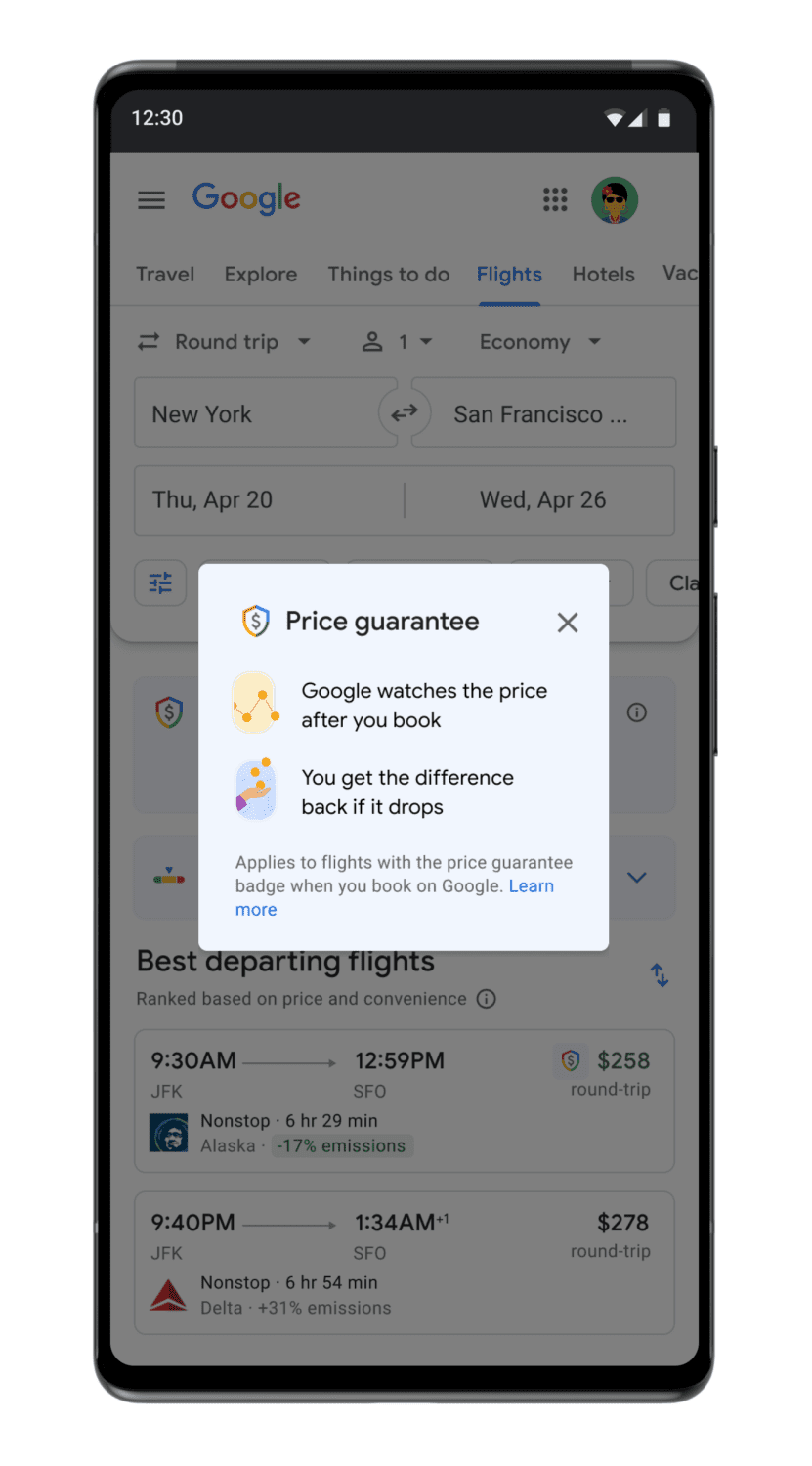 Both one-way flights and roundtrip bookings qualify. You'll need to be signed in via Gmail to see it – and have a Google Pay account set up to get paid out.
Rare or not, we're excited to see this option expand, giving travelers peace of mind that they can get the best deal no matter when they book. This feature hinges on the "Book on Google" checkout platform, which is only available on flights departing the U.S., so while international flights departing the U.S. could eventually see this option, it's unlikely it will ever be available for all flights worldwide.
Will the Google Flights price guarantee option expand to more and more airlines? Only time will tell.
Bottom Line
Google Flights is already the best search engine for airfare, and it's not even close. Yet the platform just keeps getting better and better.
They've expanded Google Flights Price Alerts to be even more powerful, added carbon emissions estimates to help travelers make environmentally conscious decisions, and more. And now the platform is doling out refunds if prices drop after booking, potentially solving a major source of anxiety for travelers.
You may not see this price guarantee feature just yet – and even if you do, it won't show up on many flights. But we wouldn't be surprised to see this price protection feature become a fixture on Google Flights.