If you're a Thrifty Traveler then you know that Google Flights is the best way to search for your next flight. It's the primary tool we use to book the cheapest flight possible. The problem with Google Flights is there has been no easy way to filter out Basic Economy fares.
The good news is Google Flights rolled out a new "Bags" filter option yesterday, which allows you to only show pricing for fares which include free carry-on. This new Basic Economy filter is a big development for Google Flights and one users have demanded for months.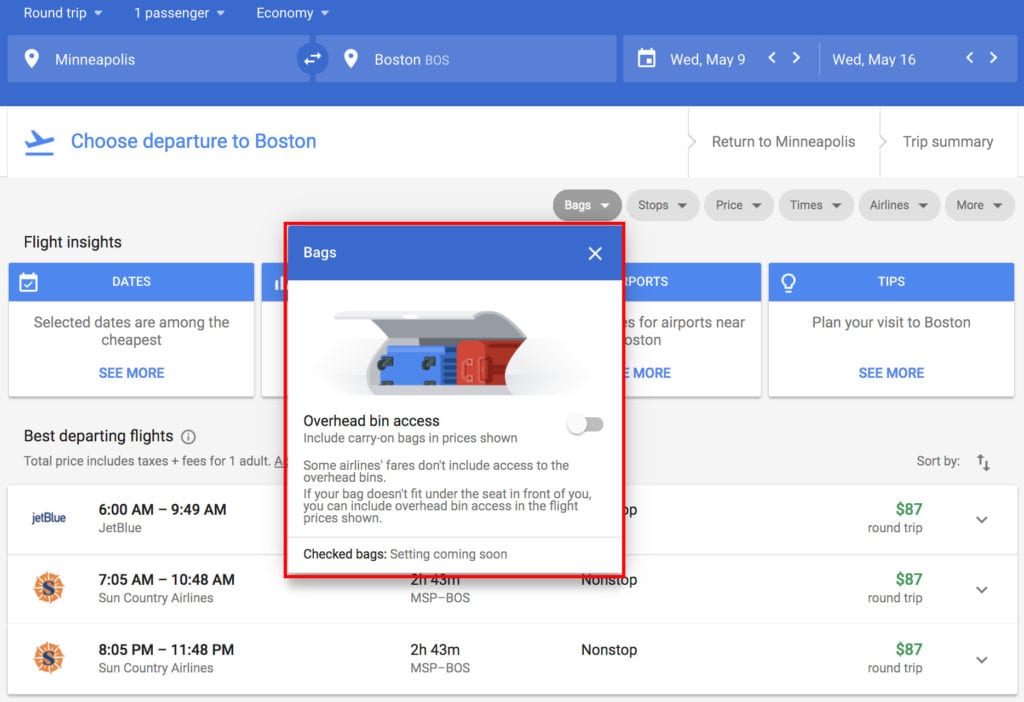 With the new filter for "Overhead bin access", you can now filter out most Basic Economy fares and only see fares which include carry-on bags in the price. The new filter currently only works on domestic fares, but I expect it to roll out to international fares in the near future. It should be noted that the only Basic Economy fare that it will not filter out is Delta Basic Economy, as Delta already includes free carry-on. 
There is also a teaser at the bottom of the new feature which says a "Checked bags" filter will be coming soon. As someone who searches for hundreds of flights a day, these new features are going to make it much easier to find cheap fares without ugly bag fees.
Bottom Line 
Although a Basic Economy filter might not seem like a big deal, it will have a big impact on the airline industry. This new feature is bad news for ultra-low-cost carriers (ULCC) such as Frontier, Spirit, and Sun Country which have relied for years on being able to undercut pricing on other carriers by stripping out all the free amenities (seats, carry-on, etc.) we've been used to over the years. Now consumers can bypass these ULCCs and find the true pricing which includes carry-on.
We all deserve to fly without fees and never forget; friends don't let friends fly Spirit :).