Jade's mom watched helplessly as her teenage daughter lost hope.
Jade was diagnosed with a rare and life-threatening blood disorder at just 18 months old. By the time she made it to high school, her health was deteriorating. Every doctor's appointment just brought bad news, worsened by ever more painful treatments. Her grades started to slip. She gave up on once-cherished activities. Her mother, Shonna, calls it "the worst year of her life."
"She lost her light. She lost her hope," Shonna said. "Jade had been defeated; physically and emotionally."
That was more than two years ago. A simple wish helped Jade power through the worst of it: A wish to go to the Country Music Association Awards.
Make-A-Wish Minnesota made that a reality, sending Jade and her family to Nashville for the star-studded award show in 2017. She spent time with one of her idols, Garth Brooks. She snapped selfies with Luke Bryan and other musicians she loves. And she reveled in the energy and joy of the biggest night in country music.

But more importantly, Jade escaped the illness that had threatened to take over her life. From the time she learned her wish would be granted through the trip to Nashville it became a source of the hope she had lost. It gave her something no treatment or medicine could: something to look forward to.
"My wish finally gave me a light of joy in a tunnel of darkness," Jade said. Her mother saw it as a turning point.
"Jade's wish lifted her up, carried her when she couldn't carry herself, restored her hope and gave her something worth fighting for," Shonna said. 
And that's what these wishes are all about – and why we need your help. We're partnering with Make-A-Wish Minnesota this week to raise airline miles to fulfill more wishes like Jade's. We're trying to raise 2 million miles to cover the travel costs of hundreds of other critically ill children who, like Jade, just need a dose of hope and joy.
Whether you have 1,000 unused miles to spare or 100,000, it could help change a child's life just as it did for Jade. Donating miles is free and easy – read more on how you can donate!

A Life of Illness and Music
Jade had hardly known life without illness.
She was just 18 months old when she was diagnosed with a rare and life-threatening blood disorder. With daily medication, surgeries, and chemotherapy, the condition left her on the outside looking in on much of a normal childhood. Sports were out of the question. Just being outside could present challenges.
But Jade found music. She picked up everything from the flute to the guitar, playing in many bands throughout school.
"Music has been a big part of coping with having a serious condition, no matter how miserable I was feeling, I could always listen to music," she said. 

So when life was at its worst for Jade, she turned to music again for her wish to Make-A-Wish Minnesota: to go to the CMAs. The nonprofit organization broke the news to her at halftime during a high school football game. They were sending Jade and her family to Nashville.
Long before stepping on the plane, Shonna saw the effect it had on her daughter. Jade's wish gave her something no treatment or medicine could: something to look forward to. 
"The year leading up to Jade's wish gave her something positive to look forward to. Appointments and treatments took on a new perspective. Instead of dreading them, they were welcomed," Shonna said. "Every appointment or treatment crossed off the calendar was one step closer to her wish coming true." 
The Big Day
The CMAs rolled out the red carpet for Jade – literally.
It wasn't just a one-night award show, but four days packed full of country music. Jade and her family toured through the Country Music Hall of Fame and Museum.
And finally, she put on her new dress and cowboy boots, stepped out of the limo, and onto the red carpet.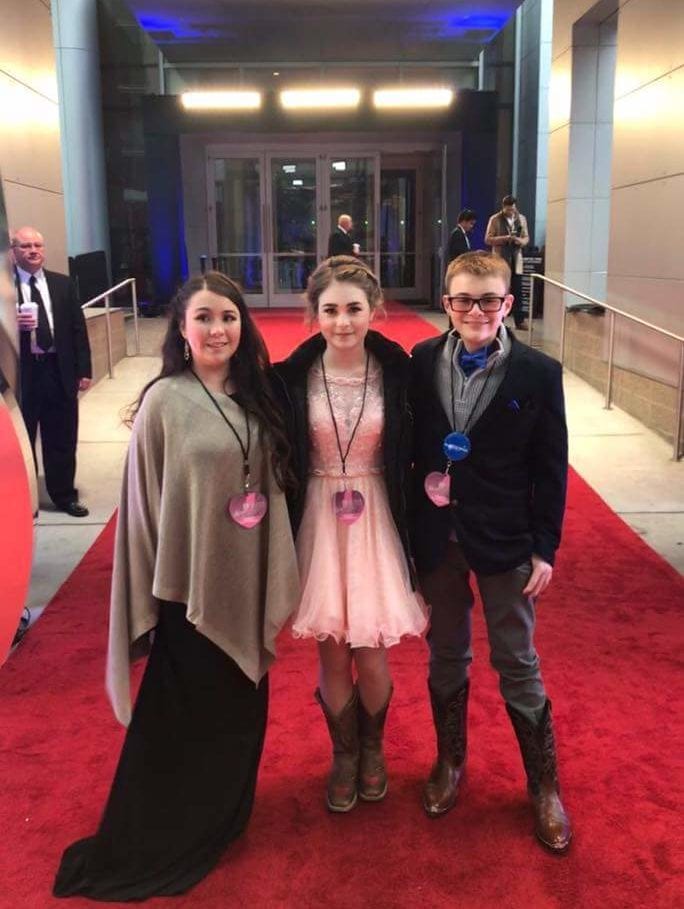 Armed with a backstage pass, Jade got up close and personal with the biggest names in country music. She watched performances from Thomas Rhett, Tim McGraw and Faith Hill, and others. She even formed a fast friendship with Garth Brooks – the pair still chat.

Not bad for her first concert, right?
"We have never seen her smile as big or so much in her entire life," Shonna said. "She was overcome with sheer joy; and that, by far, was the best gift we could ever have received as parents. Those four days were the best four days of Jade's life."
Looking Back … and Looking Forward
Jade still looks back on those few days in Nashville.
"Even afterward, it still allowed me to think about how happy I was then and how that could continue in my life," Jade said. 
Jade will live with her condition for life, but it no longer feels insurmountable. She made it through high school and onto college, where she's studying biology and psychology. She wants to be a pediatric oncologist – helping kids beat cancer.
Jade and Shonna are both quick to credit Make-A-Wish Minnesota and the flyers who donated miles to make her wish a reality.
"Thank you for providing us with something to look forward to and to reminisce on. Thank you for providing the light in what feels like never-ending darkness," Jade said. 
Shonna said the wish gave her daughter life.
"A wish is a gift that goes beyond any tangible value. It is the gift of being a kid again," she said.