On Monday, U.S. Bank officially launched the new U.S. Bank Altitude® Connect Visa Signature® Card, making a splash in the middle of the market for travel credit cards.
First and foremost, you'll earn 50,000 bonus points after you spend $2,000 on eligible purchases in the first 120 days of card membership (four months). Those points will be redeemable through U.S. Bank at 1 cent apiece (for $500 total) for travel, cash back, gift cards, merchandise, and more (terms and conditions apply).
Critically, you do not need to be an existing U.S. Bank customer to apply. That's different from the popular U.S. Bank Altitude Reserve Card. Still, you should expect that a good to an excellent credit score will be needed for approval.
Read on for the full list of benefits and everything you need to know about this exciting new credit card.
Benefits of the U.S. Bank Altitude Connect Visa Signature Card
Welcome Bonus Offer
Just for opening the card and spending $2,000 in eligible purchases in the first 120 days of card membership (four months), you'll earn 50,000 bonus points. Those points are redeemable for up to $500 towards travel, merchandise, gift cards, cash back, and more.
Your points will never expire for as long as you hold the card.
Earn 4x Points on Travel and at Gas Stations
U.S. Bank Altitude Connect Visa Signature Cardholders will earn 4x points for every dollar they spend on both travel purchases and at gas stations. Eligible travel expenses include flights, hotels, rideshare, cruises, and much more.
Since these points are worth one cent each when it comes time to redeem them, that's effectively a 4% return on purchases in both categories.
Earn 2x Points at Grocery Stores, Streaming Services, and Dining
Cardholders will also earn 2x points for purchases at grocery stores (including grocery delivery), dining at restaurants, and on streaming services. All other eligible purchases on the card will earn 1x point for every dollar you spend.
Annual $30 Streaming Credit
Each and every year you hold the card, you'll receive a $30 credit to use towards streaming purchases like Netflix and Spotify®. Simply use your card to pay for a streaming service of your choice and U.S. Bank will automatically reimburse you up to $30 each year.
After 11 months of consecutive streaming service charges, the 12th month will make you eligible to receive the $30 credit.
Examples of services that will qualify are Amazon Music, Apple Music, AT&T TV Now, Disney+, Google Music, Hulu, Netflix, Pandora, SiriusXM, Slacker Radio, Sling TV, Spotify, Tidal, Vudu, YouTube Music, and YouTube TV.
Up to $100 Credit for Global Entry® or TSA PreCheck®
Cardholders will receive up to a $100 credit to cover the cost of either TSA PreCheck® or Global Entry® once every four years. And membership in either program is good for five years.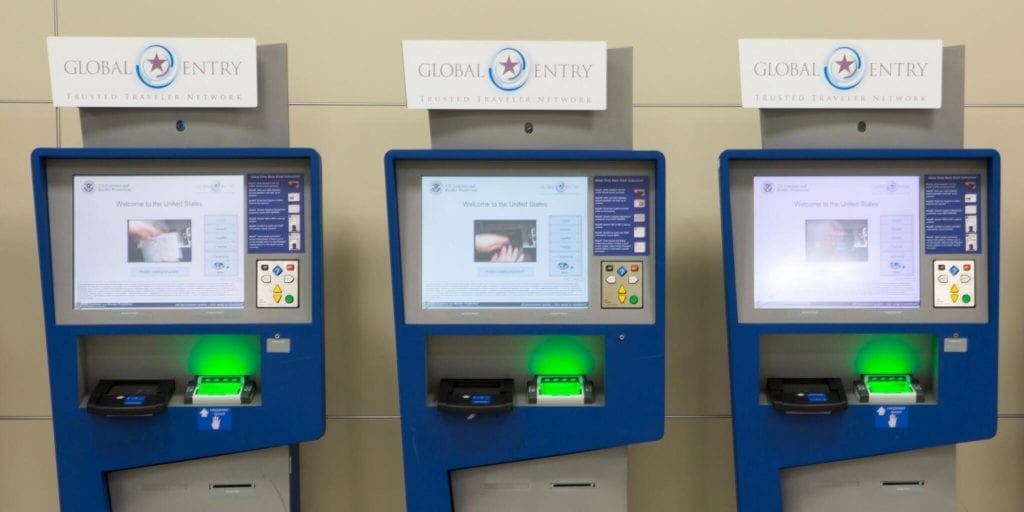 If you plan to do any sort of international travel, Global Entry should be your choice as it also includes a TSA PreCheck membership.
Read More: Global Entry vs TSA PreCheck: Which is Better for You?
Cell Phone Protection
As long as you pay your monthly phone bill with your Altitude Connect card, you'll get up to $600 of reimbursement if your cell phone is stolen or damaged.
Annual Fee
The annual fee on the U.S. Bank Altitude Connect Visa Signature Card is $95. However, that fee is completely waived in your first year of card membership. You won't be on the hook to make your first payment until your second year holding the card. Additionally, the card does not charge foreign transaction fees.
Our Analysis
U.S. bank is clearly gunning to compete with cards like the Chase Sapphire Preferred Card and the Capital One Venture Rewards Credit Card.
Both of these cards also have a $95 annual fee, though neither of them waives the annual fee in the first year. And only the Capital One Venture Card provides up to a $100 credit to cover the cost of Global Entry or TSA PreCheck.
Add in the annual $30 streaming credit and the bonus points you'll earn on travel, at gas stations, grocery stores, dining, and streaming services, and you can make a case for this being a solid travel card. And at the very list, it is now one of the most affordable options in terms of credit cards that provide up to $100 credit to cover the cost of TSA PreCheck or Global Entry.
Longtime U.S. Bank customers love its FlexPerks program, and it can certainly provide value. Still, FlexPerks lack the option of travel transfer partners. That is largely what makes Chase's Ultimate Rewards Points, and even Capital One Venture Miles so valuable. And Capital One has stepped their game up recently in terms of adding additional transfer partners and even improving the transfer ratios for a handful of transfer partners.
Still, these points will redeem at one cent each towards travel, cash back, and more. I would imagine the redemptions will work similarly to covering travel purchases with miles like Capital One – just put the eligible charge on your card, and then log into your account to use your points to remove the charge. This potentially makes it a great option for Airbnb or other travel expenses that can't be covered with traditional points programs. It also allows you to book directly with airlines and hotels without having to involve a third party (like an online travel agency).
And assuming you can use up the $30 streaming credit each and every calendar year, that effectively lowers your $95 annual fee to $65 (starting in year two since it is waived for the first year).
Bottom Line
U.S. Bank is making a splash with its new Altitude® Connect Visa Signature® Card. With the annual fee waived in the first year (and then $95), you can easily get a ton of value out of the card in year one. It appears to be trying to compete directly with the Chase Sapphire Preferred and the Capital One Venture Card, and I think the value proposition here is strong.