Travelers with American Express credit cards like the *amex platinum* or the *amex gold* already have more (and more valuable) options for transferring their points than any other travel rewards cardholders. Now they have one more, and it's a good one at that.
Amex quietly added Qatar Airways, consistently ranked as one of the world's best airlines, to its extensive list of Membership Rewards transfer partners. The move, which came without announcement or notice from Amex, was first highlighted by Instagram user adventure_parks.
Transfers to Qatar Airways Privilege Club are at a one-to-one ratio, meaning that for every 1,000 American Express Membership Rewards you transfer, you'll end up with 1,000 Qatar Avios in your Privilege Club account. Best of all, transfers are reportedly posted instantly.

With the addition of Qatar Airways Privilege Club, the list of options for where to move your Amex points has grown to 18 airlines and three hotel brands. In terms of quantity, American Express' competitors at Capital One, Chase, and Citi simply can't compete. But Amex doesn't win out just in terms of having the most options, they also offer some of the highest value transfer partners of all the banks.
Here's the full list of Amex's airline transfer partners:
| Program | Type | Transfer Ratio | Transfer Time |
| --- | --- | --- | --- |
| Aer Lingus | Airline | 1:1 | Instant |
| AeroMexico | Airline | 1:1.6 | 3-5 days |
| Air Canada Aeroplan | Airline | 1:1 | Instant |
| Air France/KLM | Airline | 1:1 | Instant |
| ANA | Airline | 1:1 | 1-2 days |
| Avianca | Airline | 1:1 | Instant |
| British Airways | Airline | 1:1 | Instant |
| Cathay Pacific | Airline | 1:1 | Instant |
| Delta | Airline | 1:1 | Instant |
| Emirates | Airline | 1:1 | Instant |
| Etihad | Airline | 1:1 | Instant |
| Hawaiian | Airline | 1:1 | Instant |
| Iberia | Airline | 1:1 | Up to 24 hours |
| JetBlue | Airline | 1.25:1 | Instant |
| Qantas | Airline | 1:1 | Instant |
| Qatar Airways | Airline | 1:1 | Instant |
| Singapore | Airline | 1:1 | Instant |
| Virgin Atlantic | Airline | 1:1 | Instant |
Let's take a closer look at what this move means for travelers and see how you can put Qatar Avios to use.
Read more: 10 Amazing Ways to Redeem Amex Membership Rewards Points
Should You Transfer Amex Points to Qatar?
Last year, Qatar ditched its Qmiles frequent flyer program in favor of Avios – the same award currency that British Airways, Iberia, and Aer Lingus use. As such, it had been possible to indirectly move Amex points to Qatar for a while now – albeit with some additional steps. Adding Qatar as a direct transfer partner was the logical next step, making those transfers much more simple.
The move also makes booking one of the best business class seats in the world even easier by giving Amex cardholders a clear path to scoop up these coveted awards before they become available to partners like American Airlines. That's because Qatar makes its awards available 361 days in advance to its own members – six days sooner than you can book with British Airways, and a full month before you'll have a shot with your AAdvantage miles. Those extra days can mean a world of difference when it comes to scoring multiple seats.
One-way award flights from the U.S. to Qatar's hub in Doha will cost just 70,000 Avios and less than $100 in taxes and fees per person in business class. Here's a sample flight from Washington, D.C. (IAD) to Doha (DOH) for two passengers next summer.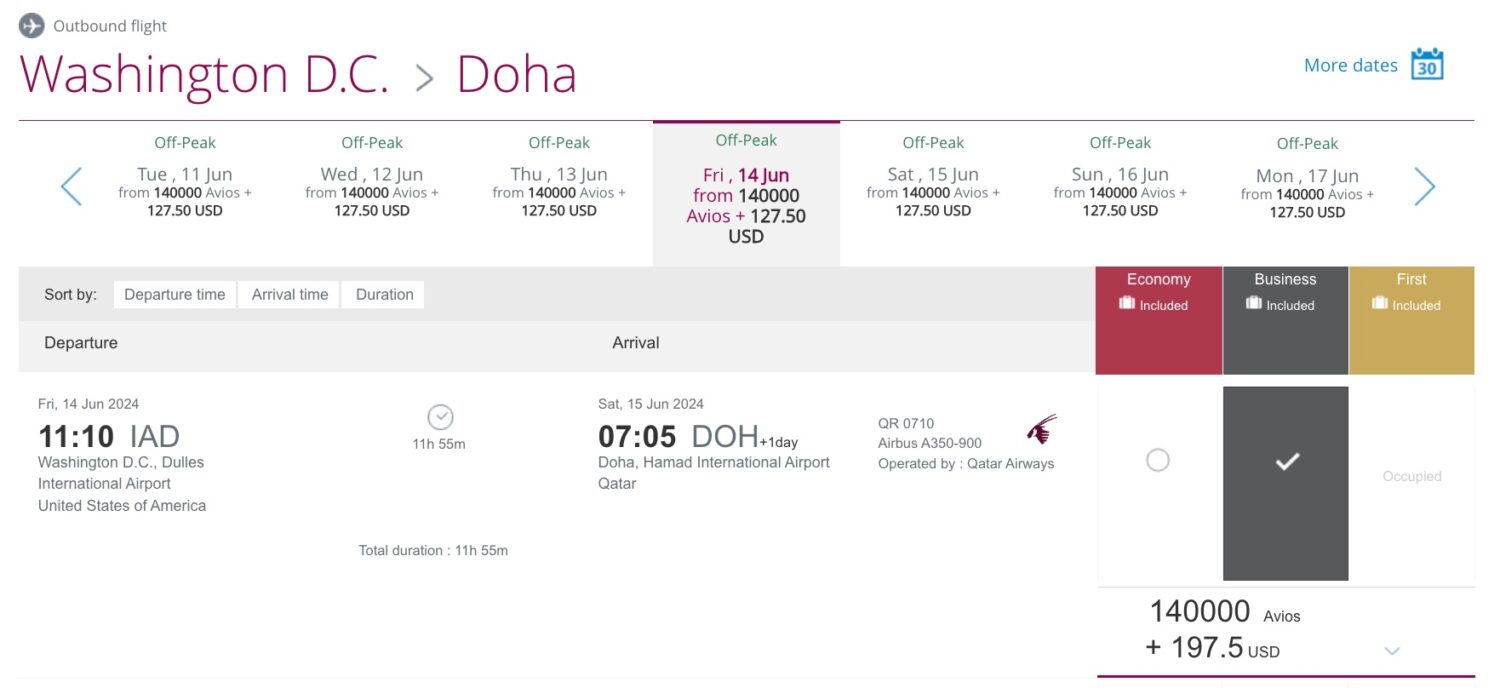 Based on our research (and constant searching for Thrifty Traveler Premium+ members…), the sweet spot to booking these awards seems to be roughly around 331 days and 355-ish days in advance. That's your best bet for getting the exact flights you want.
Read more: The #1 Trick to Booking Qatar Qsuites Right Now
You can also use Qatar Avios for flights on other Oneworld partners like American Airlines. With this new transfer option, you can move your points to Qatar and book one-way flights on American for as little as 6,000 Avios. Since American revamped its award chart in a move towards dynamic pricing, there's no telling exactly what they'll be charging for a given route. In some cases, you'll be much better off booking with Avios over AAdvantage miles.
Slightly longer flights, like this one from Dallas (DFW) to Miami (MIA), clock in at a reasonable 9,000 Avios and $10 in taxes and fees one-way.
It's worth noting that even though there are a lot of situations where Qatar Avios will be useful, you shouldn't speculatively transfer your points to Qatar just because you can. Not only are these transfers a one-way street – meaning you can't move them back to Amex – but Qatar Avios also have a 36-month expiration. This means that if you don't find a way to use them in that time frame (or have other account activity), you'll lose your points altogether.
There are still some instances, though, where it might be worth bypassing the direct path to Qatar Avios and jumping through the additional hoops of first transferring points to British Airways or Iberia. When Amex is offering transfer bonuses to one of these programs, like the current 30% transfer bonus to British Airways, it would make more sense to first move your points to BA and then transfer them to your Privilege Club account. You'll need to have accounts with both programs in order to do this, but so long as both accounts have been open for at least 90 days, you can move Avios between them instantly.
See our full list of current transfer bonuses to get more value for your points and miles! 
Bottom Line
Amex recently added Qatar Airways Privilege Club as a new transfer partner, allowing you to move your Membership Rewards directly to Qatar Avios.
While it's been possible to transfer Amex points to Qatar, albeit indirectly, for more than a year, this move makes those transfers even easier and opens the door for more Avios transfer bonuses down the road – which is always a win for travelers.