Got a Chase Sapphire Preferred® Card or the top-tier Chase Sapphire Reserve® in your wallet? Or even a Chase Freedom card? Free grocery delivery and discounts are in your future.
Chase and Instacart recently launched a new partnership, offering both Sapphire and Freedom cardholders offering free Instacart+ membership grocery delivery service for up to 12 months – and up to $15 of monthly credits to use on the platform through July 2024.
But just what you'll get with this new offer will depend on the Chase card you have: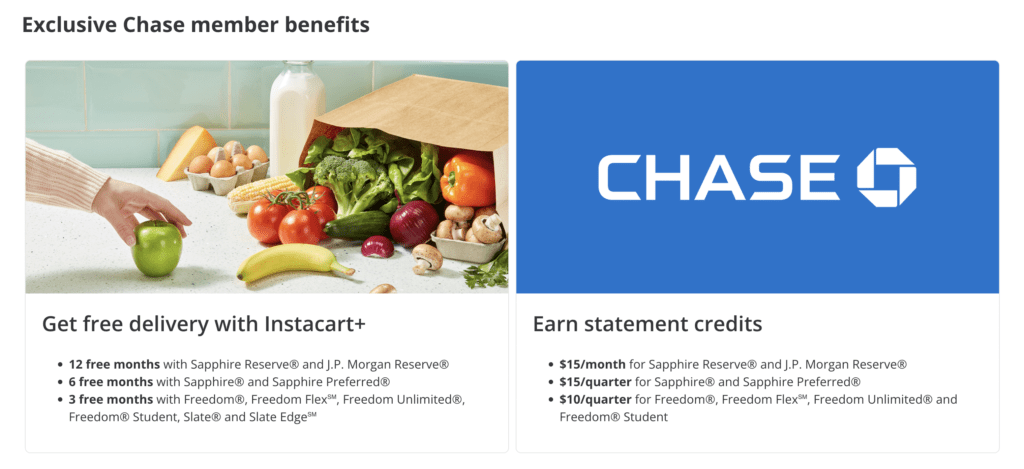 Already have an Instacart+ membership? You can still enroll at the promotional link, enter your Sapphire or Freedom account number and you'll be eligible to take advantage.
I am already an Instacart+ member, but I've got Chase Sapphire Preferred Card. By signing up through the link, Instacart tacked on another six months to my Instacart+ membership which now renews in November 2023.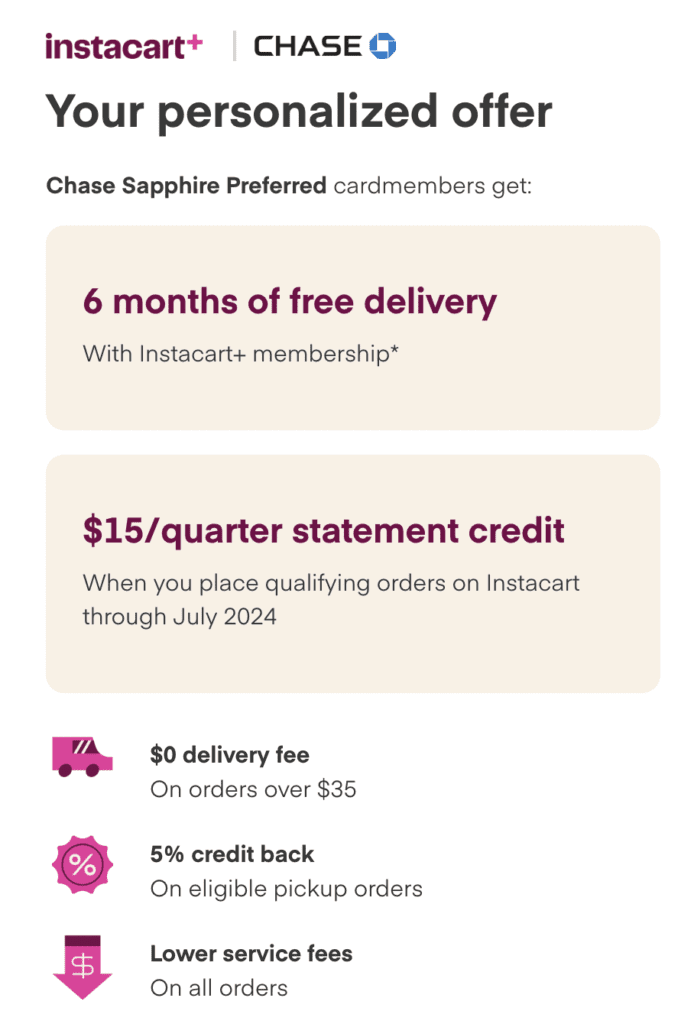 What is Instacart+ Membership?
Instacart is a grocery delivery service. Instacart+ (which was previously known as Instacart Express) is its premium membership, providing waived delivery fees on orders over $35, lower service fees, 5% back on eligible pickup orders, and more.
The service typically costs $9.99 a month, or $99 for an annual membership. So the membership alone is worth up to $99 for Chase cardholders.
Bottom Line
This is a great new benefit for Chase Sapphire and Freedom cardholders, and an easy way to try out Instacart grocery delivery at no cost.
Simply enroll for Instacart+ at the promotional link through July 31, 2024 with your eligible Chase card. It's even better that Chase has added this benefit raising annual fees on either Sapphire card.
You'll earn up to a year of free Instacart+ membership and up to $15 in statement credits each month to spend on the platform based on the specific Chase card in your wallet.