In 2018, American Express rolled out a new tool to show consumers if they would be eligible for the welcome bonus on a new credit card application. It was a smart addition, as it gives you the power to decide whether it's worth applying for a new credit card – and a hard credit inquiry.
And it appears Chase may be following suit. Doctor of Credit reports Chase is slowly rolling out a tool of their own. Currently, this tool only appears when applying for any of the co-branded Marriott cards. And it isn't clear if this will eventually be expanded to other cards.
Because of the ugly restrictions Chase and Amex rolled out on applying for the revamped Marriott cards, this is a welcome addition.
How the Chase Pop-Up Works
I tried this out for myself by applying for the Marriott Premier Plus Business card. I knew I wasn't eligible for this card because I already have the Starwood Preferred Guest card. After submitting the application, I get the following pop up message: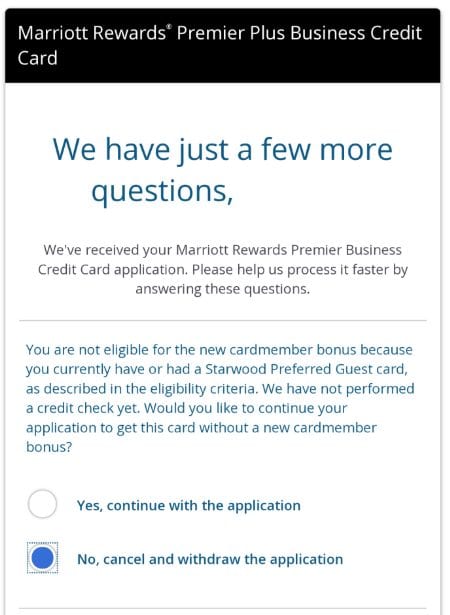 The notification tells me that I am not eligible to get the card and that Chase has not yet performed a credit check. I then have the option to withdraw my application without a hard credit inquiry.
Bottom Line
Big sign-up bonuses are a key factor in deciding whether or not to apply for a new points and miles credit card. And working out whether you'll be able to get that big welcome bonus is not always easy – especially with Chase.
Chase is the most restrictive bank when it comes to getting approved for credit cards. Between their infamous 5/24 Rule and the restrictions around the Marriott cards, it can be confusing and downright frustrating. I hope this pop up rolls out to other card offerings soon as it would put even more information in consumers' hands.