Capital One will not extend the outstanding 10x bonus miles you earn when booking through Hotels.com with the Capital One Venture Rewards Credit Card. That partnership will end after Friday, Jan. 31, Capital One has confirmed to Thrifty Traveler.
Capital One added this bonus category to its popular Venture card back in early 2018, and it was big news. It's one of the most lucrative bonus categories for spending out there, and a go-to way for many travelers to get more miles out of their hotel reservations.
It may not be a surprise, as the benefit was initially scheduled to expire at the end of January 2020 from the time it was first announced. But many travelers held out hope that the 10x bonus Venture Miles would be extended.
Capital One confirmed Wednesday it would disappear at the end of the month.
"We are always looking for new and innovative ways to provide our customers with valuable rewards and benefits," a Capital One spokeswoman said.
What This Means for Your Capital One Venture Card
It's sad to see this amazing bonus category go, and there's plenty of time to analyze what this means for the Venture card.
But first things first: Make your Hotels.com bookings with your Capital One Venture card now. Even if your hotel stay is in April, August, or beyond, it will qualify to earn 10x mile if you book by Jan. 31, 2020.
The only requirements to keep in mind are that you must pre-pay for your hotel stay – paying at the hotel won't earn you the bonus miles. And you have to book through hotels.com/venture.
The 10x bonus on this card has made it a mainstay in many travelers' wallets for hotel bookings alone. You've got just over a week to make additional hotel reservations and still earn those bonus miles before this benefit disappears at the end of the month.
This bonus has been particularly valuable because you can earn 10x Venture Miles on Hotels.com bookings while still earning in Hotels.com own rewards program, in which you earn a free night's hotel stay after every 10 nights. 
Still, the Capital One Venture card is among the best options for travelers getting started with points and miles. With its Purchase Eraser function, it's one of the easiest ways to redeem miles for free flights – or hotels, Airbnbs, cabs, and cruises.
The card also comes with a $100 credit towards Global Entry or TSA PreCheck. And while 10x on Hotels.com may disappear, it still earns 2x on every single purchase. And that all comes with just a $95 annual fee, which is waived for your first year with the card.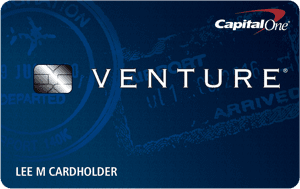 Click Here to get more information about the Capital One Venture Card. 
Bottom Line
This is a tough loss for the Capital One Venture card. But before you complain, make the most of this perk while you can and book through Hotels.com with your Venture card before it disappears. Book by Jan. 31, 2020!