When Capital One officially launched their new and improved travel portal powered by Hopper back in September, one new feature stood out: You'd be able to freeze the price of your flight for up to 14 days.
That means you could pay a small fee to "freeze" a flight, think things over and go back and book it at that price within 14 days. But there was one problem: When the new Capital One Travel Portal went live, this exciting new feature wasn't available yet.
That has changed. Now, all travelers with eligible cards like the Capital One Venture X Rewards Credit Card or the Capital One Venture Rewards Credit Card should have access to Price Freeze, Capital One told us this week.
So we decided to take it for a spin in our accounts and show you exactly how it works.
How to Use the Capital One Travel Price Freeze Feature
Capital One Price Freeze works exactly how you'd think, more or less. It's simple.
When you search for a flight through the Capital One travel portal, you'll have the option to freeze the price for up to 14 days. If the price increases, you can still book at your frozen price within that window. If the price decreases, you can, of course, book at the lower price.
But what does it cost to use price freeze? It doesn't appear to be based on a percentage of the ticket price – in fact, it's rather random. From our tests, Capital One Price Freeze generally costs $20 to $35 per ticket. The length of time you can freeze a flight also varies, too.
A Capital One spokesperson indicated that the bank is still testing this feature on the backend, so some changes could be on the way.
"Pricing is based on the route and dates the customer searches for, and the duration is up to 14 days," the spokesperson said.
These fees apply per passenger, and here's the most important bit: They're non-refundable. It's a service fee, so whatever you pay won't apply to your fare if you decide to eventually book. 
One last detail: If the price goes up, Capital One will only cover the difference of up to $1,000. So it's not a full freeze if prices jump drastically afterward.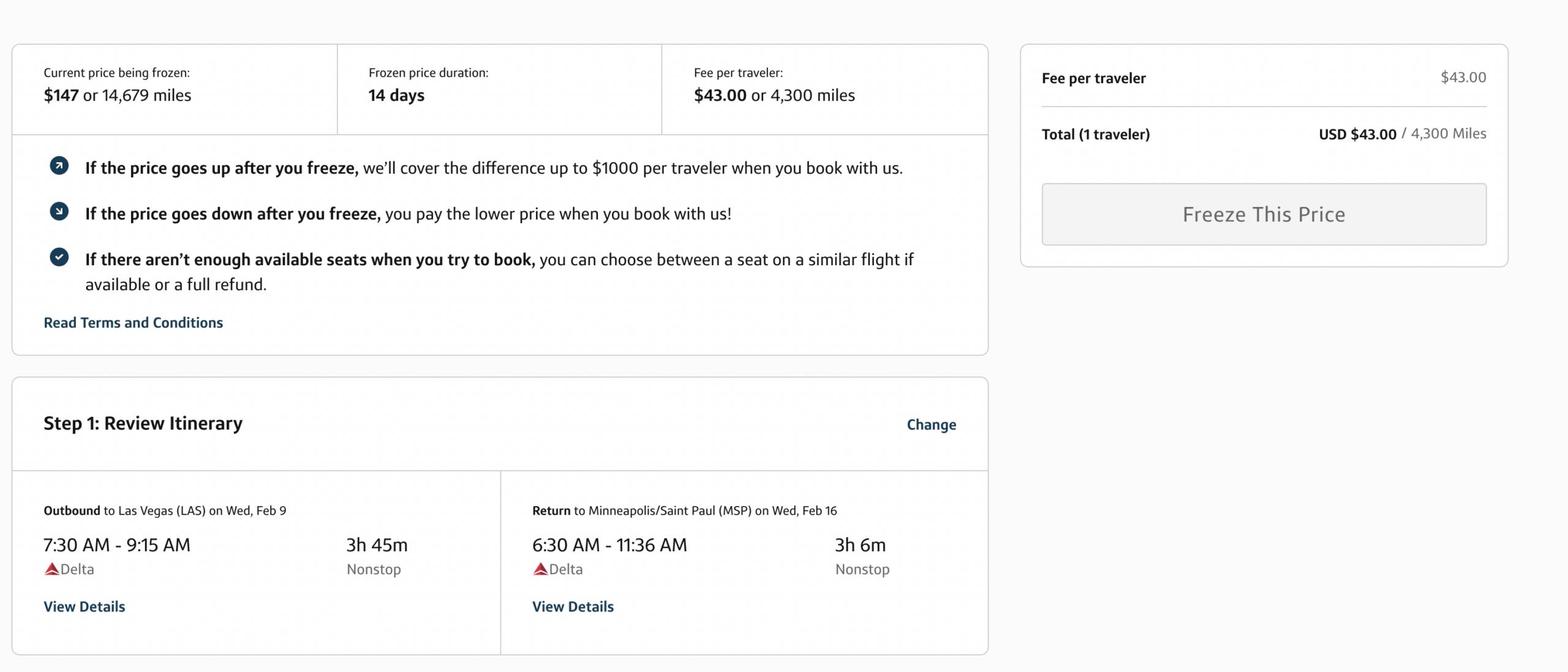 How Much Does Price Freeze Cost?
Let's go through some examples using flight deals we've sent to our Thrifty Traveler Premium subscribers over the past week, starting with a nonstop, roundtrip flight from New York City (JFK) to Montego Bay, Jamaica (MBJ).
Currently, a Delta Basic Economy ticket can be booked for $262. Capital One is offering the ability to freeze this price for up to 7 days for $27 or 2,700 Capital One Venture Miles – about 10% of the ticket cost.
Then we have this smoking deal to Las Vegas (LAS) out of Minneapolis-St. Paul (MSP), with flights for $97 roundtrip. But even at that cheap rate, you can freeze the price for $30 – or 3,000 Venture Miles – for up to 10 days. That's more than the cost to freeze the flight above.
Here's a flight from Minneapolis-St. Paul (MSP) to Denver (DEN) for $127 roundtrip. Capital One is offering the ability to freeze the pricing of this flight for seven days for $31 or 3,100 Capital One Venture Miles. That's about 24% of the total cost of the ticket.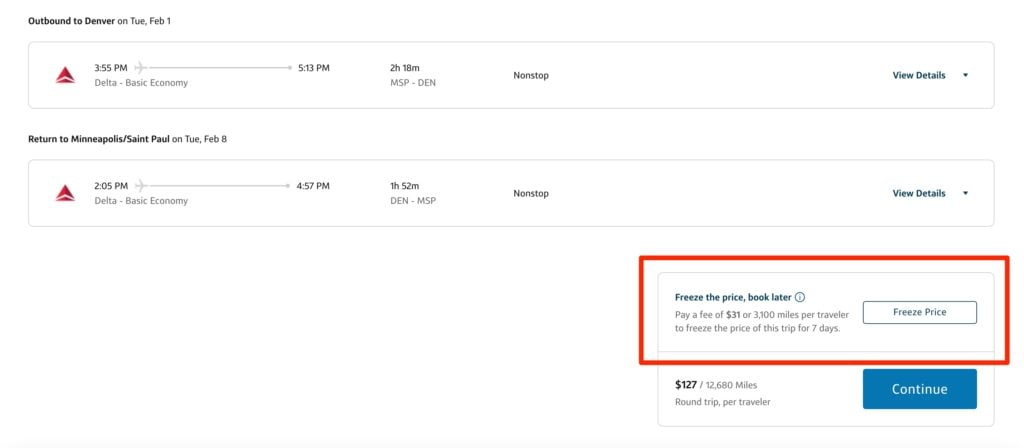 How about European flights? Will the cost to freeze those flights be more expensive? It doesn't appear so. This recent deal from Minneapolis-St. Paul (MSP) to Budapest (BUD) in March can be booked for $587 roundtrip. You can freeze this price for up to seven days for $32 or 3,200 Venture Miles.
What about business or first class seats? The Delta One flight below between Minneapolis-St. Paul (MSP) and Amsterdam (AMS) is currently selling for $3,910 roundtrip. However, Capital One is charging just $20 or 2,000 Venture miles to freeze this flight for up to seven days.
Just keep in mind that Capital One will only cover a difference of up to $1,000 if the cost increases after you've frozen the price. That's unlikely to come into play for most flights, but cheap business class deals or mistake fares could be affected.
How to Find Your Frozen Flights
If you decide to move ahead and use the Capital One price freeze feature, any frozen flights will show up under the "My Trips" section on the Capital One Travel Homepage.
This is the same location you can view upcoming trips, any trips in which you are watching the price and any and all past travel bookings.
When Does it Make Sense to Use the Capital One Price Freeze Feature?
We have a saying here at Thrifty Traveler: "Book now, ask questions later."
There's a law in the U.S. that acts, in a way, like the price freeze feature. On any flight that touches U.S. soil – no matter the airline, where you're coming from, or heading to – you can cancel your flight for free within 24 hours. The U.S. Department of Transportation established this federal rule way back in 2011. and it's called the 24 Hour Rule.
That means you can book a good deal right when you see it, and then take the next 24 hours to decide whether to move ahead or cancel for a full refund. That 24-hour rule may make the Capital One price freeze feature unnecessary.
Of course, you may need longer. In those cases, Prize Freeze may be worth the (relatively modest) cost. And remember, if Capital One identifies your flight as a good time to book, you'll automatically get price drop protection if the price does in fact go down.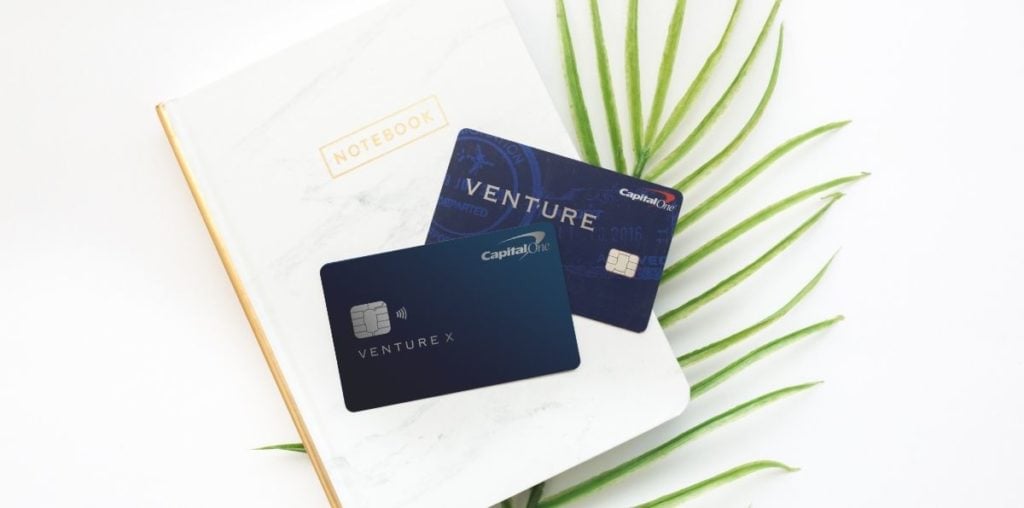 We searched tons of routes to see if we could identify some sort of pattern with this price freeze feature. But the cost doesn't seem to fluctuate that much, nor is it tied to the actual cost of the flight. Expect to pay between $20 and $35 to use the feature.
If the cost of the flight is only $97, that might not make sense. But if you find a good deal on a business class flight that is over $1,000 and you need more than 24 hours to make a decision on booking, spending $20 or $30 or more to freeze that price might make a lot of sense.
Bottom Line
Capital One has finally rolled out its long-awaited price freeze feature in the Capital One Travel Portal.
The fee to freeze a flight price is generally pretty modest, and the option to lock in a price and come back a week or two later to book is a nice option. But it won't always make sense, as these fees are non-refundable. And that's especially true when prices are cheap to begin with.