"Will prices for my flight drop or should I book now?"
It's one of the most common questions for airfare – and one of the toughest to answer. But Google Flights, the best flight search engine out there, is here to help.
Google Flights is loaded with powerful features to help you zero in on the cheapest flights, from the ability to search up to seven origin or destinations at the same time to the incredibly useful Google Flights Explore tool. But one feature above all others blows travelers' minds: Google Flights price alerts.
That's right: You can track a flight and get an immediate alert in your inbox when prices drop – or go up. That can give you an invaluable heads-up to book when the price is right. A smart alert could help you save money when prices drop even after you've booked!

Read our complete guide to Google Flights for a full walkthrough of this amazing tool!
What is a Flight Alert?
A flight alert tracks the price of a specific route or flight based on your origin, destination, and travel dates. Whenever the price goes up or down, you'll be notified through an alert. For frequent and novice travelers alike, signing up for flight alerts is a reliable, must-have tool in order to get flights at the best price.
Google Flights is one of a number of flight search engines available out there – and it's our absolute favorite. And you'll want to be sure you know all about it so you can get Google Flight price alerts, Google's built-in flight price tracker.
After some recent additions, these alerts got even more powerful. You can get price alerts for specific dates, but now you can also receive Google Flights price alerts for almost any date. That can help you score an even bigger bargain if you're flexible on your travel dates.
Google Flight Price Alerts
It's time for a quick rundown on how to use Google Flights Price Alerts.
Once you're on the Google Flights homepage, select your origin and destination airports and travel dates. Select round-trip or one-way tickets, the number of travelers, and which class you want to fly (economy, business, etc.). Whatever flight you'd like alerts for, that's what you need to enter.
Hit search, and you'll see some flight options. Below, you'll see a block in red: this is where you can track the prices of a specific flight. Clicking this toggle on will turn on price tracking. You must have a Gmail account to receive Google Flights price alerts. 
And that's it. Once you sign up and track prices, you'll receive a Google Flights notification via email if your tracked flight significantly drops or increases in price.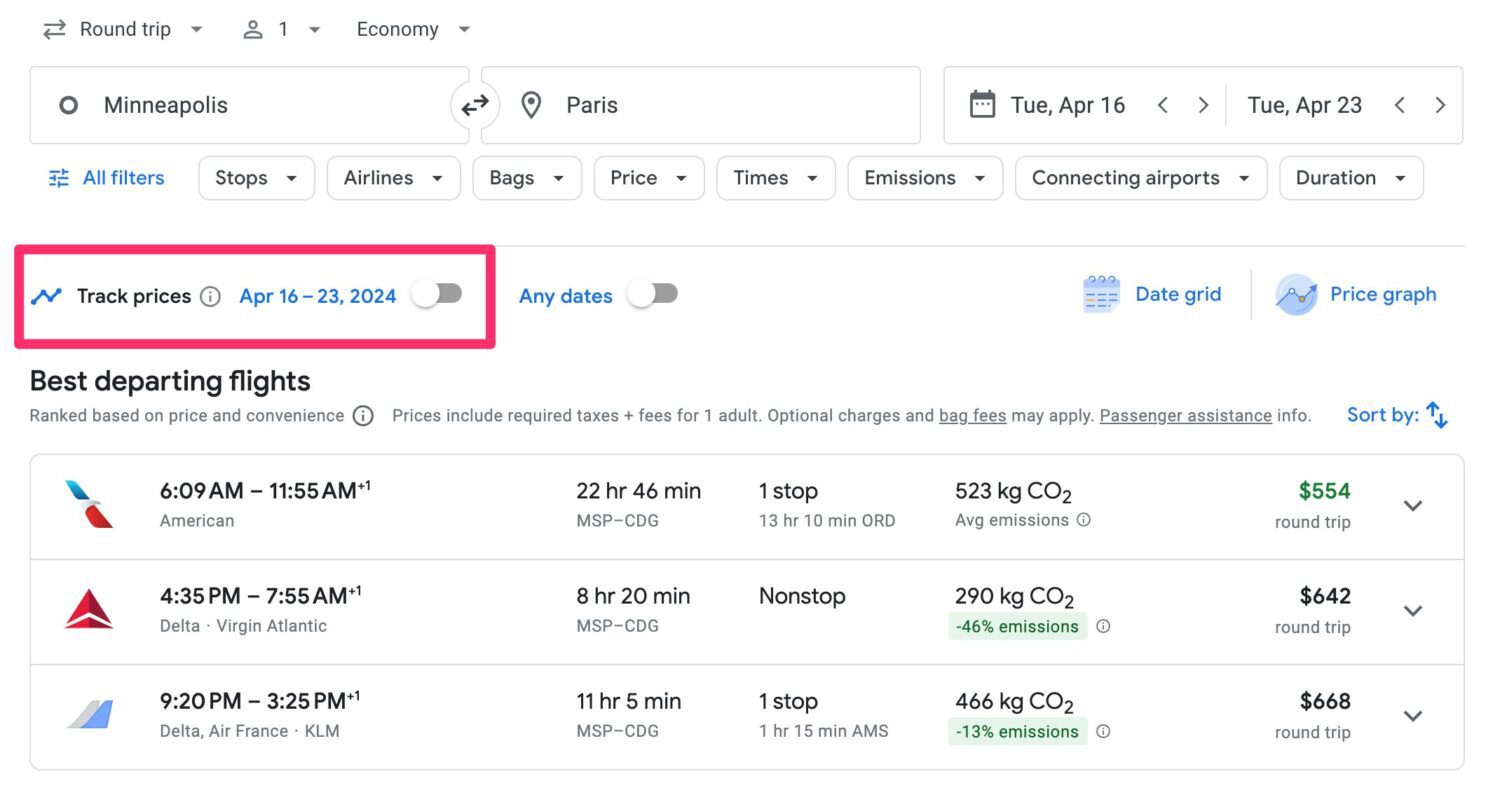 You can also easily open up all the alerts you've currently got set by navigating through the Google Flights menu and selecting "Tracked flight prices." This will also show you a handy chart of how flight prices have changed over time on the flights you're tracking.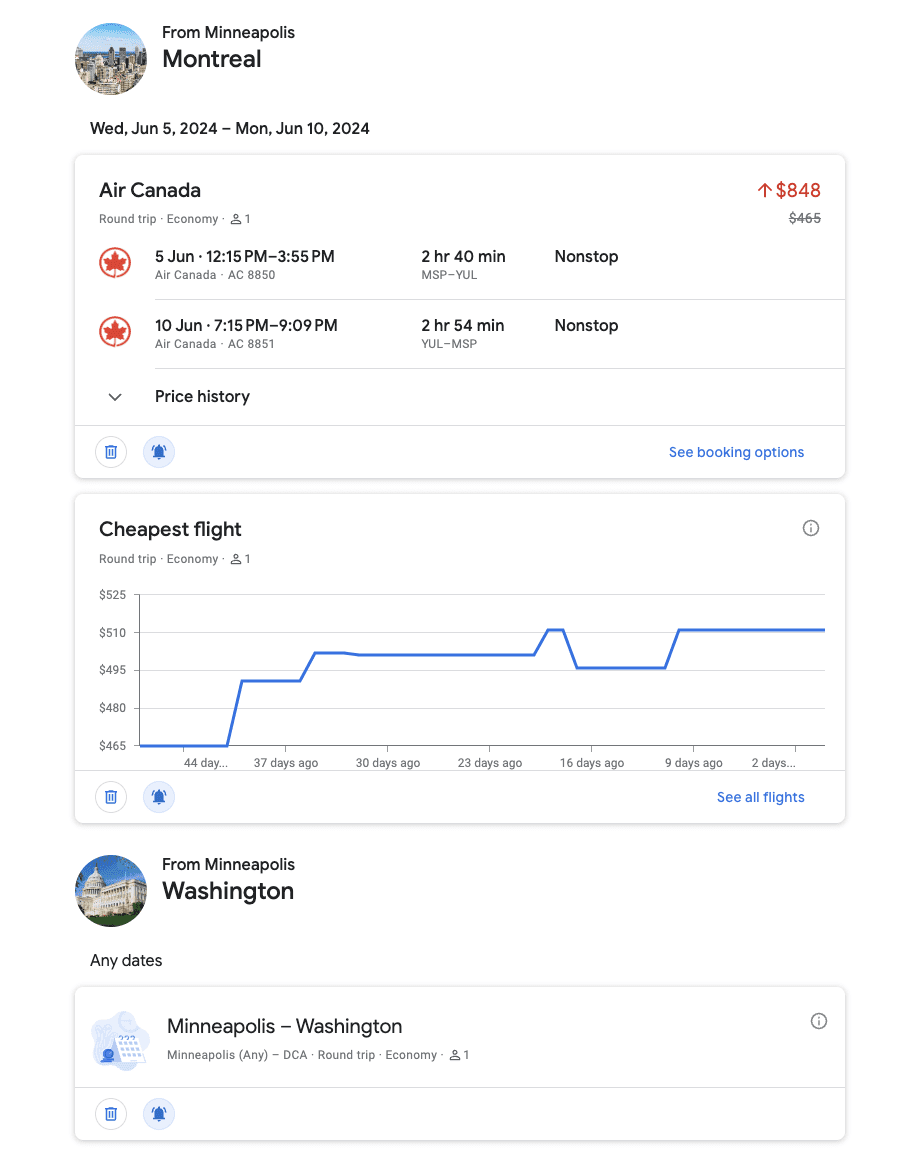 Why Should I Set Up a Price Alert?
We've heard every myth and supposed piece of wisdom out there: "Flight prices always go down on Tuesdays" or "You can get a better price searching incognito."
Both are wrong. The truth is, there's no best day to book flights. It's nearly impossible to predict when airlines will run flash sales on certain routes, how long a sale will last, or when the price might increase. There are many logical and economic factors at play when it comes to flight deals. Whether it be demand or airline competition, it's hard to know exactly when flight sales will occur.
The best way to make sure you're getting the best flight deal? Don't set your dates in stone: be flexible and wait for a flight deal to come around, and book the cheap fare first.
Read more: The Flight First Rule – The Secret to Saving Hundreds on Travel
If you have the flexibility and are open to different destinations for your next vacation, you'll be able to take advantage of the flight deals we find. Sign up for free to get alerts for cheap flights sent straight to your inbox. Or upgrade to our Thrifty Traveler Premium+ service and get 10x as many deals from only your preferred airport(s), including mistake fares, points and miles award alerts, and more.
But we get it: Not everyone has that much flexibility. So if you're stuck with specific dates to a particular destination, we highly recommend setting up a price alert on Google Flights to track flight pricing and strike when the prices drop.
How to Track Prices on Google Flights
Step 1: Enter Your Trip Information
Once you're on the Google Flights homepage, select your origin and destination airports and travel dates. Select round-trip or one-way tickets, the number of travelers and which flight class on the flight (economy, business, etc.).
Step 2: Choose Your Flight Filters
Once you've clicked Search, the results will start pouring in. Here, you can filter for what kind of flight you'd like. Select filters for the number of bags included, number of stops, select or deselect airlines, times you want to fly, and filter out long layovers. Google Flights is the king of options to help you narrow down to only see the flight you want.
Keep in mind: Whatever you filter for flights, that's what you'll get alerts for. You won't get any price changes for flights that don't meet your criteria.
Step 3: Click the "Track Prices" Toggle Button
Below, you'll see a block in red: this is where you can track the prices of a specific flight. Clicking this toggle on will turn on price tracking. But you must have a Gmail account to receive Google Flights price alerts.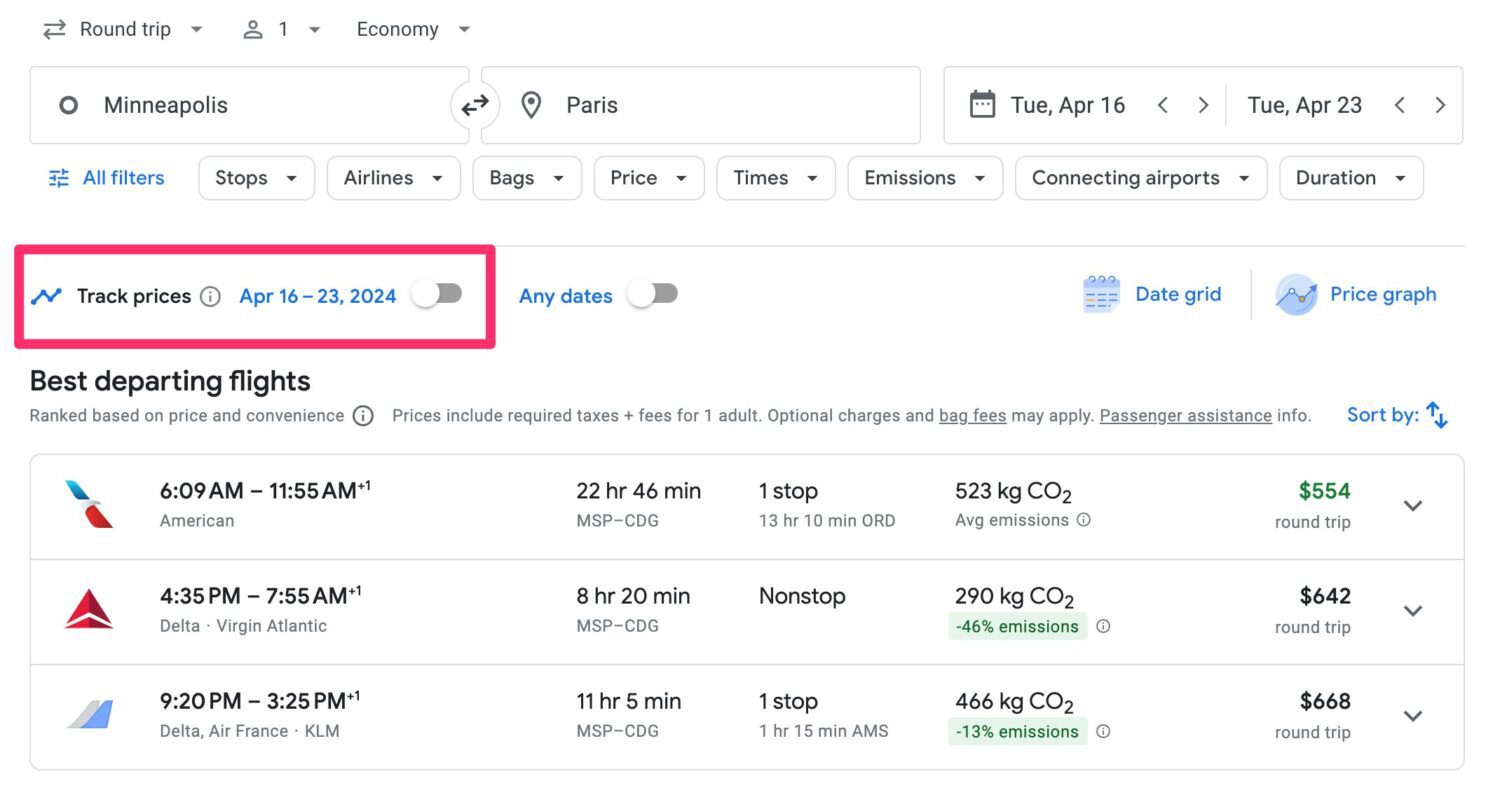 Your price alerts will catch whatever filters you set for your flight: bags, stops, and airlines. You can get alerted of price drops for the route and dates you selected on as many or as few airlines as you'd like. Just filter for the flight deals you'd like to track, and then toggle the "Track prices" on.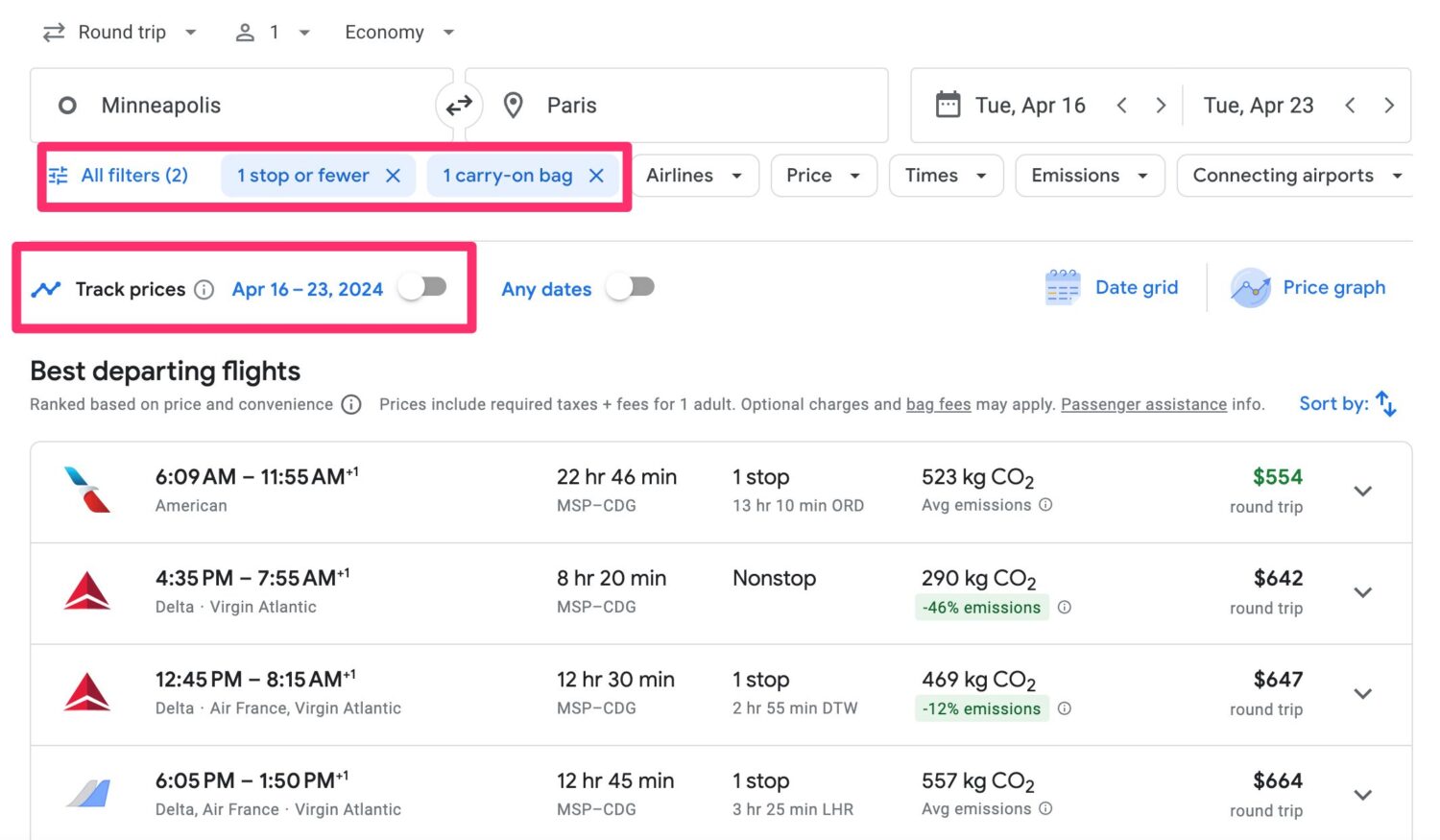 Travel dates not set in stone? You can also choose to get price alerts for any date: Google will end you a notification if prices drop for a trip any time in the next three to six months.

Receiving Airline Price Alerts from Google Flights
Once you begin tracking a certain route, you'll start receiving email notifications to your email account if prices decrease or significantly increase. But there's another way to keep tabs on your flights.
View the Flights You're Tracking
You can also see all of your price alerts on Google Flights as well. Click the menu bar on the left-hand side of Google Flights to view all your tracked prices in a list form.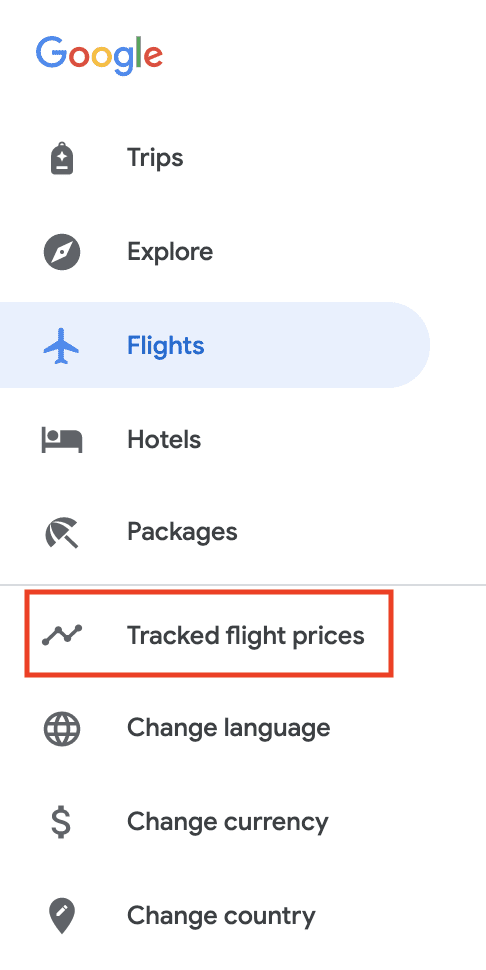 On the Google Flights Price Alert page, you can see all the flights you're currently tracking. You can then click through that Google Flights search to book at that price directly with the airline. If you are no longer interested in tracking a flight, you can simply click the trashcan icon shown above to delete that tracked flight.

Google Flights Price History
On the Google Flights Price Alert page, you can also see a graph with tracked prices beginning on the first day you set up your Price Alert.
These graphs show the changes in airline pricing from day to day on the specific flights you're tracking. It allows you to consider the data and the pricing trends for the specific destination you're tracking a flight for, and make a decision based on data.
Take this flight to Nashville (BNA) we tracked for over 100 days. Looking at the data, I should have booked around the 100-day mark when prices were as low as $190. Price changes are sporadic but I'll wait for another dip to around $230 and hope for something close to $200 for my dates.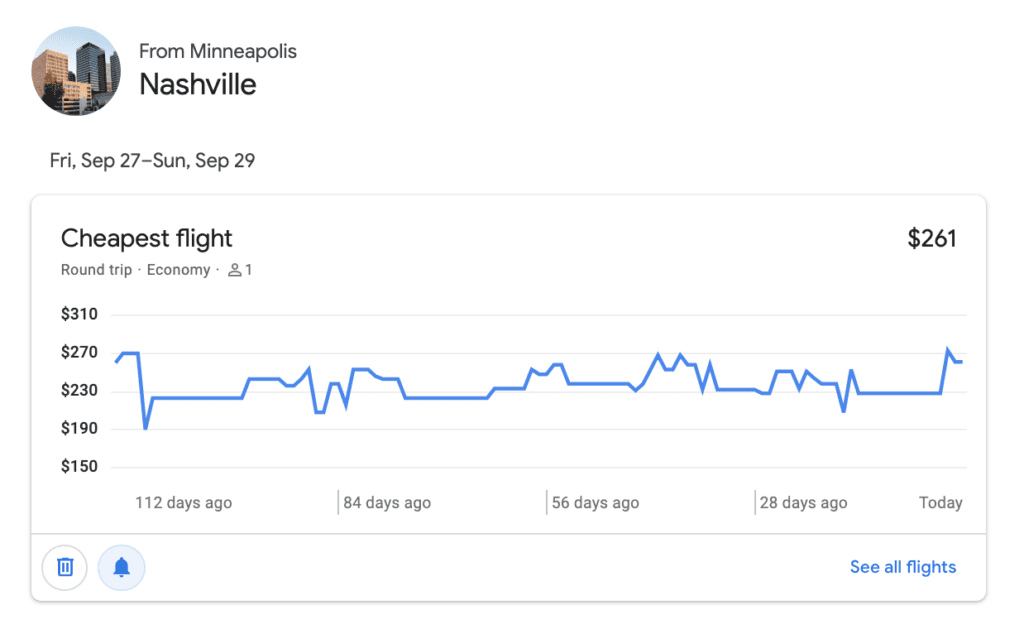 For another flight to Boston (BOS), the changes in airfare looked to be in my favor as my dates got closer. From the flight price tracker, it appeared that prices were staying pretty stable on the MSP-BOS route, but as my travel dates got closer, the prices were dropping. In this case, it was worth waiting to book.

Keep Tracking Prices After You've Booked
Just because you've already booked your flight doesn't mean you should stop tracking prices. Just the opposite.
During the worst of the pandemic, major U.S. airlines did away with change fees on almost all their flights. That flexibility remains in place today, allowing travelers to change (or cancel and rebook) their existing reservations if fares drop … and pocket the difference as an airline voucher or travel credit! 
Google Flights Price Alerts are critical in making it happen. It works like this:
Buy at least a main cabin economy ticket or higher – most basic economy fares can't be changed or canceled
Set (or keep) your Google Flights price alert, fine-tuning it if necessary to track only the flight you've booked
Get an alert that prices have dropped? Rebook your flight – or cancel it for a voucher, then rebook the same flight using that voucher
Get a voucher or airline credit for the price difference to use on your next trip!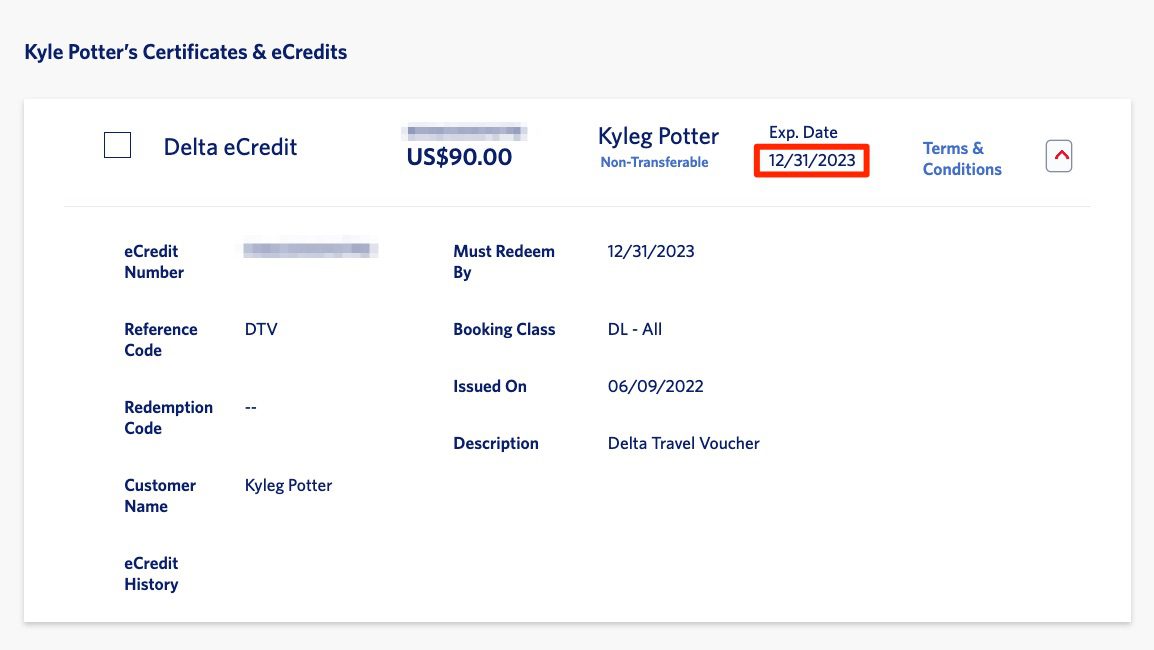 Read our full guide on how to rebook flights when prices drop & save!
Bottom Line
There is no exact science to know when flights will increase or decrease in price. But Google Flights price alerts can help you get ahead of the curve.
The Google Flights price alert tool should absolutely be one of the first tools you use when searching for cheap flights but your travel dates are set in stone – and even if they're not. Now, go set up a price alert for your upcoming vacation and get the heads up when it's time to book!