As if you needed another reason to ditch other flight search engines and use only Google Flights…
Sometimes, it can feel like a guessing game when you walk on your plane. Will your seat have a seatback screen or do you need to bring your own entertainment? Will you be on a cramped plane with 29 inches of legroom or a have a more spacious seat?
It's time to eliminate the guesswork. If you're using Google Chrome as your web browser, add the Legrooms Extension for Google Flights. It's a free and powerful tool, as it quickly displays a ton of extra information about your upcoming flight. Take a look at flights between Minneapolis-St. Paul (MSP) and Denver – or any flight, really – and here's what you'll see once you've got this extension installed.

Read our full guide to using Google Flights to find the cheapest flights, every single time! 
The Legrooms extension immediately shows plenty of useful information about each flight, from the plane type to the legroom to whether you'll be able to charge your devices onboard. While airlines might have this information when booking direct, it's not always easy to find. With the Legrooms extension, you can quickly get a look at everything you'll get on your flight.
Unfortunately, ever since Google Flights began displaying carbon emissions data for flights, this Legrooms Extension can't display each and every bit of information about the flight. Still, there's plenty of intel right at your fingertips.
Will you be able to charge a laptop? Or is there a USB socket for your smartphone?

Will you have your own entertainment screen to watch TV and movies? If there's just a smaller device with the broadcasting signal, you'll only be able to stream entertainment on your own device. A blank space, as you see with the Delta flight, almost always means there's screens onboard.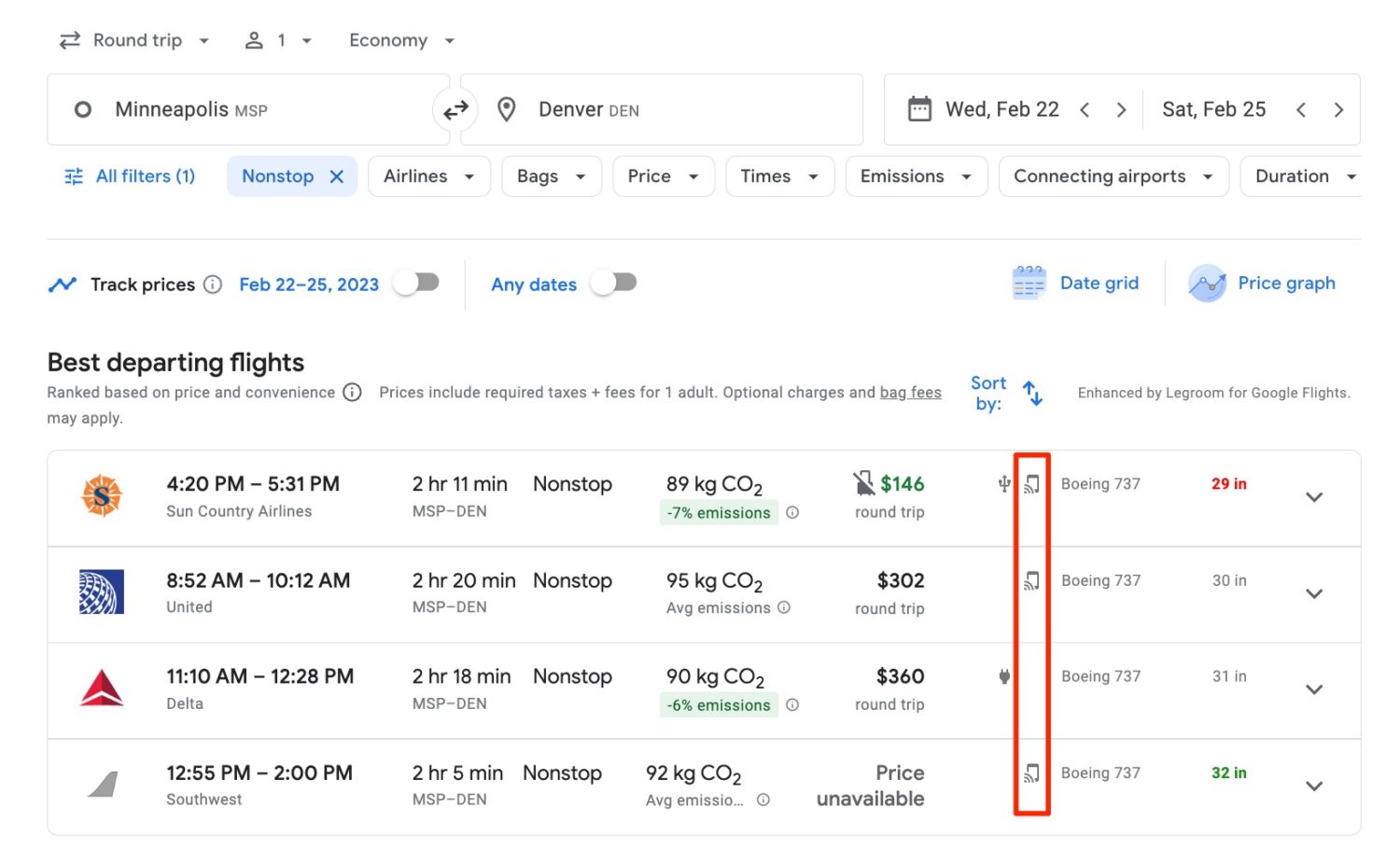 Set on flying a certain type of plane – or avoiding one? Google Flights Legrooms pulls that in, too.

And most importantly: How much legroom will you actually have? These days, 31 inches or so is the norm … though that's as low as 28 inches on budget airlines like Spirit and Frontier.

From there, you can click the drop down on each flight and get even more information on each and every flight, including the Wi-Fi availability as well as more details on the charging situation.

There's no better way to get a ton of information about the flights you may book. Use the Legrooms extension to help steer you toward the best choice.
Just keep one thing in mind: Airlines can change which type of plane operates your flight at a moments' notice. So while Legrooms can help prepare you for what's in store, it won't always reflect what plane you actually board that day.

Bottom Line
Add this extension to your browser today, and you'll immediately have a ton of information about your flight options at your fingertips each and every time you search through Google Flights.