Whether it's a weekend or an entire winter, Americans have proven Florida is a tried-and-true, inexpensive getaway destination.
It may be broadly viewed as a winter vacation spot – and for good reason: The weather is warm and you're on (or near) the ocean. But despite some similarities between its destinations, this state is no monolith. Between the Panhandle and Key West are some diverse vacation spots with something for everyone.
While it may be a reliable getaway, flights to Florida have also become reliably cheap. Cheap flights to Florida are plentiful with fares to the hotspots of Miami and Orlando hovering around $150 or less roundtrip. But even getting down to the Keys has dropped in price recently, with cheaper airfare well into 2022.
Here are some of the deals we've found recently that will help you book the perfect Florida vacation in 2022.
Miami and Atlantic Coast
Miami is usually top of mind for anyone considering a Florida getaway.
It's popular for a reason. Its culinary scene, ample nightlife, and eclectic cultures make it a great global city. On top of that, it's a beach town in a nearly perfect climate for vacationers.
You could spend a week exploring the Miami area and never get bored, but it's also an ideal weekend getaway. Being able to fly into either Miami (MIA) or Fort Lauderdale (FLL) helps you find a cheap fare there, too.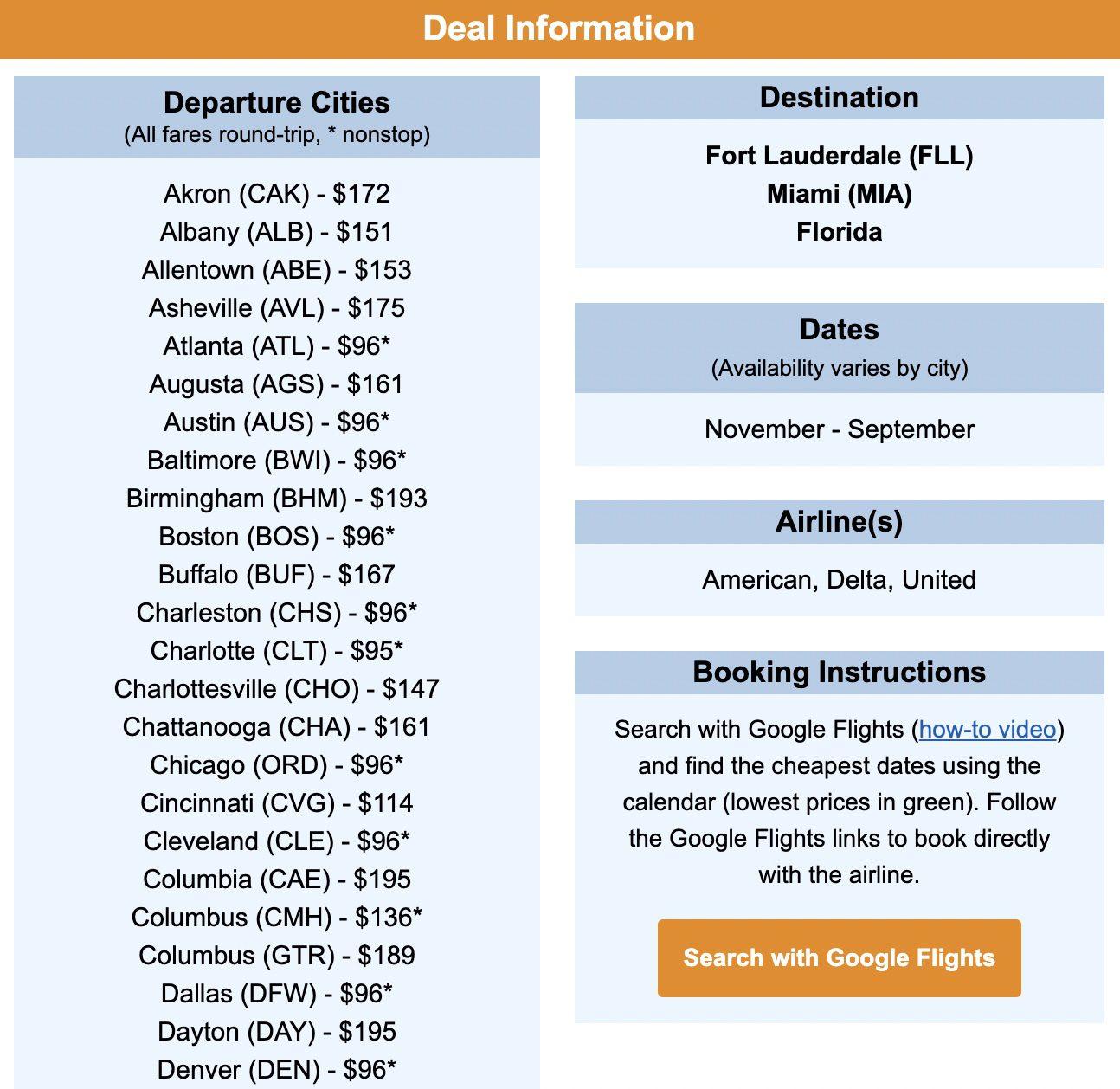 Get flight deals like these absurdly cheap fares to Miami sent straight to you with Thrifty Traveler Premium!
Miami regularly sees low fares from cities big and small nationwide, including many nonstop routes like in our latest find above. The best part? That list of cities is only about a quarter of the total number we found with fares that cheap. Getting to Miami for less is easy no matter where you live.
Further up the Atlantic Coast of Florida is another option for your Florida getaway that has the same beachy offerings of Miami, but with some other added benefits, too. It's West Palm Beach.

Cheap flights into West Palm Beach are rarer than Miami. But in the last few months alone, we've seen a string of some great deals to the place that calls itself "Florida's Golf Capital."
The region is home to PGA National Resort and Spa, Jack Nicklaus-designed The Champion, The Breakers, and plenty of other iconic U.S. golf courses. A cheap flight and a few rounds of golf could be exactly what you need this winter.
Orlando
Orlando does not need my introduction … especially when it's this cheap to get there.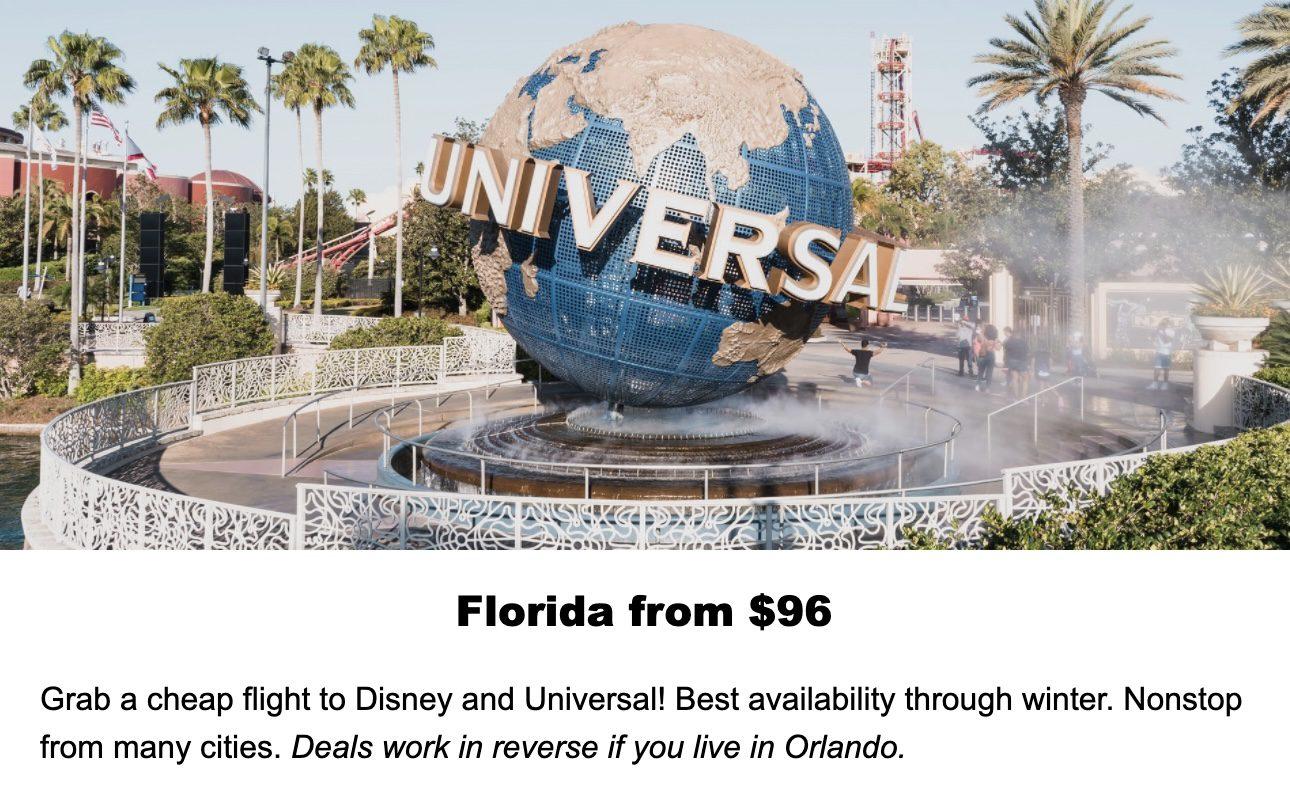 Everybody knows Orlando's world-renowned theme parks, from Disney World to the Wizarding World of Harry Potter. They make it one of the best family destinations in the world – but don't sleep on Orlando as a destination for adults, too!

In the last month, Thrifty Traveler Premium subscribers woke up to super inexpensive flights into Orlando, starting at just $96 roundtrip.
Recently, however, we found some free (nearly) flights for you, too, thanks to an amazing Delta SkyMiles flash sale from hubs like Minneapolis-St. Paul (MSP), Detroit (DTW), New York City (JFK), and even Los Angeles (LAX).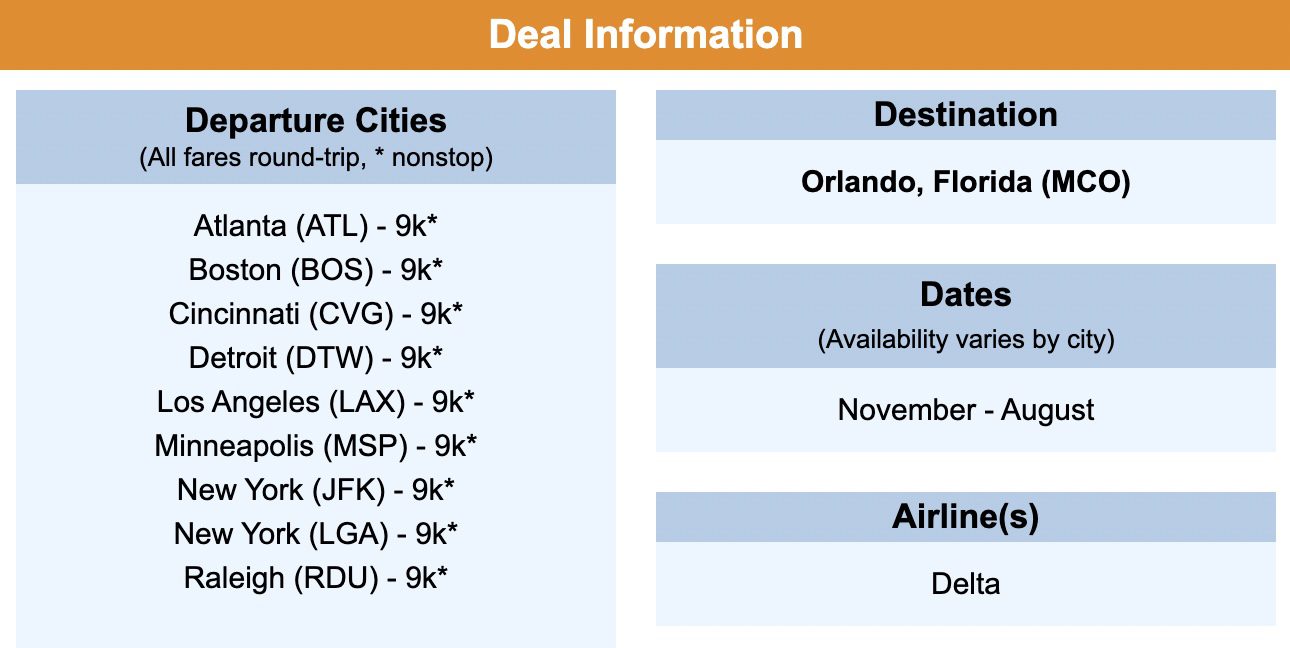 If you have an even modest amount of Delta SkyMiles, you could fly nonstop from one of these nine cities to Orlando (MCO) to make the flight portion of your trip completely free.
We won't wade into a Universal vs. Disney debate here, but whatever your allegiance, buy a cheap flight to Orlando and save your money to splurge in the parks themselves.
Gulf Coast
Some Florida vacationers swear by the Gulf Coast side. The quieter part of the state offers some of the most beautiful beaches you'll find in the United States.
Plus, with fares this low, it's another great, inexpensive option for a Florida visit no matter how long your stay.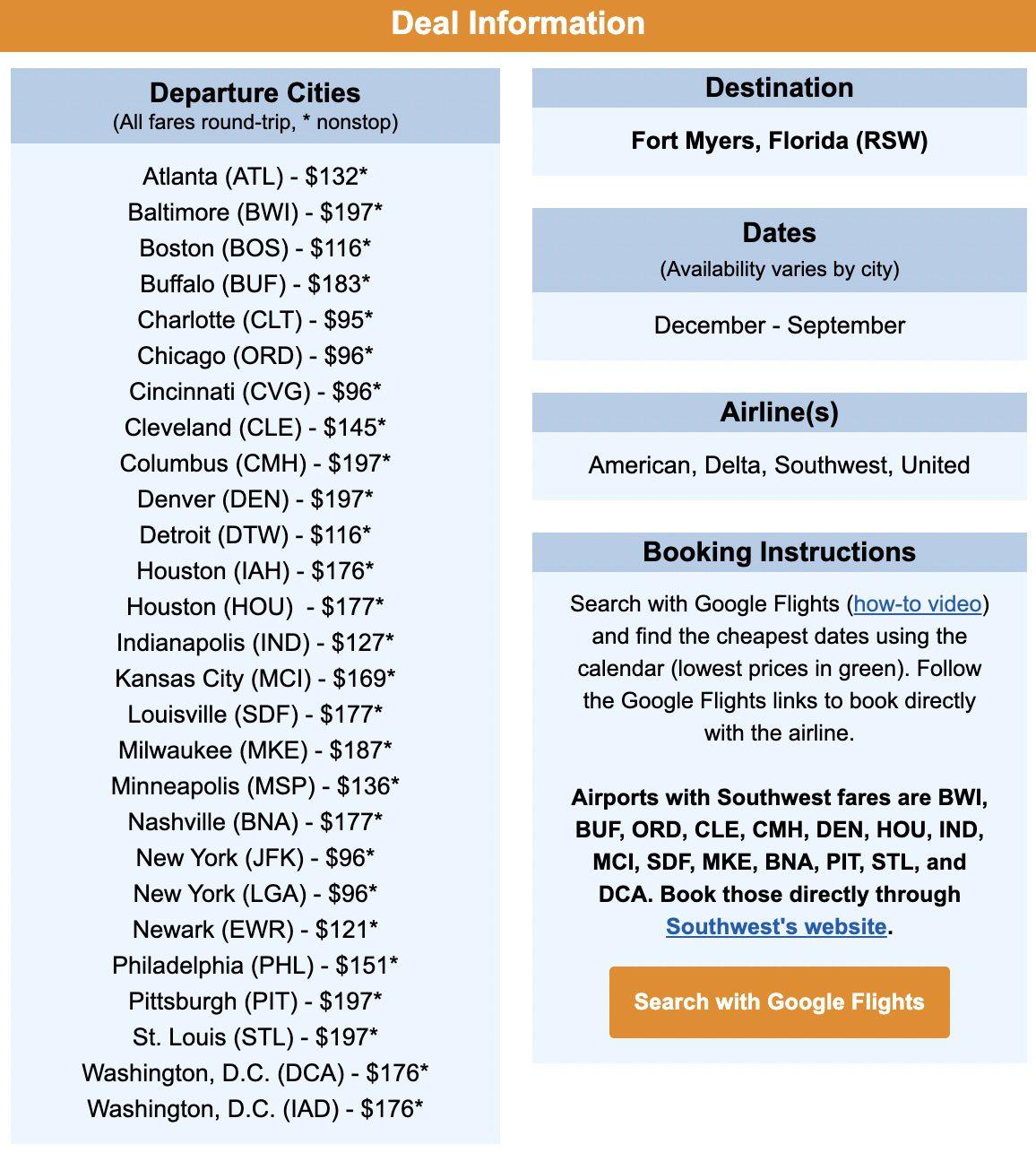 All of those cities offer nonstop flights into Ft. Myers (RSW), but if you are open to a stop or a flight into Tampa (TPA) or Sarasota (SRQ), you could have found fares as low as $93 into the Florida Gulf Coast.

Further up the Gulf Coast are some underrated destinations on the Florida Panhandle. Northwest Florida may not get the same hype as destinations like Miami and Orlando, but a cheap flight into Panama City (ECP) or Pensacola (PNS) is a great starting point for a trip.

The Florida Panhandle is known for its white-sand beaches and can offer a more secluded, quiet Florida getaway than the more popular destinations on the Atlantic side.
Florida Keys
Key West, Florida's furthest-flung destination, has a reputation for being expensive and hard to get to. Over the last few months, however, our Thrifty Traveler Premium flight deal analysts have found a few different deals connecting dozens of American cities to the Florida Keys

How about that nonstop fare from New York City down to Key West (EYW)? Other low, low fares aren't hard to find either. If you're willing to add one stop to your journey, you can find sub-$200 fares to Key West fairly frequently.
The archipelago is known as a legendary scuba diving and snorkeling destination, as well as a perfect place for deep-sea fishing and boating.
Bottom Line
Whether you head for the classic destinations like Miami and Orlando, or a visit to unique locales of West Palm Beach or Key West, cheap flights to Florida are on the menu for this winter and beyond.
If you're looking at the winter months ahead and are filling with dread, do something about it and jump on one of these deals to the Sunshine State in 2022. Or wait for the next one to come to your inbox with Thrifty Traveler Premium.