Want to get out of town for Thanksgiving this year? Flying to get home within the U.S. can be spendy over Thanksgiving weekend, but it's a great time to travel abroad for cheap!
Our Thrifty Traveler Premium flight deal analysts find tons of cheap international fares over Thanksgiving. It's a great way to get out of town – by yourself or with the family – while burning less of your valuable vacation time. Read why Thanksgiving is the best holiday to travel abroad.
With Turkey Day right around the corner, it's time to book that getaway. This is the perfect job for Google Flights Explore.
What is Google Flights Explore?
Google Flights is the best travel search engine out there, and it has an unadvertised feature that will help you book a cheap Thanksgiving getaway. Google Flights Explore can help you find the cheapest ticket out of town. Make your search as broad as anywhere in the world or limit it to the U.S. or Europe: it's up to you. Then, let Explore find you the cheapest destination.
We love this feature because Google still gives you the power to set the ground rules while also exposing tons of destinations you may have never considered. Here's a look at how to use Google Flights Explore to book a cheap Thanksgiving getaway.
How to Use Google Flights Explore
Google doesn't heavily promote Google Flights Explore, but it's easy to find. Simply navigate to the Google Flights homepage at www.google.com/flights, click the Menu button and click "Explore map."
Google Flights Explore looks and operates much like Google Flights itself. Be sure to read our guide on " target="_blank" rel="noopener noreferrer">how to use Google Flights to find the cheapest flights. The beauty of Google Flights Explore Map is just how much it lets you, well, explore. Begin by typing in your home airport if it hasn't auto-populated for you. 
To start, leave the destination box blank and hit search to explore all your options. You can drag the map to see what prices are to cities around the world!
You can type in any range of dates, or keep it open. For a Thanksgiving getaway, you could type the exact dates you want to be gone, or choose "Flexible dates" and select "Weekend in November". 
You can similarly tailor your destination. It can be as broad as "The United States of America" or "Europe" or as specific as a given state or city.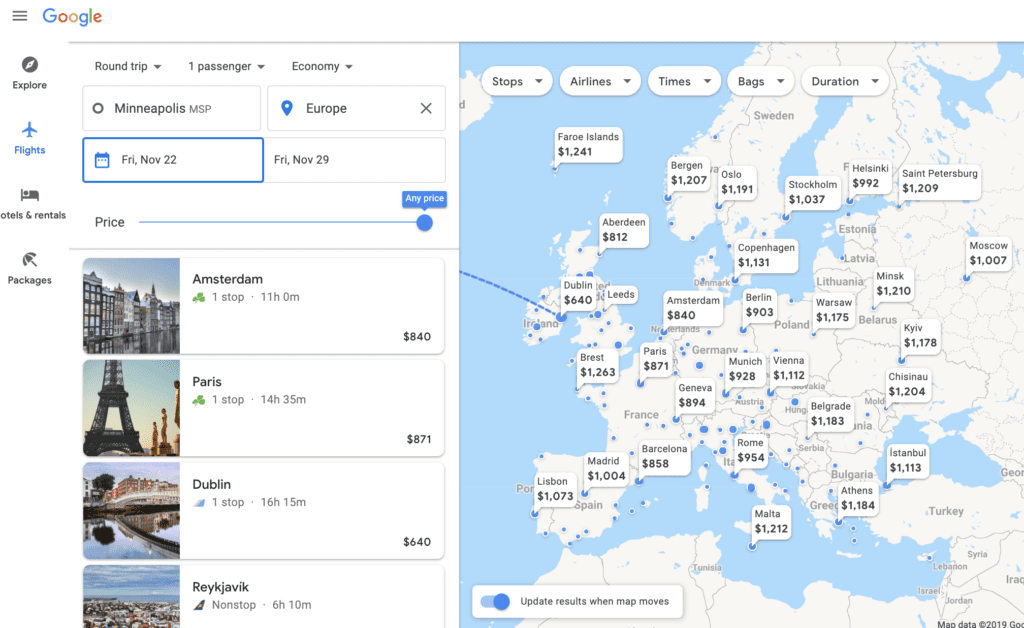 The results will move as you move the map. If you know you need some West Coast sun but don't care where you find it, just zoom in and see what flights pop up.
Thrifty Tip #1: Flexible about where you're departing from, too? After you've typed in your home airport, click the destination bar again and hit "+" – that way you can add up to five origin airports. The map will spit out the cheapest options to get anywhere in Spain for the next six months. 


Once you've zeroed in on a destination, click on the result. You can find the specific flights and even play around with the schedule to see if there are better dates at the same or similar prices. Munich for Thanksgiving? Sounds great to me!
Thrifty Tip #2: Read more about how to use Google Flights Explore.
Bottom Line
Google Flights is the absolute best search engine for finding cheap Thanksgiving flights, and mastering the Explore tool will change the way you travel forever. If you're looking for a cheap getaway over Thanksgiving to make the most of your PTO, use Explore and spend Turkey Day abroad!
Want the best flight deals and travel tips delivered to your inbox?
Sign up for Thrifty Traveler, and like us on Facebook or follow us on Twitter & Instagram
Editorial Note: Any opinions, analyses, reviews, or recommendations expressed in this article are those of the author's alone, and have not been reviewed, approved, or otherwise endorsed by any card issuer.