We've spent nearly six years building the best flight deal alert service available to help travelers see the world for less. Today, we're making it even better.
Introducing Thrifty Traveler Premium+, the new top tier of our flight deal alert service with even more award alerts to help travelers use their points as well as discounted first and business class fares – plus all the cheap domestic and international alerts, mistake fares, and all the other deals that travelers love.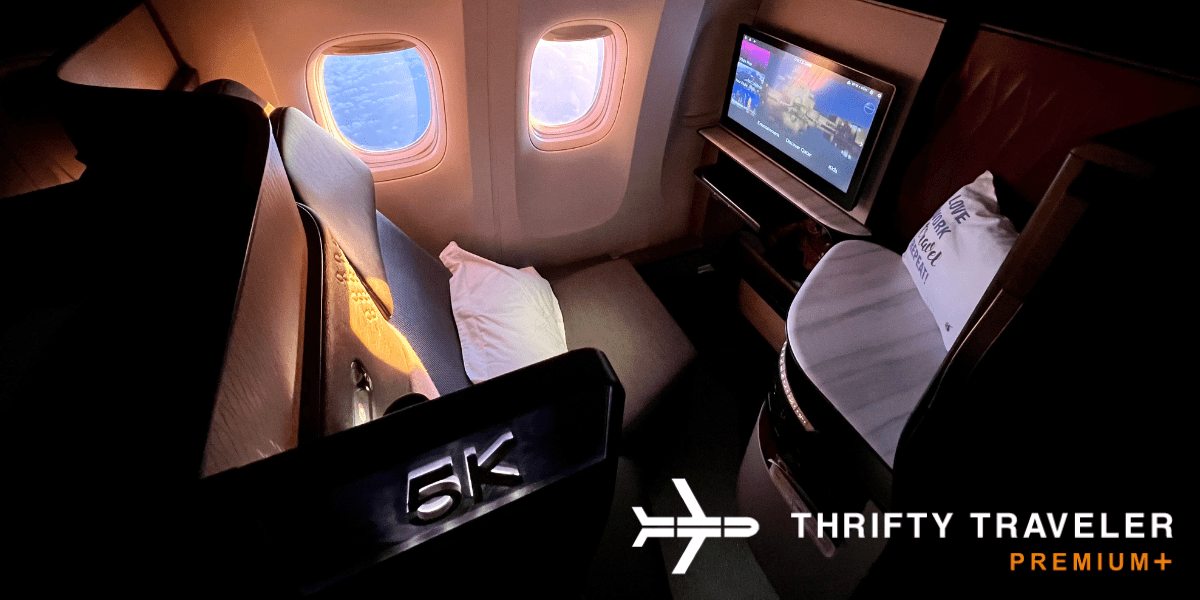 Don't worry, longtime Thrifty Traveler Premium members: You aren't losing anything and you won't be charged more. We automatically upgraded anyone who signed up before 12 p.m. CST on Nov. 3 to a Premium+ membership!
Not interested in Delta SkyMiles flash sales or booking lie-flat business or first class seats using points? No problem: You can still sign up for a standard Thrifty Traveler Premium membership for less and get cheap economy fares, whether you're looking to travel domestically or head abroad.
But a Premium+ membership is the key to traveling more for even less. Here's a quick look at what you get from each of our membership options:

Thrifty Traveler Premium+ members can get every cheap fare and award space alert to use points & miles that we send, including business and first class seats, plus other perks like one-on-one travel credit card consulting
Just want domestic and international cash fares flying economy? Standard Thrifty Traveler Premium subscribers get them for less
Think we won't find deals from your home airport? Think again: We cover 200-plus airports in the U.S. and Canada – more than any other service! You can tailor your membership settings to get alerts from as many (or as few) as you want.
And all our subscribers lock in their price for life: Your rates will never go up. Plus, we offer a 100-day money back guarantee so you can try things out and get a full refund if you don't like what you see.
"As travel bounces back, we've heard from more travelers than ever before who are looking to cash in their points and miles or splurge for a lie-flat business class seat overseas," said Jared Kamrowski, Thrifty Traveler's founder and CEO. "We're taking our flight deal alerts to the next level to meet that demand."
A Closer Look at Thrifty Traveler Premium+
Here's what it comes down to: Thrifty Traveler Premium+ is the best flight deal alert service on the planet. Yes, we're biased. But it's true.
We're the only flight deal service on the market that sends members both cheap cash fares as well as award alerts to book flights using points and miles. We're doubling down on that with this new Thrifty Traveler Premium+ tier, helping travelers save even more as they get back out there. That means more award space alerts, more deeply discounted business and first class fares, and more outstanding deals.
In October alone, we sent members more than 80 flight deal alerts, including:
Dirt-cheap economy fares to Spain for $353 or Athens from $384, for trips later this year or in 2023
Several Premium Economy fares to Europe, including a SkyTeam deal across the continent from $861
Nearly 20 award space alerts, including a chance to book Qatar Qsuites with miles for next year, several chances to book Delta One to Europe for 50,000 points, and wide-open United Polaris business class award space to London bookable for 45,000 points next summer
Just as Japan prepared to open, we found incredibly rare ANA First Class flights for two passengers (bookable for just 43,000 points each way, one of the single best points redemptions possible)
This deal is long gone now – get the next one in your inbox with Thrifty Traveler Premium+!
You can pick just one or two preferred airports to get alerts from or all 200+ cities in the U.S. and Canada we cover. But Premium+ members can really fine-tune their deals, getting deals only from select airports … but all business and first class fares, no matter where they depart from. You can also toggle off points and miles deals, if you want. Watch for even more filters to dial things in deeper in 2023.

Beyond all those amazing flight deals, our Premium+ members get some other exclusive benefits like one-on-one consulting with our experts to help pick the right travel credit card; access to our members-only Facebook group to chat with fellow travelers; and more.
Some of the Best Deals We've Sent Members
We scour the globe for Thrifty Traveler Premium+ members to find the cheapest domestic and international flights and award deals, then send them straight to your inbox. If you like what you see, you book your flight directly with the airline to save $250 (or much more – especially with a great award fare or premium cabin deal), and start planning your trip.
Our members love getting award alerts to use their miles, and we're constantly finding deeply discounted sales to use your Delta SkyMiles, American AAdvantage Miles, United MileagePlus miles, and even Southwest points. When Delta typically charges 80,000 SkyMiles roundtrip to Europe, nothing beats getting there for just 32,000 SkyMiles thanks to one of our Delta SkyMiles flash sale alerts.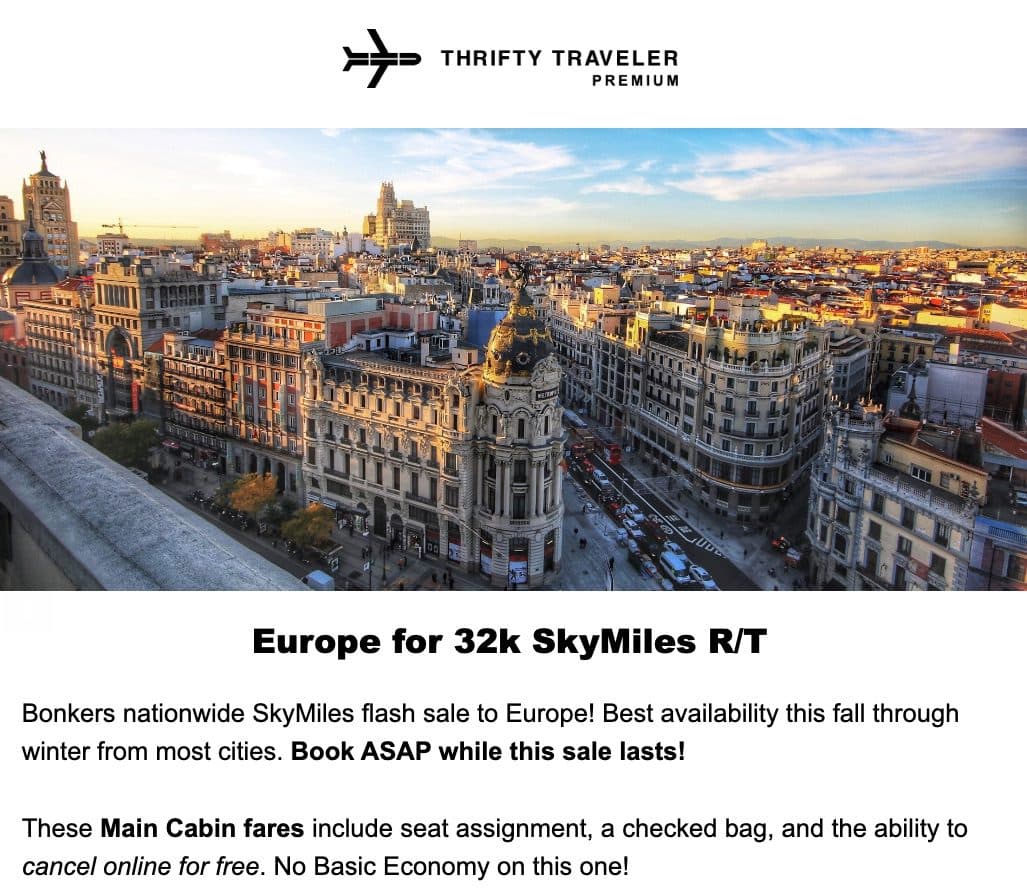 Hoping to splurge with your points and fly lie-flat? No problem: We hunt down rare business and first class award seats and alert members – and we'll do even more of it in the weeks and months ahead. We do the legwork for you, letting you know what's available and the best ways to book with points.
For example, we're constantly on the lookout for chances to book Delta One business class to Europe for just 50,000 points – or less.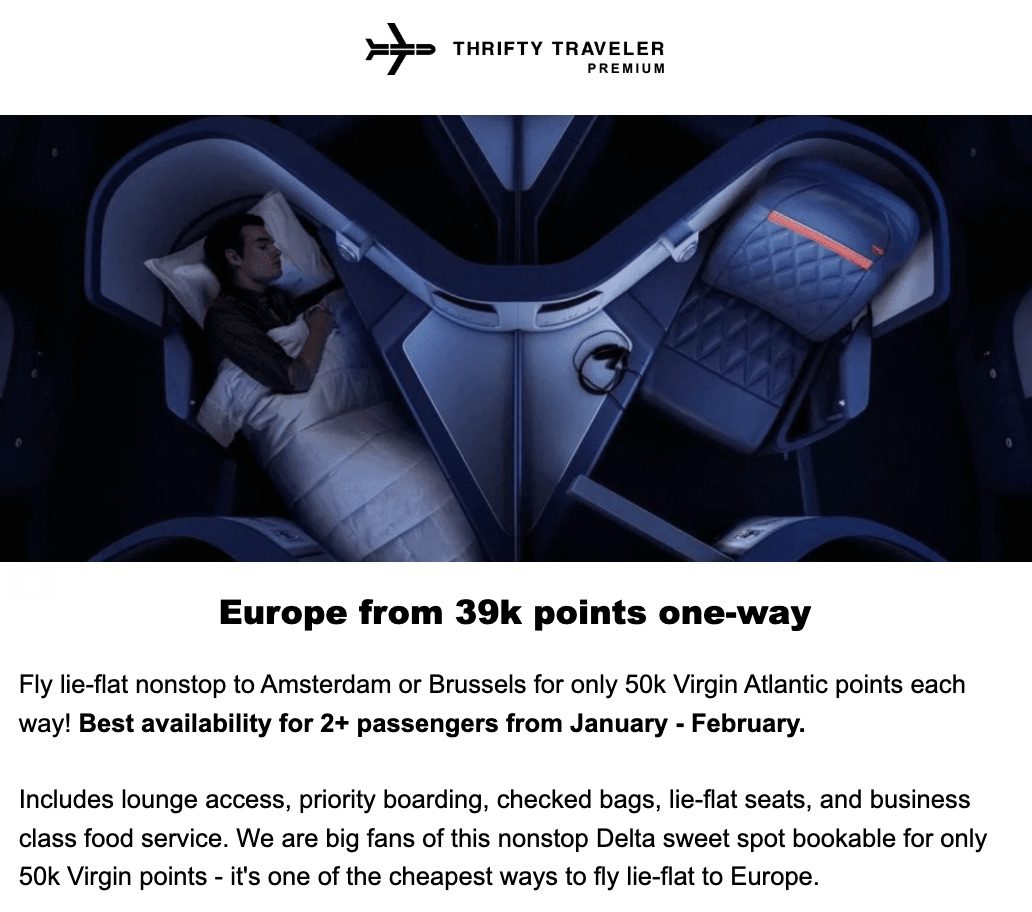 Want to fly the world's best business class, Qatar Qsuites? You're not alone. These suites have gotten much harder to find lately … until just last week, when we tipped off Thrifty Traveler Premium+ members to wide-open award space next year to fly Qsuites nonstop to Doha (DOH) – or even continue all the way down to South Africa!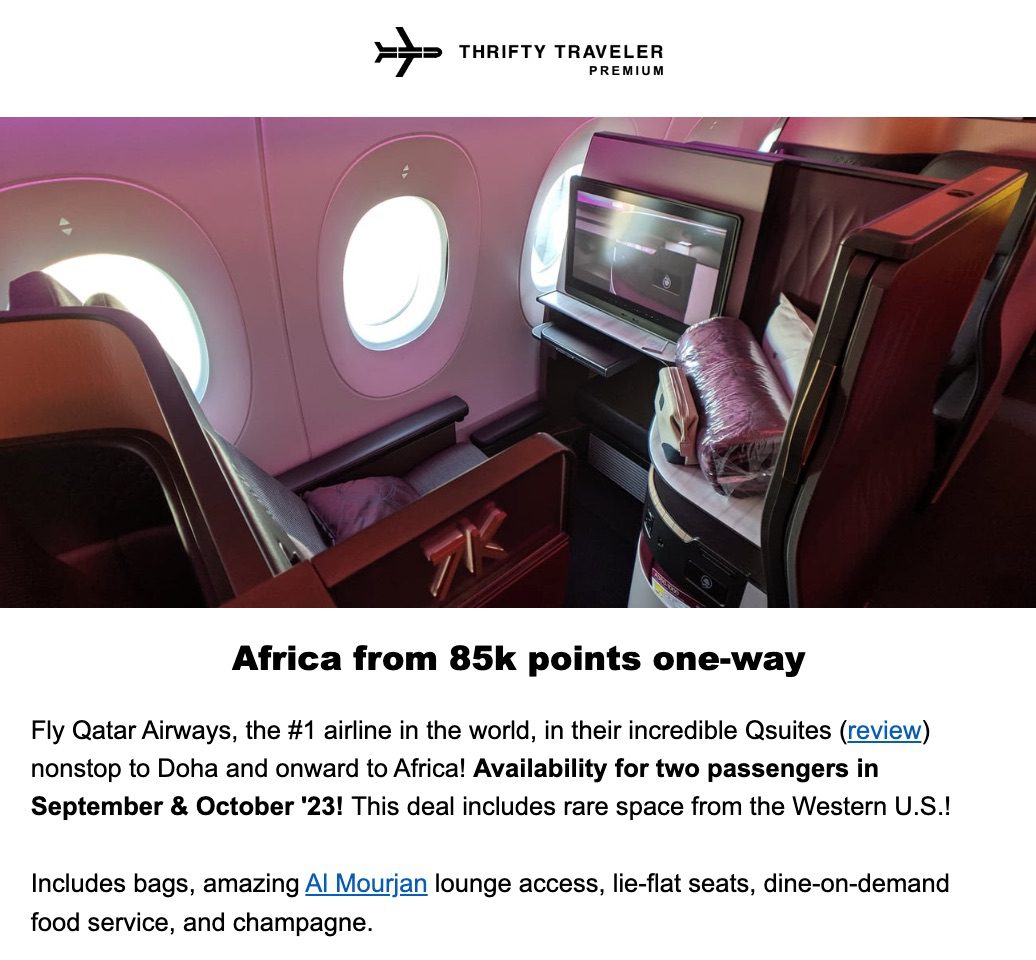 Cheap cash fares flying business or first class are even rarer – but they do happen, and we find those, too. In early October, in fact, we sent members a $1,700 roundtrip fare in British Airways or Iberia business class to Spain. That's more than 50% off normal prices!


But you'll still get all the dirt-cheap fares in economy we find every day, too. How cheap? How about sub-$200 domestic flights all across the country … or roundtrip flights to Europe for $354 or less … or winter getaways to Mexico from $227. We could go on and on.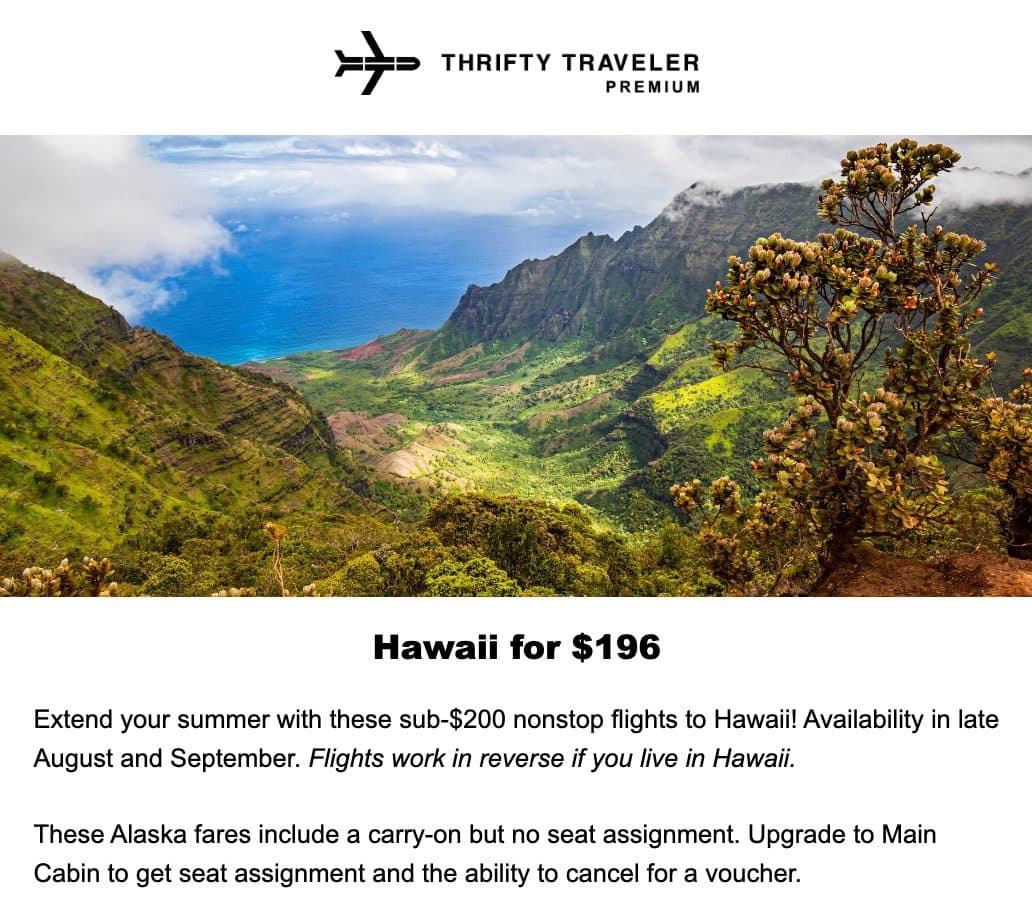 And then there's the holy grail of all flight deals: Mistake fares, when airlines mess up and accidentally sell flights at deep, deep discounts. These insane fares only crop up once or twice a year, but we always let our subscribers know with both an instant email and a text alert, like this $900 roundtrip fare to London in Virgin Atlantic business class from earlier this year.

Sign up for Thrifty Traveler Premium+ to get deals like these – you'll make the subscription cost back (and then some) when you book your first deal!
Bottom Line
Thrifty Traveler Premium+ is here.
Want dirt-cheap domestic and international flights? Award alerts to use your points and miles? Discounted lie-flat business class seats, too? Only Thrifty Traveler Premium+ members get it all.
Sign up for Thrifty Traveler Premium+ today!