Domestic travel is back, and the world is reopening. It's time to get back to travel with cheap flights.
That's why we're kicking off the return to travel with our biggest sale of the year: Today only, you can get $15 off your first year of our flight deal alert service Thrifty Traveler Premium. Just use promo code "TRAVEL15" at checkout to kick-start your return to the skies by traveling more for less. Don't wait: this promo code expires tonight, May 13 at midnight!
Our team of flight deal analysts is constantly digging up the hottest mistake fares, flash sales, and flight deals to save Premium members $200 or more on each deal we find. We're already finding flight deals as far out as April 2022!
Whether you're ready to get back out there next month or not until next year, we'll alert you to the best domestic and international flight deals from your home airport (yes, even your small regional airport!) And Premium memberships come with tons of other benefits – more on that later.
Read more on how Thrifty Traveler Premium works – and how it can help you save 90% or more on flights!
Insane Flight Deals for a Return to Travel
Wondering just what kinds of flight deals we find? Here's just a small taste of the flight deals we've found and sent to Premium members recently. And it doesn't get much more crazier than roundtrip flights to Japan in 2022 for under $200…

Yes, really! Our Premium members couldn't get enough of this deal we found for a trip way into spring 2022. These unbelievable prices were available from multiple U.S. airports, including smaller cities.

Not ready to plan an international trip for 2022 yet? Don't worry, we've seen some dirt-cheap prices for this spring and summer closer to home. We're talking flights as low as $50 roundtrip to top domestic destinations like Las Vegas.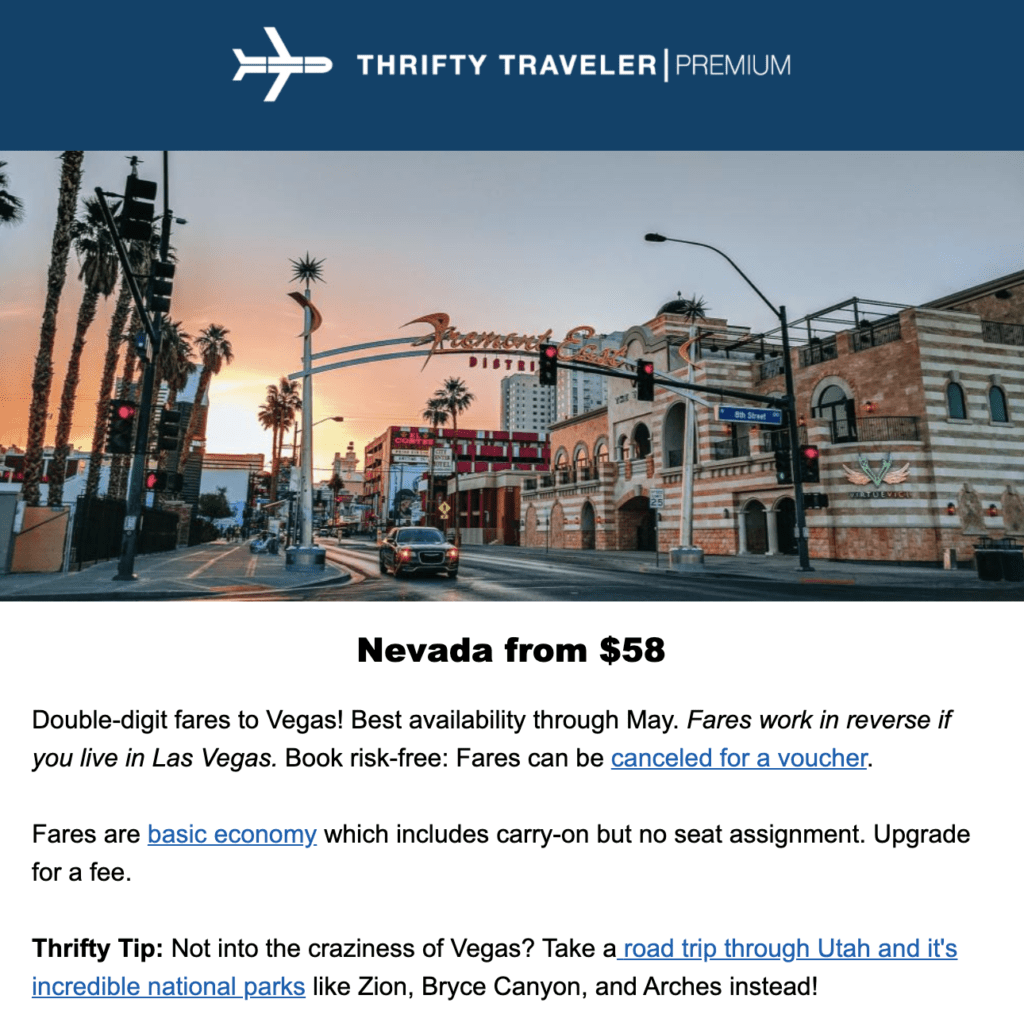 And no, that's not on budget carriers! We only share flight deals we'd take ourselves. We love hearing from our Thrifty Traveler Premium members who use these cheap domestic deals to book family adventures and vacations.
There is so much of the U.S. to explore as travel resumes! A $78 roundtrip flight will get you there for less – much, much less.

Looking for even more adventure? We've been finding rock-bottom prices to Alaska from as low as $150…roundtrip. Bucket list trip this summer, anyone?

Did you hear Europe is reopening for summer travel? And we've been finding the flight deals to get you there this year – or next! – for much less. Rome under $300 roundtrip? Sign us up!

This is just a small taste of the flight deals, mistake fares, and flash sales we find each day. Trust us: you don't want to miss the next one we find! Use code TRAVEL15 at checkout to get $15 off your first year of flight deal email alerts like these. This code expires tonight at midnight!
All About Thrifty Traveler Premium: Subscribe to Get Email Alerts
There's no better way to travel more for less in 2021, 2022 and beyond than with Thrifty Traveler Premium.
Subscribe to get instant alerts via email for crazy cheap domestic and international flight deals delivered straight to your inbox! Get deals from your home airport(s) … with at least $200 in savings on each deal we send.
We aren't a travel agency, and we don't make the flight deals – we find the best of the best and send them straight to you.
Here's how it works:
Our team uses multiple tools to search all day, every day for the unadvertised flash sales, fare wars, and mistake fares you won't find otherwise.
When we find one from your home airport, you'll get an instant email alert.
All you have to do? Book directly with the airline.
Other benefits of Thrifty Traveler Premium membership include:
Select your home airport(s) from 160+ departure cities
Free personalized travel rewards card consulting with our team
Access to our Premium-only Facebook travel community: more than 11,000 members helping each other travel smarter!
Bottom Line
The world is waiting for you. We'll find you the flight deals to get back out there.
Are you ready for cheap flight alerts from your home airport straight to your inbox? For $15 off your first year of flight deal email alerts, use code TRAVEL15. Hurry: our best sale of the year ends tonight at midnight!