Few airlines have a bigger reputation for greatness than Singapore Airlines. It wins award after award, like earning the top spot in SkyTrax's 2018 ratings. From first and business class back to economy, Singapore supposedly does it better than almost anyone. Heck, Singapore Airlines was even featured in the wildly successful Crazy Rich Asians – the book, not the movie.
So as I boarded a recent flight from Singapore (SIN) to Los Angeles (LAX) in business class, I was both ecstatic and skeptical. We'll have a full review in the coming days, but I needed to answer: How could Singapore Airlines business class possibly live up to the incomparable hype?
Beautiful and Spacious Seating
Stepping on one of Singapore's Boeing 777 planes, it's not hard to see why the airline gets accolades.  Their planes are, in a word, stunning. I've never been on a more visually beautiful aircraft in my life. You can immediately see why Singapore gets such attention among hundreds of airlines.
Gone are the drab blues and whites that dominate U.S. airlines. Singapore paints its cabins in purples, soft greys, and flashes of gold. Of course, it all comes down to personal preference – others may love Emirates, with a bit more gold and a lot more glitz. But for me, it's hard to beat Singapore Airlines in the looks department.
In business class, the center of the cabin doesn't have an overhead luggage compartment. And while that's a small thing, it makes the whole cabin feel airy and much bigger.
One thing I loved about this flight was the mini-cabin we were seated in. Singapore divides this plane with 48 business class seats into two cabins: One cabin with nine rows of seating farther back, and another with just three rows of seats. The smaller cabin felt so much more intimate.
And then you have the business class seats themselves, which are not just gorgeous but enormous, too. The color of each row alternates: First grey, and then purple. It's a small detail, but it stands out.
At 28 inches wide, they're easily the largest out there. While the flight attendants might discourage it, fitting two people side-by-side isn't a stretch. They're that wide.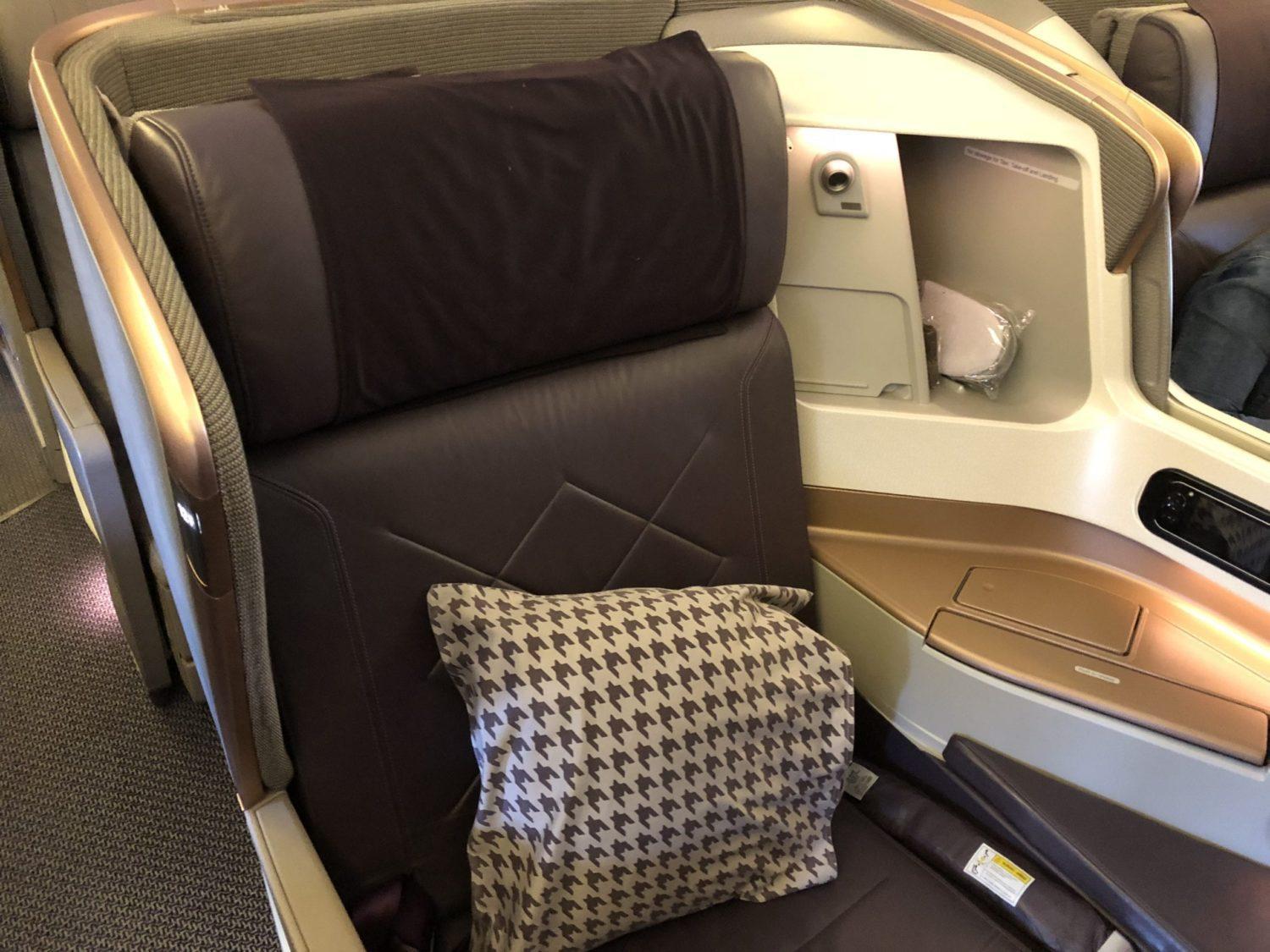 When it comes time for sleep, Singapore has a tricky setup. You can't just recline all the way to lie-flat position, but rather the back of the seat folds down with a latch. It's easy to do yourself, though a flight attendant will gladly help. Once it's down, you're ready for bed. And the sleeping space rivals a twin bed.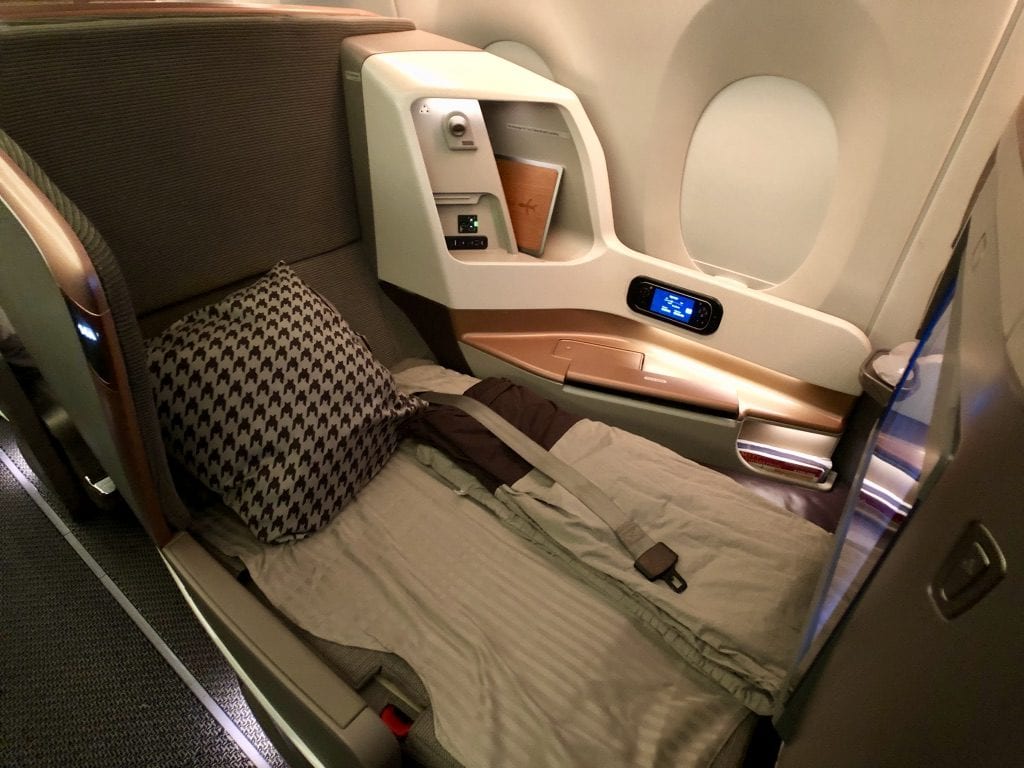 Now, these seats aren't perfect. The beds in Singapore Airlines Business Class are on the hard side. And the design of the seats means you have to angle your legs and feet into a small cubby in front of you. Other flyers gripe about this, and every flyer is different. But I ultimately found those complaints to be pretty minor. I still found the seat to be incredibly comfortable, upright or laying down.
And not all seats are the same. You really want the bulkhead seats, positioned at the front of each cabin. Rather than a foot cubby, these have a whole bench that makes the seat even longer.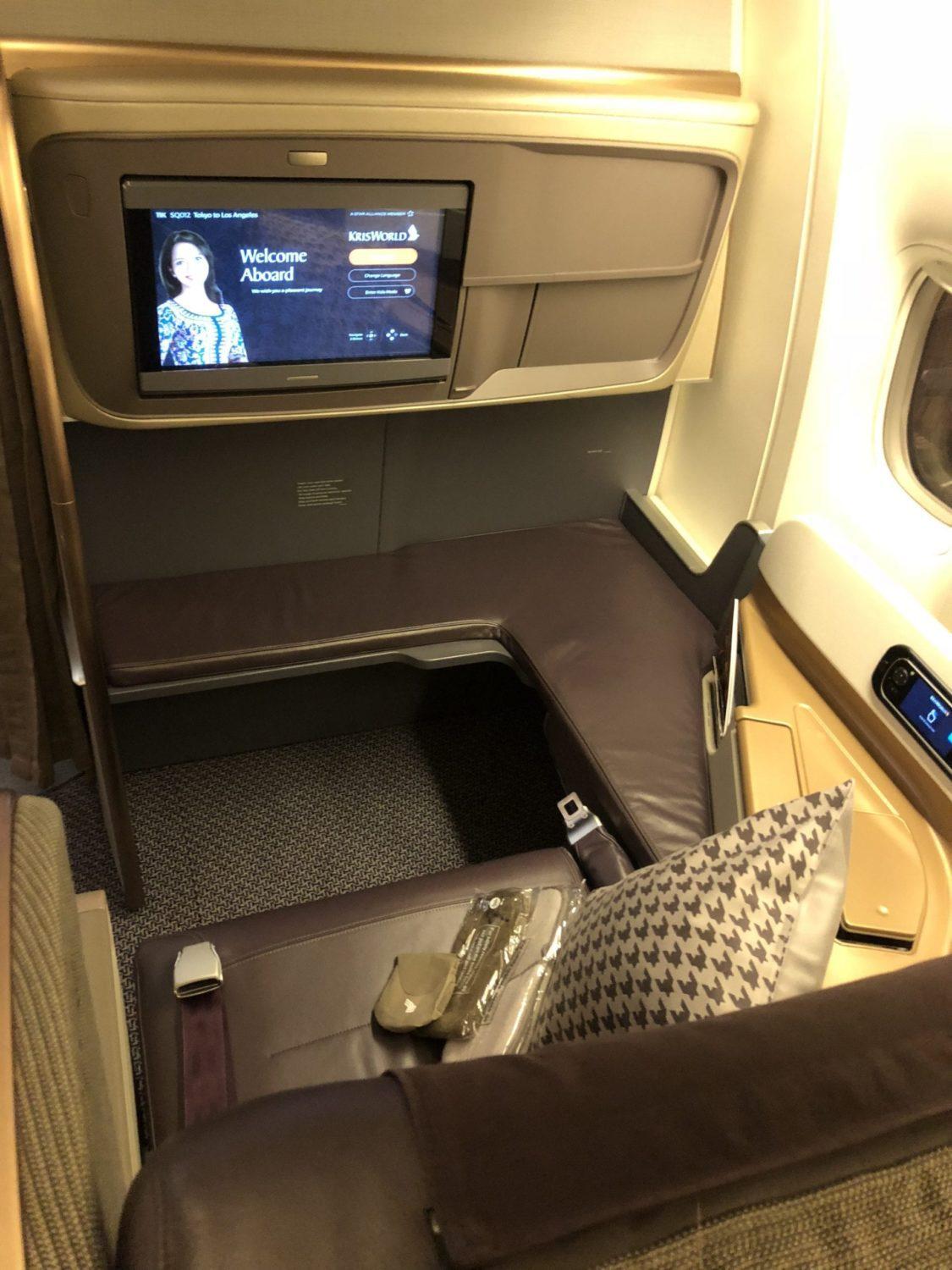 These bulkhead seats are even more important if you're flying on one of Singapore's new Airbus A350's on the nonstop journey from Newark (EWR) or LAX. The world's longest flight to EWR restarted recently, while the flights in and out of LAX restart later this fall. The legroom on these planes is smaller than onboard the 777s, so the extra room could be crucial.
Even with those caveats, there's still no doubt in my mind: This is one of the most beautiful ways to fly. It far outstrips many airlines' first-class products. 
But how about the rest of the in-flight experience?
Entertainment and Food Options Galore
If you want to get the absolute most out of a Singapore Airlines business class flight, I implore you: Fly out of their Singapore (SIN) hub. Sure, that means you can kill some time at the best airport in the world. Singapore's Changi airport has a free movie theater, botanical and butterfly gardens, and a few hotels with swimming pools. You'll actually wish you had a longer layover.
But there's another big bonus if you're flying first or business class: Tons of meal options. Singapore calls it Book the Cook, allowing passengers to preselect meals for their flights. And while it's available on all long-haul flights, your choices are far broader when you originate out of Singapore (SIN). 
On the first leg of our flight from SIN to Tokyo-Narita (NRT), there were almost 50 dishes to choose from. From Singaporean classics like chicken rice and Laksa to some Malaysian and Indonesian dishes to tons of Western options, the list felt endless.
I went with the prawn and chicken Laksa, a favorite. And while it might not be much in the looks department, it more than made up for it in taste.
However, on the next flight from NRT to LAX, there were just a dozen or so choices via Book the Cook. Luckily, flights out of Tokyo have an excellent Japanese set meal called hanakoireki.
The final meal of the flight was far less impressive. I ordered braised ee fu noodles with seafood from the menu, which was somewhere between bad and passable.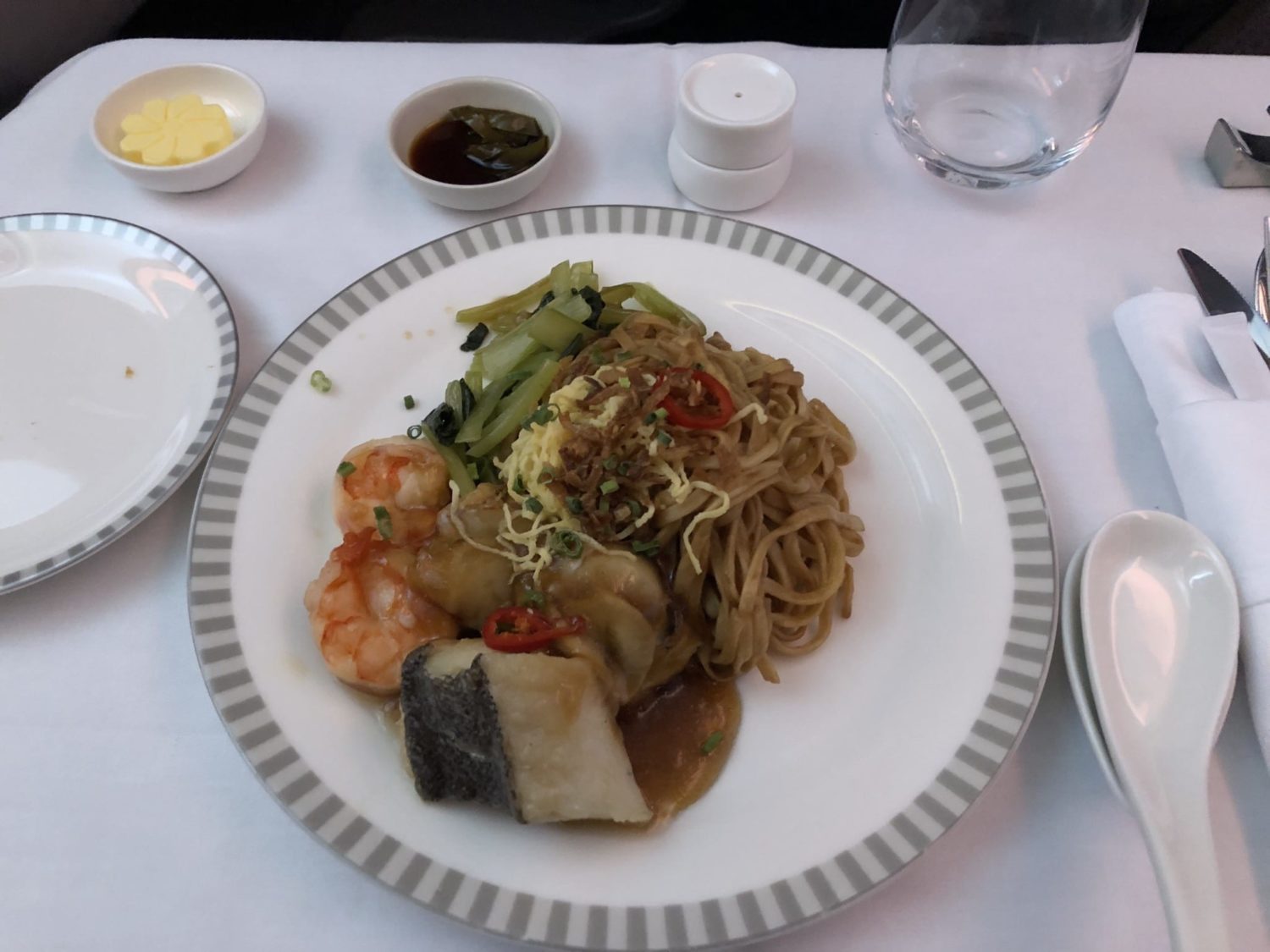 On the bright side, every meal starts with Singapore's signature satay, complete with a big scoop of their peanut sauce. You can't say no.
Desserts were simple but delicious. A scoop of salted caramel ice cream after one meal, and a piece of matcha cake after another.
On the whole, the meals in Singapore Airlines business class are on par with the best food you'll eat on a plane. There are some big hits and a few misses, but that's to be expected when you're eating at 37,000 feet.
When you're on these long haul flights, entertainment is key. And Singapore delivers better than perhaps any airline. The 18-inch screen is massive and perfectly positioned – not too close, not too far away. The display is as crisp as they come. Oddly, it's not a touchscreen display – you can only control it with the wired remote.


But it's the entertainment selection that really stands out. There were at least 300 movies onboard, with a great mix of new releases, a few older titles and some classics. There were also more than 600 episodes of TV shows.
So while on some long flights you might need a few saved Netflix shows or movies to get by, that's definitely not the case on Singapore. It's not a matter of finding something you can watch, but picking which titles you want to watch most.
Singapore also gives business class passengers 30MB of free Wi-Fi. It's easy to use that up fast, but it's still a nice touch that more airlines should follow.
Something Missing from Service and Amenities
While their competition crossing the Pacific ocean gives premium passengers amenity kits, Singapore Air business class isn't in the amenity kit game.
Instead, Singapore fully stocks its lavatories with many of the goodies you may need throughout the flight. Lotion, face mist, toothbrushes and shaving kits are all in the bathroom.
Does an individual amenity kit make or break a business class flight? Absolutely not. Ultimately, it's a pretty minor knock against Singapore's otherwise sterling offerings.
But seeing as competing airlines like EVA, ANA, and Cathay Pacific – also some of the best airlines in the world – give their premium passengers fully stocked kits and sometimes even pajamas, it stands out. It almost feels like an oversight.
Singapore Airlines' service is legendary, and in that respect, my experience lived up to it – mostly. Every flight attendant working my aisle was kind, attentive and fast, whether they were bringing out meals, offering refills or preparing a seat for bed mode. You will be well looked after in Singapore Airlines business class.
But there were several times throughout the course of the flight where the service felt a little robotic, almost forced. Some flight attendants were incredibly warm and genuine. Others were a bit distant and treated interactions with passengers more like an item on a checklist.
Flight attendants on even the world's best airlines have bad days, and my observations here are the epitome of a first world problem. The service on Singapore Airlines is miles better than anything you'll ever get on a U.S. airline. But the competition between airlines for high-paying business class customers is cutthroat. Every detail matters – especially the small ones.
Bottom Line
I expected Singapore Airlines business class to blow me away, and blow away the competition. I was blown away, but there's no denying that Singapore does, in fact, have some serious competition.
The seat and cabin are undeniably world-leading products, though others may dislike the setup. However, some of the world's other top airlines are making it harder to crown Singapore the best business class.