Black Friday and Cyber Monday can be great days to score a deal on travel gear and accessories. But when it comes to finding cheap flights, we've got to break it to you: There's no magical best day to book flights.
Take it from us: We're searching for cheap flights every single day of the year – and we find them every day, too. The savings you can find from the best fare wars and mistake fares dwarf Black Friday or Cyber Monday discounts and airline promos.
Read more: No, Black Friday Isn't the Best Day to Score Cheap Flights
To prove that cheap flights can be found any day of the year – not just on Cyber Monday – we're letting you in on a deal of our own. Get $10 off your first year of flight deal email alerts with Thrifty Traveler Premium. Get something you actually want on Cyber Monday this year (ahem, cheap flights): Use the promo code CYBER at checkout to save!
Whether you're ready to travel next month or planning ahead for 2022, now's the time to get flight deal alerts to save hundreds on future travel.
Every fare alert we send our Thrifty Traveler Premium members saves them $250 or more on normal prices, on average. These aren't last-minute deals that leave you scrambling to pack and plan, either: They're for trips as far as 11 months out, all the way into fall 2022. Book just one deal we find and send your way, and you'll have paid for your membership several times over.
So, what can a Thrifty Traveler Premium membership get you? Take a look.
Save Hundreds on Flights with Thrifty Traveler Premium
Our team of flight deal analysts is constantly digging up the hottest mistake fares, flash sales, and flight deals to save Premium members $250 or more on each and every deal we find. We're already finding flight deals as far out as October 2022!
Here's just a taste of some of the recent deals we've found and sent to Premium members:

The hotter the flight deal, the shorter it lasts! That's where getting flight deal alerts comes in handy. These crazy cheap sub-$200 flights to Mexico didn't last long:

Planning ahead for a return to Europe in 2022? Flights to major European hubs from as low as $243 roundtrip, anyone?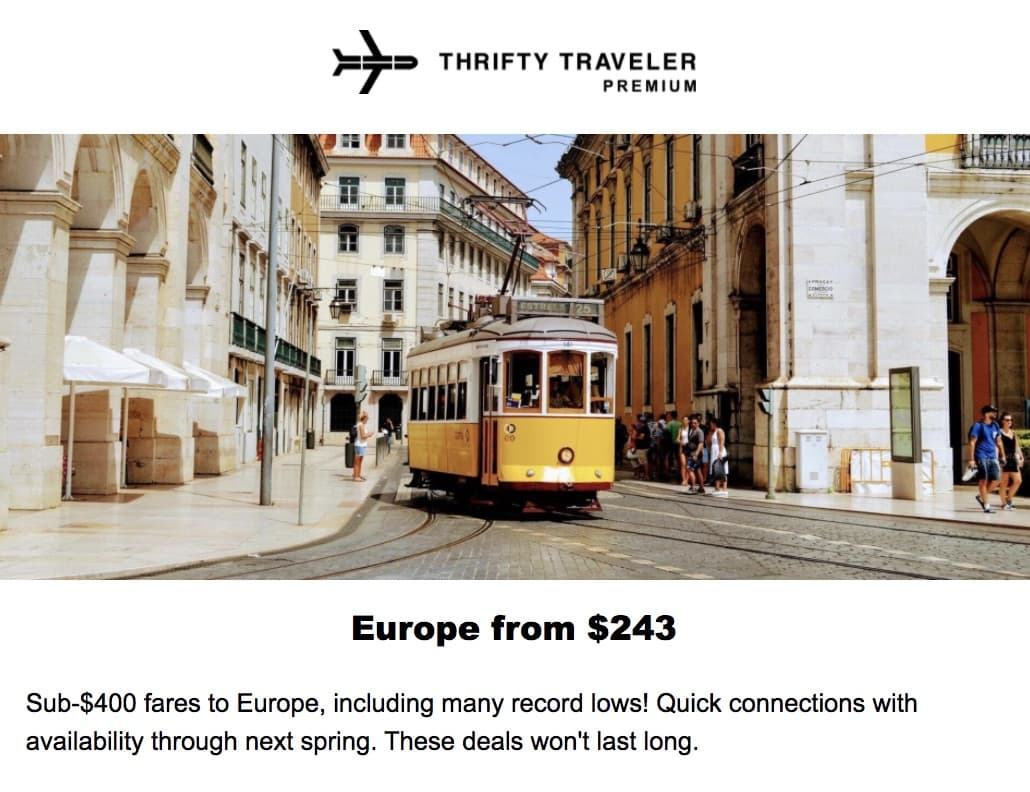 And no, these cheap flights aren't just for major cities. We uncover nationwide fare deals from 175+ U.S. and Canadian airports! So whether you live in Denver (DEN) or Des Moines (DSM), you can get to places like Hawaii for cheap.

Looking for a cheap domestic adventure? We've been seeing flight prices drop under $100 roundtrip to top destinations like Arizona, Las Vegas, New York, California, Florida, Colorado, and more:

It's never too early to plan ahead for winter tropical getaways and Spring Break. One of our incredibly cheap deals to St. Thomas in the U.S. Virgin Islands lasted just long enough for many Premium members to book – and share their excitement in our Members-Only Facebook Community:

Read more on how Thrifty Traveler Premium works – and how it can help you save hundreds on flights!
All About Thrifty Traveler Premium: Flight Deal Email Alerts
There's no better way to travel more for less in 2022 and beyond than with Thrifty Traveler Premium.
Subscribe to get instant alerts via email for domestic and international flight deals straight to your inbox! Get deals from your home airport(s) … with at least $250 in savings on each deal we send.
We aren't a travel agency, and we don't create or sell these fares. We just find the absolute cheapest flights and send them straight to your inbox.
Here's how it works:
Our team uses multiple tools to search all day, every day for the unadvertised flash sales, fare wars, and mistake fares you won't find otherwise.
When we find one from your home airport, you'll get an instant email alert.
All you have to do? Book directly with the airline and start planning your trip!
Other benefits of Thrifty Traveler Premium membership include:
Select your home airport(s) from 175+ departure cities
Free personalized travel rewards card consulting with our team
Access to our Premium-only Facebook travel community: more than 11,000 members helping each other travel smarter!
Bottom Line
Even though it's Cyber Monday, there's not one special day for cheap flights. We find flight deals 365 days a year!
Don't believe us? See for yourself: Join Thrifty Traveler Premium for instant email alerts of the hottest deals we're finding from your home airport(s).
A new TV can't get you to the Caribbean for less, but we can! Get what you actually need – a vacation – this Cyber Monday. Use promo code CYBER at checkout for $10 off your first year of flight deal alerts.