As 2017, begins to draw to a close and the winter weather begins to set in, holiday travels may soon be on your mind. Maybe you're thinking about a family trip to Disney World or even better, a relaxing beach vacation, soaking in the sun, the surf, and an adult beverage or two.
Whether you're just starting your research or are knee deep in a sea full of advice, we thought we'd make it easy for you and list TripAdvisor's Top 25 Beaches of 2017. Who knows your next destination might be on this list.
25. Poipu Beach Park – Poipu Kauai, Hawaii
It's time to say Aloha to our first beach on the list. Poipu Beach Park in Hawaii. With its gorgeous views and great location, Poipu Beach is the most popular beach on the south shore of Kauai.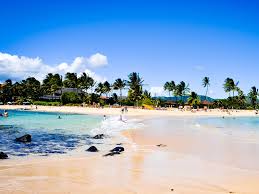 24. White Beach – Boracay, Malay
Boracay is a small island off the Philippines but don't let it's small size deter you. At number 24 on our list, White Beach packs a powerful view.
23. Playa Manuel Antonio – Manuel Antonio, Costa Rica
This beach sits nestled in Manuel Antonio National Park, so once you're done hitting the waves, you'll find plenty more to explore.
22. Praia de Santa Maria – Santa Maria, Cape Verde
Needless to say, the views at Praia de Santa Maria are beautiful. You might even get a shot of the island's tallest mountain, Monte Leao.
21. La Jolla Shores Park – La Jolla, California
La Jolla Shores Park claims spot number 21. With San Diego as your backdrop, you'll never run out of things to do here.
20. West Bay Beach – West Bay, Honduras
Located in Roatan, the biggest island in Honduras, West Bay Beach boasts beautiful clear waters, pristine sandy beaches and the second largest reef barrier in the world.
19. Fig Tree Bay – Protaras, Cyprus
A fun fact about this beach is that it actually got its name from the single fig tree that grows near the shoreline.
18. La Cote des Basques – Biarritz, France
For travelers who love to surf, La Cote des Basques might be the place to be.
17. Henderson Beach State Park – Destin, Florida
Known for its white sandy beaches, if you're looking for a great beach in the sunshine state, Henderson Beach Park might be the place to go.
16. Anakena Beach – Easter Island, Chile
For those of you looking to add a little history to your next vacation, this beach should be on your list.
15. Seven Mile Beach – Negril, Jamaica
Running out of room to play won't be a problem on this beach. Coming in at number 15 is Seven Mile Beach in Jamaica.
14. Bavaro Beach – Punta Cana, Dominican Republic
Known for its beautiful white sand and crystal clear waters, number 14 on our list is Bavaro Beach in the Dominican Republic.
13. Flamenco Beach – Culebra, Puerto Rico
Visitors get the fun treat as the wind wipes away footprints each night, so you get clean beaches every morning.
12. Seven Mile Beach – Seven Mile Beach, Grand Cayman
Don't worry it's not a repeat. Number 12 on our list is Seven Mile Beach in Grand Cayman.
11. Anse Lazio – Praslin Island, Seychelles
10. Galapagos Beach – Puerto Ayora, Ecuador
9. Elafonissi Beach – Elafonissi, Greece
8. St. Augustine Beach – St. Augustine, Florida
We're back stateside with number 8 on our list, St. Augustine Beach.
7. Playa Norte – Isla Mujeres
Located near Cancun, Mexico our next beach is Playa Norte on the Isla Mujeres.
6. La Concha Beach – Donostia, Spain
We're headed back to Europe. Number six on our list is La Concha Beach in Donostia, Spain.
5. Siesta Beach – Siesta Key, Florida
We're down to our top five! Coming in at number five is Siesta Beach in Siesta Key Florida.
4. Playa Paraiso – Cayo Largo, Cuba
Number four on our list brings us back to Cuba at Playa Paraiso in Cayo Largo.
3. Eagle Beach – Palm Eagle Beach, Aruba
With trees like these, it's no wonder Eagle Beach comes in a number three on our list.
2. Grace Bay – Providenciales, Turks, and Caicos
Runner-up on our list is Grace Bay in Turks and Caicos.
1. Baia de Sancho – Fernando de Noronha, Brazil
And the number one beach on our list is Baia de Sancho in Brazil.
Have a beach that we need to tell our readers about? Let us know in the comments. Happy Travels!
Subscribe to our Newsletter, like us on Facebook, and follow us on Twitter & Instagram