There's not much to love in the rotten year of 2020 – especially in travel. But one upside is an unprecedented amount of award availability to fly business class using miles, even for travel far out in 2021.
We're seeing tons of award space to fly Virgin Atlantic business class from many cities in the U.S. to Tel Aviv, Israel (TLV) next year. You can find four (or more!) seats many days from January all the way through July 2021. You'll make a quick stop in London-Heathrow (LHR) before continuing onward to Tel Aviv. And there's outstanding availability on return flights, too.
Best of all, these flights are bookable for just 85,000 SkyMiles each way – less than what Virgin charges for the nonstop to London! And if your plans get derailed, you can simply cancel and get your miles (and taxes) back for free. Kudos to Spencer from Straight to the Points for highlighting this SkyMiles sweet spot recently.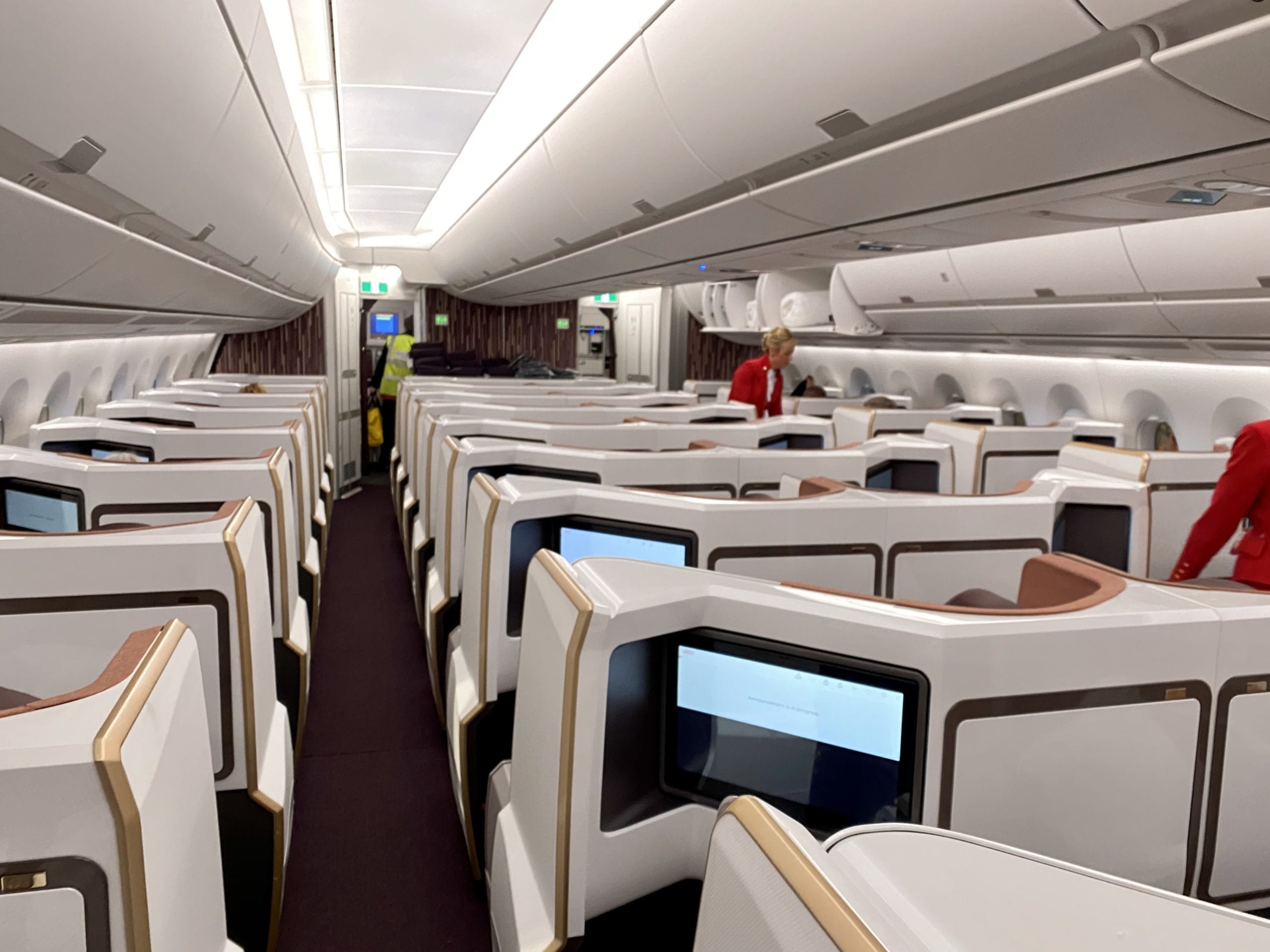 Want more award alerts like this one? We send them to Thrifty Traveler Premium members first, along with dirt-cheap domestic and international cash fares.
From Miami (MIA) to Seattle (SEA) and everywhere in between, there's fantastic availability from many of Virgin Atlantic's U.S. gateways. But to do it right, you'll want to hitch a ride across the pond on the airline's latest-and-greatest Airbus A350-1000s and complete with flashy new suites (pictured above). And that means you'll want to start in New York City (JFK), Atlanta (ATL), Los Angeles (LAX), or San Francisco (SFO). 
Read our full review of Virgin Atlantic's new Upper Class Suite on the A350-1000!
You'll find the strongest availability from New York – especially if you're booking tickets for a large group – through March. Just be sure to confirm that your transatlantic flight is scheduled on the A350-1000, and keep in mind you'll connect onward to Israel on a Boeing 787 with older business class seats.
Taxes and fees are fairly reasonable, at roughly $65 for a one-way flight from the U.S. to Israel and about $186 for a round-trip booking.

Virgin Atlantic has resumed some transatlantic flights and is set to resume its nonstop flights between London and Tel Aviv this month. Unfortunately, Israel is currently banning travelers from entering the country (or requiring a 14-day quarantine), and there's so sure sign of when those restrictions will lift. Booking farther out in 2021 is likely the safest bet.
And that's what makes the flexibility of booking with SkyMiles so important. If Israel doesn't open in time, you can simply cancel and get your miles back free.
What It's Like Flying Virgin Atlantic Upper Class
While there may be faster ways to get to Israel, it's worth flying Virgin Atlantic for two reasons.
First, their new suites on the A350 are some of the best seats you can find on any transatlantic flights. The finishes are chic, seats are cozy and spacious, and there's even a lounge onboard. The quintessentially British service on Virgin Atlantic is second-to-none.
It's up in the air what the business class flying experience will be like in 2021. But on paper, this seat is hard to beat.
And it's worth making the pitstop in London for one more reason: You get access to the flagship Virgin Atlantic Clubhouse, one of the absolute best business class lounges in the world.
Contributor Elliott Bowles said this lounge "even competes with some of the first class lounges I have visited. The Clubhouse has it all: complimentary spa treatments, shower saunas, and tasty food and drink served at your table."
The Clubhouse is currently closed due to COVID-19, but with any luck that will change soon.
How to Book
It's one of the funniest maxims in using points and miles: One of the best ways to book Delta flights is by using Virgin Atlantic miles. But when you want to fly Virgin Atlantic, you should use Delta SkyMiles.
There are other options to book these flights: Virgin Atlantic miles, of course, as well as Air France/KLM Flying Blue miles. But you'll pay a boatload in fees, as you can see with this Virgin Atlantic redemption.

The low surcharges combined with the flexibility to cancel and get your miles back free makes using Delta SkyMiles a no-brainer. Even partner airline awards (like this one) booked with SkyMiles are fully refundable so long as you book by Dec. 31.
And the value here is undeniable. Consider this: Delta typically charges 86,000 SkyMiles to fly Virgin Atlantic Upper Class from the U.S. to London. Tack on that additional flight to Israel, and it drops the price to 85,000 SkyMiles total. It's a major sweetspot.
Virgin Atlantic is insanely generous with releasing award space when booking with SkyMiles, too. Just look at how easy it is to book seats for four passengers all the way to Tel Aviv from New York City.
To book, just head to Delta.com and start searching. Click "Shop with Miles," filter for Delta One, and be sure to search for as many seats as you need. Use Delta's handy "Price Calendar" function to get a full five-week view of the availability.
Read up on the 12 best ways to pile up Delta SkyMiles!
Bottom Line
Flights to Israel are rarely cheap … and that's if you're flying economy. Business class? Forget it.
That's what makes this sweet spot so stellar. This is a great way to use some SkyMiles for a bucket list trip next year in style.