Want to get to Europe for cheap? Looking to learn how to use points (easily) to fly for free?
Whatever brought you here, know this: There are few things more satisfying than booking a cheap flight deal completely with points. And with flights to Spain dropping to record-low prices, it's the perfect opportunity to take a cheap flight and make it free with credit card points
Here's how to do it.
First, Get a Cheap Flight
If you're looking for cheap flights yourself, make sure you're using Google Flights. It's far and away the most powerful and versatile tool
But in this case, the flight deal that helped make this happen came straight to me. In May, Thrifty Traveler Premium subscribers got a red-hot alert with flights from Boston (BOS) or New York City (JFK) for just $230 round-trip. That's right: $230 for flights to Europe and back.
Thrifty Tip: Not familiar with Thrifty Traveler Premium? Learn how it works.
That's cheaper than many domestic flights! And it's all thanks to flights to Europe dropping below $300 throughout the spring and summer of 2019.
With prices that low, you could always just pay cash instead of using miles. However, we love booking cheap cash fares with points directly through travel portals like Chase Ultimate Rewards. It's one of our favorite ways to use points. What's better than flying for free … and still earning miles?
Nothing.
How to Earn Ultimate Rewards Points
First things first: You need some credit card points to make this happen.
If you're new to the points and miles world, earning Chase points is a great place to start. That's because it gives you a simple way to use your points toward the cash price of a fare.
Using Chase Ultimate Rewards points to book cheap flights is where I started my points and miles journey, and it's an easy way to dip your toe into travel rewards. Rather than learning about credit card transfer partners, complicated award charts, and seat availability, this is more straightforward.
To book a cheap cash fare like my flight to Spain with points, make sure you have some Chase Ultimate Rewards points in your pocket first. There are a few great ways to earn them easily.
The Chase Sapphire Preferred is our #1 starter card. It offers a sign-up bonus of 60,000 Ultimate Rewards points after spending $4,000 in the first three months and earns you 2x points for every $1 spent on travel and 3x points per dollar spent at restaurants. If you book directly through the Chase Ultimate Rewards portal, every point gets you 1.25 cents toward your ticket. So that 60,000-point bonus is worth at least $750 toward travel. And the $95 annual fee is reasonable, easily worth these perks.
For the more seasoned traveler, the Chase Sapphire Reserve is our #1 travel rewards credit card. That's because it comes with an outstanding set of benefits like a $300 annual travel credit that kicks in for any travel purchase, a free Priority Pass airport lounge membership, $100 toward Global Entry or TSA PreCheck enrollment, and much more. Those perks can easily outweigh the $550 annual fee.
Unfortunately, you can't stack both bonuses – Chase restricts cardholders to just one of these two cards at a time, and you can't earn the bonuses within 48 months of each other. What's more, these and most Chase cards fall under the 5/24 rule, which means you won't get approved if you've opened five or more credit cards from any bank within the last 24 months.
Thrifty Tip #2: Need help deciding which of these two Chase Sapphire cards is right for you? See our guide here.
Then, Book with Chase Ultimate Rewards
Once you've got the points to book the cheap cash fare you've got your eye on, it's time to head to the Chase Ultimate Rewards portal. Choose to redeem your points for travel.

The portal looks much like any other flight search engine would. Simply enter the flight details here — it helps to have a second Google Flights tab open with the flight details you originally found.
The Chase portal doesn't always work perfectly: there are some budget airlines you won't be able to book through it. And sometimes you'll get pricing that's much higher than what you found through Google Flights. If that happens, try adding the flight to your cart and see if it reprices, or just call to see if an agent can find the lower price.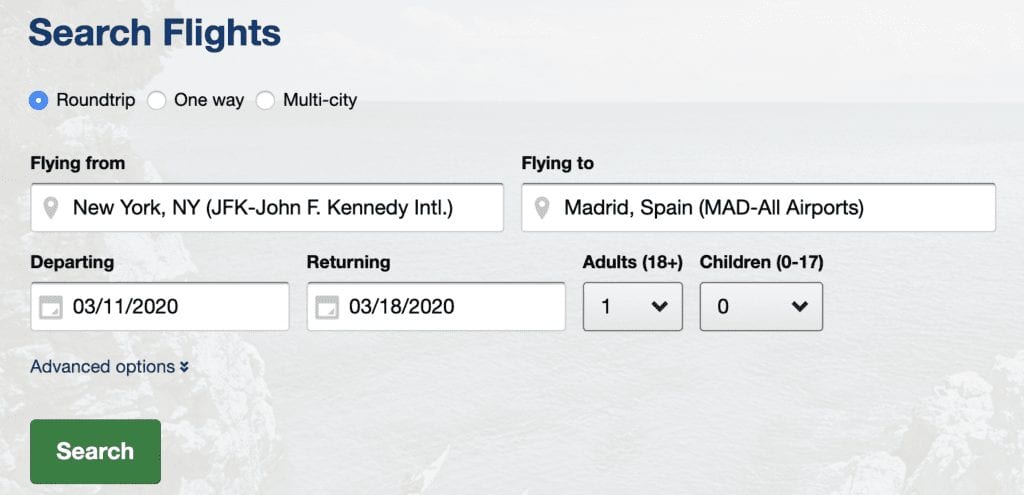 Here's the deal I was after: cheap nonstop flights to Madrid from the East Coast for $260 roundtrip for the dates I needed. You can't get a flight to California for that cheap!
At that price, you could book this flight with just 20,000 points on the Chase Sapphire Preferred card.
It's even better with the Chase Sapphire Reserve: The exact same flight would cost less than 17,000 Chase points .
Since we're based at Minneapolis-St. Paul (MSP), I ended up going with a nonstop flight from Boston (BOS) to Madrid (MAD). Cheap flights to Boston are easy to come by, ranging from $160 to as low as $96 in the past year. I set a Google Flights Price Alert for cheap a positioning flight to Boston so I can take advantage of this sweet deal.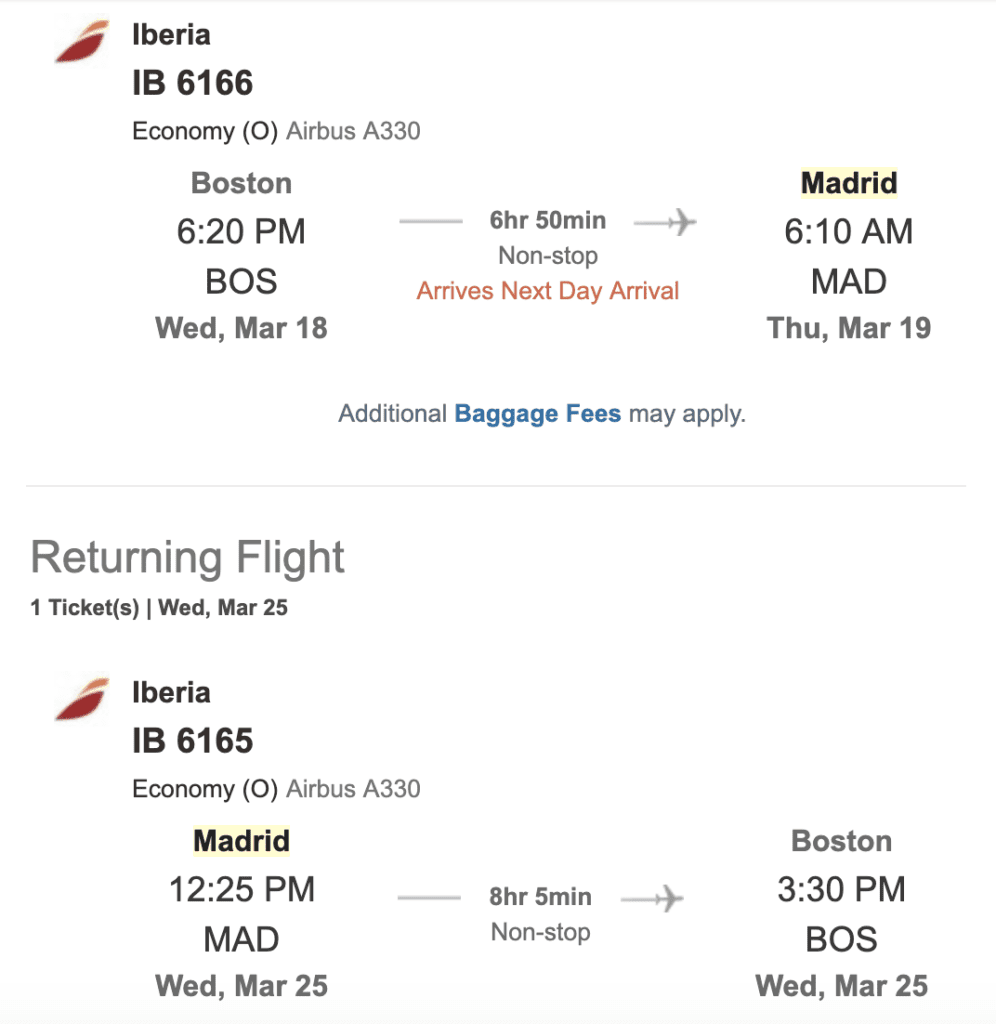 And there you have it! I booked this $250 nonstop, roundtrip flight deal for a fraction of the points I earned on one credit card welcome bonus. A trip to Madrid cost me just over 20,000 Chase Ultimate Rewards points. And I'll be grinning that whole flight because I didn't pay a cent for it.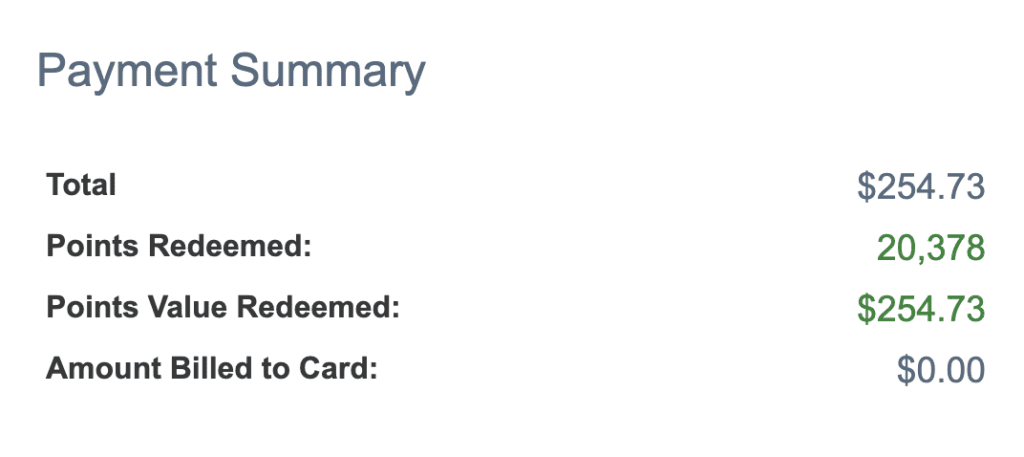 And by adding my frequent flyer account to the reservation, I'll actually earn miles for this free flight!
Bottom Line
If you're new to the world of travel rewards like me, this kind of simple, real-life redemption like this is what makes it crystal clear:  traveling for free is truly possible. It's a great example that points and miles are the real deal.
And the simple process really underscores how powerful Chase Ultimate Rewards points can be.