If it wasn't clear before, it is now: Travel is roaring back right now.
Americans are searching for and booking flights at record-setting levels, ready to get revenge after two years of travel that were lost to the pandemic. And that's only going to increase after international travel got a huge jolt with the end of COVID-19 testing requirements when flying home from a trip abroad.
All that travel demand has pushed flight prices higher … but not everywhere. With international travel back on the menu, we're still finding incredibly cheap fares for a trip abroad whether you're ready to go somewhere this summer or as far out as spring 2023. We're talking nonstop fares to Rome (FCO) for $501, trips all the way to Cape Town (CPT) in South Africa and back for $591, and a recent fare to Norway for just $230 … roundtrip!
The flight deals are out there, and it's our mission to help you find them. Here's a look at the best flight deals we've found for 2022 and beyond.

Cheap Flights to Mexico & the Caribbean
Let's dive in to some fertile flight deal territory: Mexico and the Caribbean.
If you have written off some Caribbean or Mexican destinations as too expensive, please reconsider. We've found some incredibly low fares to some of these destinations this year – perhaps none more so than Cancún (CUN).

If the Pacific Ocean floats your boat more than the Gulf of Mexico, Puerto Vallarta (PVR) and Cabo (SJD) are phenomenal Mexican destinations, too. Earlier this year, we found flights to get there for less than $200 roundtrip through next winter!

Get deals like this one sent to your inbox with Thrifty Traveler Premium!
Everyone loves a flight deal using cash, but we send Thrifty Traveler Premium members award fare alerts to use their points and miles, too. If you want to save your cash and burn some miles instead, we send out multiple award fare deals every week. And they don't get much cheaper than this Delta SkyMiles flash sale to Cancún (CUN), with nonstop flights from Minneapolis-St. Paul (MSP) for just 11,000 SkyMiles … roundtrip!


Sometimes, we find deals that can get you to many destinations for one low price. Just a few weeks ago, we found amazing fares through 2022 to typically expensive destinations like Antigua (ANU), St. Lucia (UVF), and Turks and Caicos (PLS) for $380 or less total.

Whether you're looking for an all-inclusive in Mexico, a bucket list getaway in Turks and Caicos, or a way to burn a few thousands Delta SkyMiles to get you someplace sunny and warm, great deals on cheap flights are out there.
Cheap Flights to Europe
Domestic flights might seem higher than ever, but you can still find a cheap flight deal to head somewhere abroad. And yes, that includes Europe later this year or next.
It's been a great year for cheap flights to Europe. Here's a sample of what we've found so far, starting with one of the cheapest fares to Italy we've ever seen.


That's a nonstop, roundtrip fare under $400 to get to Rome (FCO). Flights to Europe don't get much better than that.
Iceland is one of our favorite destinations throughout Europe – especially for 2022. We think it's one of the best bets for international travel right now due to low crowds and some incredible flight deals like this one for later this year.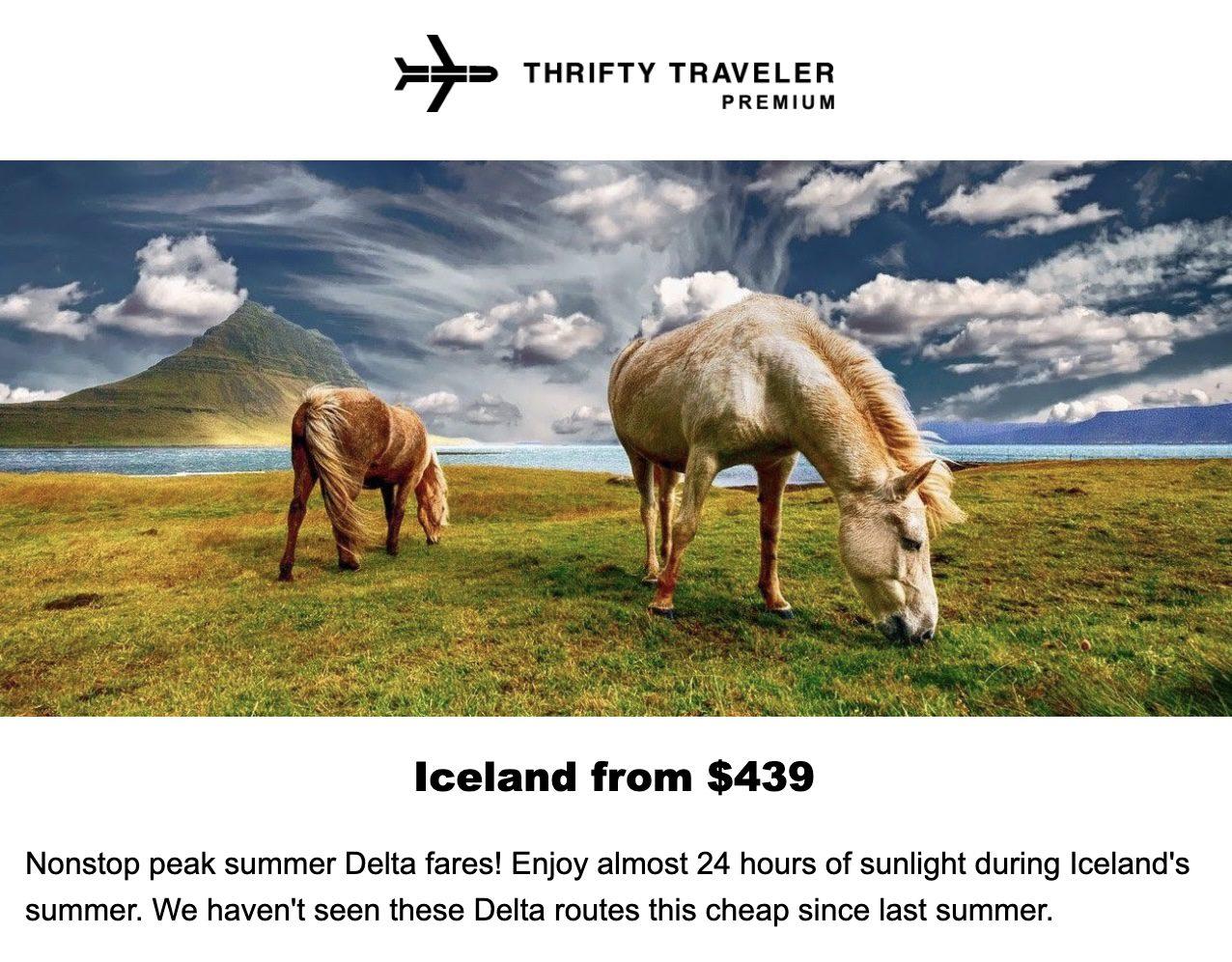 Another northern destination that more and more Americans have been targeting lately is Norway. Home to immense fjords and mile-after-mile of natural beauty, Norway is a perfect adventure trip in 2022 or 2023. Plus, why not head to Norway in 2022 when flights cost half of what many trips to Vegas or Los Angeles will run you?

But maybe you're looking for something a little different. Could we suggest a little trip to France, maybe? This deal included tons of great rates into Nice (NCE) in the French Riviera for less than $500.

Let's not forget about Greece – and if you think that Greece is too far away or too expensive, you're wrong. We find incredible flight deals to Athens (ATH) all the time, including this one with tons of great fares from dozens of U.S. airports for less than $500 – and sometimes under $400!

Plus, the value we find to Europe isn't just for cash fares either. Have a few thousand SkyMiles? Hello, London! Or Barcelona (BCN) … or even Madrid (MAD).

At just 32,000 SkyMiles, you could have booked a trip to Europe for fewer SkyMiles than most domestic trips. Best of all, these Delta SkyMiles award fares were fully refundable. That means you could lock in low rates, then cancel down the line if need be and get your miles back for free. Easy as that!
Bucket List Destinations
If you can think of a great world destination, I'd bet we've found a flight deal there over the last year. Sometimes, there's no rhyme or reason to when these deals sprout up … but we always find them when they do!
Use your Thrifty Traveler Premium subscription to put a dent in that bucket list. And given these prices, you should probably start with Costa Rica. From the rainforest to the beach, Costa Rica is one of the most diverse landscapes you could dream of. It makes it one of the most popular destinations we highlight each year.

Head a further south into South America and you find Machu Picchu. A staple on so many bucket lists, flight deals to Peru are not always easy to find, but we found these fantastic fares to Lima (LIM) in Peru starting at just $221 roundtrip!

Machu Picchu is a site unlike any other. But we've found plenty of flight deals to another adventurous destination, especially for those who love scuba diving: Belize.

The scuba diving hot spot has one of the world's longest reefs for the diehards, but is also a perfect, beach-y, laid-back vacation spot for travelers looking to move at a slower speed, too.
What do Belize and Morocco have in common? Cheap flights! If Morocco is on your mind, we dug up this fantastic deal flying United and its international partners to get you to the classic African city of Casablanca (CMN) for under $500!

Farther south on the African continent is the destination of some of the craziest flight deals we've found recently. We keep finding fares to South Africa at record-low prices of less than $600 for a trip later in 2022 or even into 2023.

As one of the great cities of the world, many Premium subscribers love the fares we find to Dubai (DXB). This one, which featured 14 different departure airports, was no different.

Here's one for all of you honeymooners out there: The Maldives.

These flights were part of a flight deal we sent to our subscribers highlighting some sub-$800 fares to the hugely popular, remote, and romantic islands. Also, these flights aren't just on any carrier: They're on Qatar Airways, the best airline in the world.
With a Thrifty Traveler Premium membership, your bucket list doesn't stand a chance.
Business Class Deals, Too
Whether you're looking to splurge and pay cash for a lie-flat seat or have plenty of points and miles to burn, we've got you covered if flying business class is your goal.
Flying business class is a big win for the long trip to Japan once it reopens. We helped Thrifty Traveler Premium members do just that, locking in a trip for later this year or early next flying United Polaris business class from just 85,000 miles … roundtrip!

Like the looks of that seat? How about flying the same one all the way to Cape Town (CPT) in South Africa … for the price most passengers expect to pay for economy! Great cash deals on business class flights are rare, but we found this one because United resumed its flight from Newark (EWR) to Cape Town after a long hiatus, opening up tons of relatively cheap seats through much of 2022.

Getting all the way to Australia and back in business class is one of the hardest award redemptions to pull off: Finding the award space is a tall task. But we alerted Thrifty Traveler Premium members just last week to a chance to fly Qantas business class to Sydney (SYD) or Melbourne (MEL). Best of all, you could book for just 55,000 miles each way … for a trip later this year or into early 2023!

All these seats got booked up fast! Get the next cheap flight (or award alert) with Thrifty Traveler Premium! 
How Thrifty Traveler Premium Works
Interested in joining Premium? Here's how the process works:
Our team of flight deal analysts at Thrifty Traveler Premium search for flight deals from more than 200 North American airports, including your home airport.
When we find a great flight deal from the airports you've selected, we'll send it immediately to your inbox.
You book the deal directly with the airline!
Here's what one of our flight deal alerts looks like:

We're not a travel agency, so you get to skip the middle man and book the flights you want yourself! We include booking instructions on each Premium deal so you can find your way to the low fare quickly and easily.
Whether it's an $87 flight to Phoenix, a nonstop flight to Europe for less than $350, or a low fare alert on lie-flat business class seats to a bucket list destination, Thrifty Traveler Premium members can get it all!
Bottom Line
The world is reopening. We're ready to help you get back out there again!
Get Thrifty Traveler Premium flight deal alerts sent straight to your inbox. Leverage your Premium membership to book the cheapest and best flights around the world this year, next year, and beyond!