Heading into the holidays, any additional savings for online shopping are always welcome news. We'll do you one better: You can currently get up to $75 in rewards – and share it with friends, too – with Capital One Shopping.
Capital One Shopping is an easy-to-use shopping portal that automatically applies discounts and doles out extra rewards when shopping at thousands of retailers. The portal's free browser extension makes it even easier to use.
And Capital One just rolled out even bigger referral bonuses to get more consumers signed up. Some current Capital One Shopping members can now refer new users for a $75 bonus after spending just $10 within the first 30 days of registration with the Capital One Shopping browser extension … and the referrer gets $75, too! Not all users will see these $75 bonuses: Some still only see bonuses of $50 or $30.

The best part? You don't even need a Capital One card like the *venture x* to be eligible. Anyone can join Capital One Shopping and earn up to $75 right off the bat. These bigger referral bonuses are available through Dec. 1.
This is the easiest way to save on your holiday shopping. If you're not already using Capital One Shopping for your online purchases, there's no better time to start.
How Does Capital One Shopping Work?
Capital One Shopping is an online shopping portal with a free browser extension that automatically compares prices as you shop online and also applies discount codes to even save you more money. You can also earn rewards at many retailers based on a percentage of your purchase price – not as cash back, but in the form of gift cards you can put toward future purchases.
Let's say you're in the market for a Nest Thermostat, pictured below for sale on Amazon. After adding the Capital One Shopping browser extension, you'll see a green box under the item if Capital One Shopping has identified a cheaper place to purchase the item.

In this instance, the exact same item was for sale on eBay for $214.47 (after shipping), saving you almost $37 on the purchase.
Capital One Shopping sweetens the deal by giving users a percentage of their purchase price back in rewards at select stores and shops – sometimes with incredible bonuses available. For example, you can currently get 11% back in rewards on purchases from Allbirds and 12% from Ancestry. Unlike Rakuten which doles out cash back on a quarterly basis, Capital One Shopping simply gives you "rewards" which you can use to redeem for gift cards – and there's no way to earn Capital One Venture Miles instead.

After you put an item in your cart at thousands of online retailers, Capital One Shopping will automatically scour the internet to find coupon codes that might apply to your purchase. It's a quick and easy way to save money on shopping you're already doing.
One last great feature of Capital One Shopping is the ability to get alerts for price drops on specific items. If you're on the hunt but aren't ready to pull the trigger just yet, you can simply add the item to your watchlist. You'll be alerted if and when the price goes down.
Capital One Shopping is available for Google Chrome, Mozilla Firefox, Microsoft Edge, & Safari. The extension can even be added on some mobile browsers.
Signing Up for Capital One Shopping
The first step you need to take is to download the Capital One Shopping browser extension from a referral link from a friend, family member, or us. Just make sure you get the $75 bonus, if you can – it seems like $50 is the default referral bonus.

If you're using Google Chrome, just click "Add to Chrome." Keep clicking through to download the extension.

Finish the set-up process by registering for an account and clicking through the onboarding information. Be sure to get signed up before Dec. 1, when these elevated referral bonuses are set to end.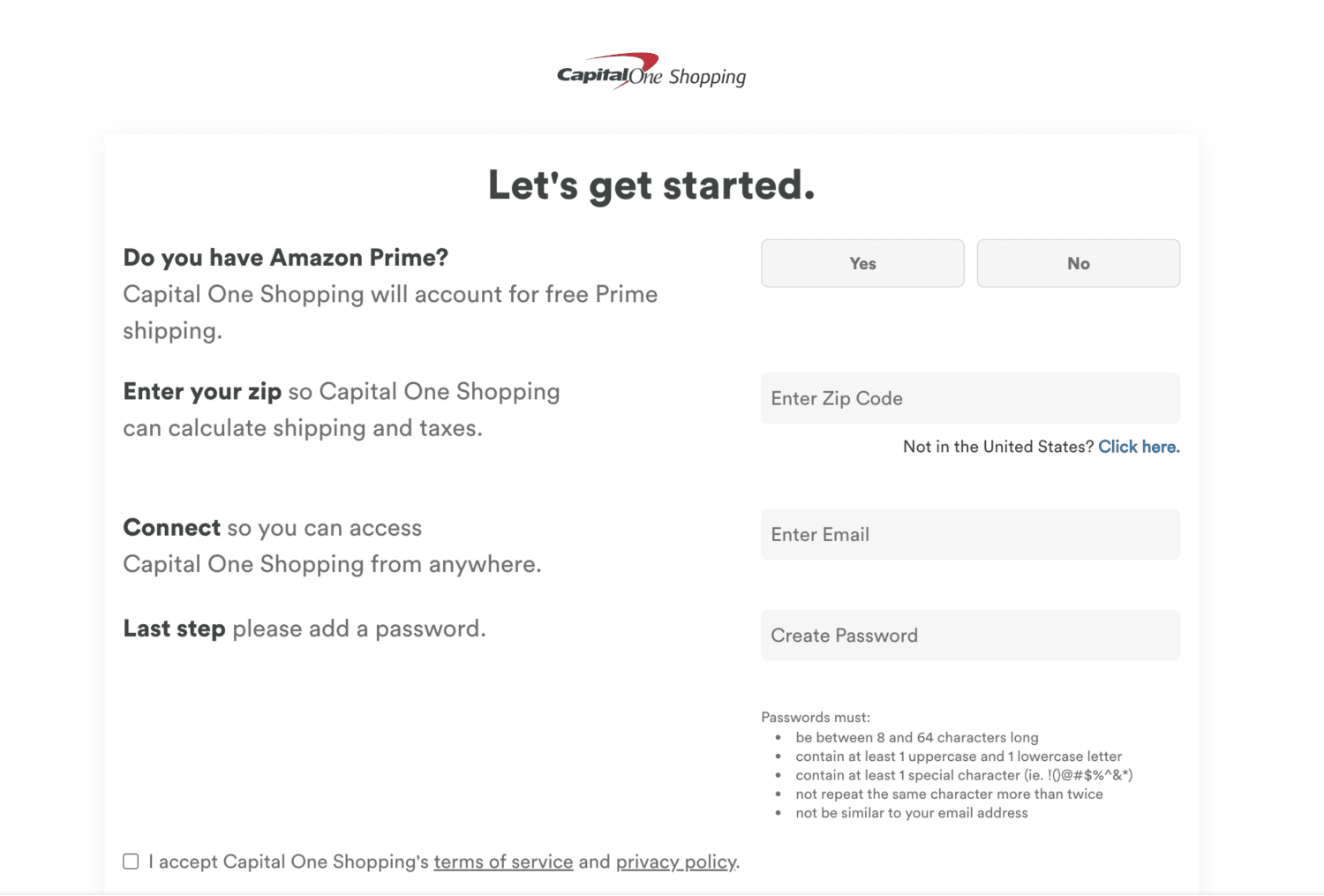 Once you reach capitaloneshopping.com, you should be all set to start saving on your online purchases. Just make at least a $10 eligible purchase within the first 30 days of signing up and you'll get a $75 shopping credit in Capital One Shopping Rewards. Your referrer will get that same $75 bonus, too!
Want to refer a friend? Simply log into your account at capitaloneshopping.com and go to the tab that says "[NEW!] Refer & Earn" and see if you have been targeted for a $75 referral bonus.
Bottom Line
Before you do any more online shopping, stop.
Take advantage of this up to $75 referral bonus and download Capital One Shopping to start saving more for the holidays. Sign up by Dec. 1, make a purchase of $10 or more within the first 30 days, and you'll get $75 in shopping rewards – plus $75 for the pal who referred you, too.